I'm sure if the Patriots had beaten the Dolphins, I wouldn't feel so strongly about this. Nonetheless, I still am worried about how much Tom Brady is throwing the ball. It would seem to make more sense to place more focus on the running game, with injuries taking out Rob Gronkowski for the year, as well as Kenbrell Thompkins and Aaron Dobson for the near future. Balance is always a good thing so the opposing defense stays honest. I know if I posed the question to Bill Belichick, I'd get a response of game planning for the week's opponent.**
Mike Aboud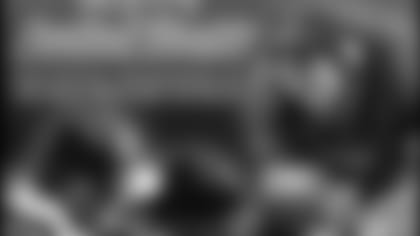 ](/fan-zone/patriots-football-weekly.html)You probably would get an answer like that and how his decisions are made with the team's best interest in mind. But I actually agree with you on this one, Mike. I felt the Patriots didn't run the ball enough against a weak Miami run defense and that was especially true in the red zone where they went 1-for-4. With Gronkowski out they needed another threat from in close and instead of running the ball, which I thought they were doing with reasonable effectiveness, they had Brady throw the ball 55 times. By no means to I want to be balanced between run and pass, but something a little closer to 50-50 would seem to make more sense.
Paul Perillo
First off, thanks again for this amazing fan forum! Now, I'd like to put my GM cap on and contemplate the Pats future. Here is one thing I would do, offer a trade to the Vikings for AP and a 4th-5th round pick, giving them Gronk and Ridley.
Melbo Ford
Not sure Minnesota would want to take a guy coming off a torn ACL for their best player, and I might surprise you here but I wouldn't want Adrian Peterson for Gronk anyway. I think the running game is a complementary part of most teams' offenses and having Peterson is a luxury but not one I'd rather have than Gronkowski's dominance. Assuming he returns to health, and if he doesn't no way Minnesota is making that trade, I feel he's much more valuable than Peterson. The Patriots need some help along both lines, especially on the defensive side, and I feel they need more help at linebacker (edge threat) and in the secondary. Offensively, assuming Gronkowski and Brady are on the field, I don't have many concerns.
Paul Perillo
Given Matthew Slater's size (6-0, 210 pounds), speed and the tackling skills he shows on special teams have the Patriots ever tried him out at safety?
Dick Mason
Rio Rancho, N.M.
Actually the Patriots have used Slater at safety, using him in that capacity quite often during the second half of the 2011 season when injuries wreaked havoc to the secondary. Slater and Julian Edelman both got snaps at safety and actually acquitted themselves reasonably well, although neither made anyone forget about Devin McCourty. Slater is a tenacious worker and one of the best leaders the Patriots have, therefore it wouldn't be surprising to me to see him have success no matter how Belichick decided to use him. I don't expect him to play any defense this season, but he has done it before.
Paul Perillo
Could it be that this latest injury to Rob Gronkowski may turn out to be a blessing in disguise and actually save his career? He was playing on a fragile and heavily protected arm, and the after effects of significant back surgery, his now enforced absence from football could help those injuries heal and recover completely, and assuming that his rehab for the knee injury goes to plan, he could possibly come back fitter than he has been for a while? What do you think?
Colin Hubbocks
I think this is about as optimistic a view as anyone could possibly have. Gronkowski tearing his ACL/MCL in no way could be considered a blessing. He's now forced to deal with yet another significant injury, at least his fourth (ankle, back, arm, knee) since the 2011 AFC title game. That's a lot of wear and tear on a guy who plays with such ferocity. Also, there's no telling how the back and arm are going to heal considering the arm in particular took so long to respond to treatment in the first place. I expect Gronkowski to return next season, and an NFL.com report even says he'll be ready to start the year, but the injuries are piling up and I fear we'll never get to see the same explosive force we saw in his first few seasons.
Paul Perillo
Do you think Ed Reed would have made either of the crucial plays Steve Gregory whiffed on, one at the end of the first half, which led to a touchdown, the other at the end of the game (fourth-and-five), which allowed the drive to continue to set up the winning score? Either play would have secured a victory.
Dick Whippee
Barre, Mass.
The short answer is no. I've watched Reed play last year with Baltimore and I was not surprised in the least that the Ravens let him walk in free agency. He was often a step slow and out of position throughout the season. Then he went to Houston and couldn't crack the lineup on a two-win team and was released. Now he's with the Jets, a defense that has performed pretty well all season – except when Reed took over at safety. Since then the Jets have allowed a half dozen long touchdown passes – seemingly at least one every game. Could Reed have made a tackle or two that Gregory missed? Sure, he may have. But he just as easily could have allowed a long pass to be completed over his head based on his play elsewhere. I'm a huge Reed fan based on his career but he's long past his prime at this point.
Paul Perillo
I'm a huge patriots fan from Pennsylvania and I love reading your answers every week. My question is why do the Patriots not utilize Matthew Slater more in the offense? Does he not fully grasp the complex Patriots offense? He has great speed and good size and we have a lot of banged up WRs.**
Michael Pizzoli
Slater is really a wide receiver in name only. He is capable of filling in on an emergency basis but he is nowhere near as polished a receiver as the others. The Patriots used Julian Edelman, Danny Amendola, Josh Boyce and Austin Collie in Miami at receiver and all four are far better options than Slater. Slater is a terrific special teams player and will do whatever is necessary to win, he even was on the field for two snaps at wide receiver in Miami. But if you're asking him to fill a significant role as a receiver then the passing game will struggle.
Paul Perillo
I just would like to know if the Patriots plan on signing Aqib Talib. Or can they franchise him for a year?
Mike Means
This will be a big offseason story line for the Patriots. When healthy Talib has been excellent. He's also fit in well in the locker room and drawn praise from Bill Belichick and others about his leadership and commitment. He's also dealt with a painful hip injury both last year and this year. That would concern me if I were making this decision. Talib is a terrific shutdown corner if healthy but when he's not he's been just average. I'm not sure I want to shell out big money for a guy if his health is a big concern. The franchise tag is an option and it will be interesting to see if a team is willing to shell out big money to acquire him next year. My guess is he returns based on the mutual feeling of respect between the team and Talib that's been on display all season.
Paul Perillo
Hey guys, Patriots fan from Texas believe it or not; and you guys do a great job. I have another Kyle Arrington question, even though I read a question about him last week. I, like a lot of fans are not impressed with his play in the nickel/slot. He's average at best. I was wondering with his ability to play with that kind of style if he could be moved to the safety position.
Dustin Roadhouse
Dustin Roadhouse … that's a solid Texas name. As for Arrington at safety, I haven't seen anything at practice or otherwise to suggest such a move is in on the way. Arrington takes a lot of abuse from Patriots fans and I will admit I was surprised he received such a lucrative contract extension from the team. He is a solid slot corner, though, and moving him would leave a lack of depth at cornerback in general. Logan Ryan has had his moments as a rookie but he's gotten beaten as well, and Alfonzo Dennard really struggled in Miami. So, even if Arrington has the ability to play safety, moving him may simply create another problem because it would leave just three cornerbacks (Talib being the third). Arrington is a team player and Belichick has shown the willingness to move the pieces around so I wouldn't rule it out. I'm just not sure it would be the best move at this point.
Paul Perillo
What's your thoughts on trying James Develin as tight end. He seems to have good hands, and at 6-3, 255, from what I have seen he blocks pretty well, what do you think?
Bruce Gonsalves
Develin really is a hybrid tight end at this point already. While he hasn't lined up as an in-line tight end, he's basically an additional blocker who can catch the occasional pass. His role has definitely increased over the past several weeks and perhaps he can be used on the line in the coming weeks as well. But he's certainly not going to give you anything more at the position than the Patriots are already getting from Michael Hoomanawanui and Matthew Mulligan. Develin is a versatile athlete, though, and he will find ways to contribute.
Paul Perillo
Gronkowski does not seem to go a full season without getting hurt and even though he is a mismatch? Against any defense the moment he steps on the field, he is of no use if he can't play when needed most. How come he gets hurt more than other elite Tightens? Is it his playing style or he is fragile? How will this impact his long term contact with the Patriots, is it time we start looking for another TE as both our tight ends will be watching the games like me off the field. Hopefully this injury can ignite other players to step up and be counted.
Evans Boakye
Obviously everything you said about Gronkowski's situation is true. He's one of the game's biggest mismatches and he is indeed often injured. I feel his playing style is the reason for his injuries. He is a very physical player and never shies away from contact, often remaining on his feet to pick up every last yard. This style has also contributed to some of the wear and tear he's suffered through. I do feel the Patriots may need to adjust their offensive mentality a bit in the offseason because I don't feel they can safely rely on Gronkowski to be there every game. So perhaps the focus of the offense will change. I don't feel they need to invest in a new tight end high in next year's draft, though. If Gronkowski is out again, no one can replicate his presence anyway. Some added depth at the position would help, but again, no one can replace Gronk.
Paul Perillo
Fan of the Patriots for 10 years from France. It looks very strange for me that the 'hurry mode/no huddle' used very often in games in the second half when trailing on scoreboard is much more efficient than 'planned/organized tempo mode' early in the game. Is it because after one half Belichick is more able to adapt his strategy or just because when Tom Brady has less time to think he is finally much better? It could be nice to start game with no huddle just to test it. Or maybe you see other reasons.
Ludovic Boisseau
France
The Patriots have a talented down-hill running corps with Steven Ridley and LeGarrette Blunt and a versatile back in Shane Vereen. To remain physical, in Gronk's absence, do you think we'll see the up-tempo, quick snap running game like we did earlier in the season to set up play action fake?
Avery E.
I think the Patriots have used a good deal of no huddle at all points of the game throughout the season but it does seem to be more effective late when desperation turns it into hurry-up mode as well. I don't have a reason for this other than Brady is really, really good at what he does. The offense has struggled early in games quite often this season and when that happens it's tough to sustain drives and get into a lot of different schemes. That more than anything else has prevented the Patriots from using more no huddle stuff. But I still expect to see it in the first half periodically, just as we have in limited doses most of the season. As Avery mentioned, the running game seems to benefit the most from the up tempo attack as defenses are often unprepared to stop it.
Paul Perillo
My question is do you ever see Devin McCourty moving back to cornerback? I always saw him as a good coverage back. His rookie season he did have seven picks and two forced fumbles. Put him and Talib at corners you can cover any teams' No. 1 and No. 2 receivers.
Tyler Spangenburg
I don't have anywhere near as strong an opinion of McCourty the cornerback as you do. As a rookie he made some plays and looked promising. Since then he really struggled to cover on the outside. He often got beat down the field and I feel he will only move back to corner now in the event of injuries. While I don't believe he's a great safety, his presence back there has solidified things a bit and he seems to be better suited to play from the back end than he was at corner. He's also a key part of the communication in the secondary and his leadership is evident.
Paul Perillo