I know it's easy with hindsight to analyze coaching decisions, but when Ty Law went down, was putting Randall Gay out there the best solution? Wouldn't it have been better to move Asante Samuel across to play in place of Ty Law and bring Eugene Wilson onto the other corner (his original position), then Dexter Reid could have filled in for Wilson at Safety, where as a rookie he would have been less exposed than Gay on the corner? If you get my meaning - corners more exposed than safeties, so better to put less experience at safety, not corner. What do you think?
Tom Roberts
Wales, UK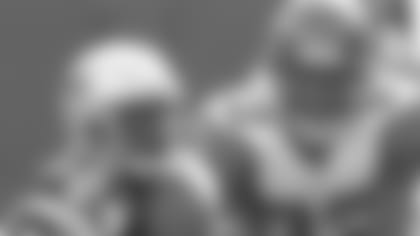 ]()I think you are using sound reasoning, but I think Gay has played better than Reid so far this season. I also think that Wilson is used quite often in a corner-type role even though he is a safety in the base defense. He is often assigned to man coverage in a subpackage situation. The bottom line is that with Law and Poole out, the Patriots were down to five defensive backs with Samuel, Gay, Reid, Wilson and Harrison. They all had to play. Tom, there aren't many teams that can survive losing both starting corners, especially when one of them is a shutdown type who affects opponents' game plans. And I haven't seen enough of Wilson actually on the corner to believe he would have done much better. The problem the injuries cause is not just coverage related, but with Law taking away his man, the rest of the defense could do other things. Now, the Patriots will have to make adjustments to help whatever corner fills in for Law. Could that affect the run defense? Did it Sunday when the Patriots were absolutely powerless to stop the run? This team faces a huge challenge in the coming weeks. I think, because of the injuries and not overreacting to losing one game, that the team may be at its turning point. This is a big game this week, one I would compare in magnitude to last year's Titans game when the Patriots found out they could beat good teams even with a long injury list. This year's team is about to find out the same thing one way or the other. Now before someone jumps down my throat, I'm not saying the outcome of this game determines anything definitively, but how it is played could be a good indication of things to come.
Hi Ask PFW. Do you think the Patriots are immortal? Of course the answer to that is no. The fact is winning so many games in a row, the players, fans, and even the coaches get a feeling of immortality. This is a good thing in the long run. I usually laugh at people when they say losing is a good thing. If you are going to lose, this is a perfect spot to lose. It was better than if the Patriots would have lost to the Jets and be in second right now. They are still in first and now they can build their character. Do you agree? The Patriots are mortal, yahoo! Now we can enjoy the football games without the pressure of "the streak"!
Chris Neveri
Chris, I agree that losing to Pittsburgh is better than losing to the Jets, but disagree with your overall premise. I don't think this team felt any pressure because of the streak. I think it is consistent in its approach and focuses its attention on the smaller picture, which is to say this Sunday. Losing is never good. It doesn't alleviate pressure or do anything but hurt you in the standings. Under your theory, this week would be a better game to lose because it's against an NFC team. The great thing about the Patriots during their winning streak was that they never believed they were immortal. They didn't require a wake-up call. This is as professional a bunch as I've been around in my eight seasons covering the team.
If the injury to Ty Law is serious do you think we would sign anyone? If so who? What about Otis Smith? He's old, but he could bring versatility because he was here for a brief portion of camp I think and he can play safety now at his old age and maybe have Wilson back at corner, obviously injuries are a huge concern now. And one last thing I don't want to be to negative on Roethlisberger but I haven't heard yet because I refuse to watch Sportscenter or anything like that after a loss but I don't want people thinking he picked apart this NE Defense, although he had many big plays and great throws, much of the Pats success on young QBs is by hiding the blitz and relying on 1-on-1 coverage; they could not do that with Gay on Burress which was quickly seen, however Ben did make many excellent throws while under pressure I think it was the lack of coverage that hurt us.Mike Feck
Mike, I think Ty will be out for a while, although that is merely my impression since the Patriots do not offer such information. He was seen leaving the locker room in a walking cast and on crutches. That's not good. Otis is available and so is Jeff Burris, both of whom were here in camp. Wilson could go back to corner, but I've never really seen him perform there and don't know how effective he would be. Beyond those two corners, the Patriots could search for a safety, which may be easier to find, because of Wilson's ability to play both positions. The Rams have had trouble finding a safety to play beside Adam Archuleta so it's not like there are Pro Bowlers waiting for their phones to ring.
Do you think the Steelers are that good or were the Patriots just that bad? And are the patriots going to let this loss go to their mind and start losing ?
Robert Kilpatrick
First, don't worry about the Patriots state of mind. They will not panic because they lost one game. I would worry about the growing injury list and the impact it could potentially have, especially the injury to Law. That's a HUGE blow. There is a reason New England was willing to keep his exorbitant cap number on the books this year. I think the Steelers played very well Sunday and the Patriots played terribly. They gave up big plays, struggled on third down, generated no pass rush to speak of, turned the ball over at an uncharacteristic rate and had the ball pounded down their throats on the ground until they lost their will. It was ugly for the Patriots. Pittsburgh was impressive on both sides of the ball. The young QB made all the throws, their running game set the tone, and their defense hounded Tom Brady and eliminated the run as an option.
When is Deion Branch going to be back playing? Is he done for the year?
Nathan Graf
I don't believe he is done for the year. If that were the case, the team would have placed him on injured reserve. I think he had a severe knee injury, but one from which he can recover for the stretch run. Otherwise why keep him active? Without any explanation or timetable given by the team, my expectation is that he misses all of November and returns in December as this team battles for a playoff spot.
OK I don't mean to tell Bill how to coach the team but here goes. Obviously the wide receiving corps is hurting and if I see Tom Brady throw another one of those 76 yard games that he did against Miami I'm going to be sick. David Givens is one of the best WRs I've seen here in a long time. Patten's along the same level as David, and Bethel is blazing fast but his hands are inconsistent. I fear Deion Branch's head may have fallen off- all I hear about him is bad news. So this is where I give my advice... Make Kevin Faulk a Wide Receiver, I'm convinced he'd be great. What do you think PFW guy?Ed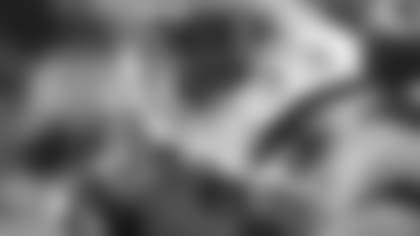 ]()I think that Kevin is a big part of the passing game already regardless of how you label him. I would not make him a wide receiver and, no disrespect intended, think it's rather ridiculous given his ability to pass protect picking up the blitz as well as his ability to make plays running draws and catching screens out of the backfield. He is too small to be a wide receiver. He has played in four games and is already third on the team in receptions with 19. Last year, he finished second on the team in receptions behind Branch with 48. So as I said, he already is a huge part of the passing game regardless of what you all him.
I read on this site that Banta-Cain and Kasper had Black Jerseys placed in their lockers due to their performance in practice. What does this mean? Is this a positive or negative? Thanks!
David Houlden
Positive. A source gave PFW a thumbs up on the meaning of the black jersey. It is apparently for extraordinary practice performance.
How come Sunday afternoon games all seem to be broadcasts based on geography rather than game importance. Last week instead of seeing the Jets and NE I ended up seeing Arizona and Seattle. Can you tell me what the chances are for more prime time games, so therefore more important games can be shown nationally? - Sat night games / or a second game Sunday and Monday nights so FOX, ABC can pick which game will have the better draw???? Can you comment on the run defense which seems to me to be improving by the game!
Jeremy Hus
First, you should have a chance to see the Patriots this week since they play at 4 p.m., but assume you will continue to get home West Coast games that start at the same time because I believe local affiliates figure there is more interest in a regional team. But the Patriots will play in prime time on Nov. 14 and Nov. 22 as well as again on Dec. 20. When the new television contract is worked out, I presume you will see an increase in prime time NFL football. So fans know, Jeremy sent his question before the Steelers game when the Patriots run defense appeared to be on its way up. They had an awful performance Sunday and when that game is factored in, the assessment of the run defense has to be labeled inconsistent. They have now allowed 200 rushing yards in a game twice in seven outings. That stinks. They allowed fewer than 90 rushing yards per game last season and have held just two opponents to fewer than 100 yards so far this season. This type of decline in run defense is typical of defending champions and so far the Patriots have done nothing to buck the trend. All of the last five defending champs have suffered a decline in run defense the year after their title. I didn't look beyond that, but New England is falling in line this year. They were beaten into submission by the Steelers front last week, which imposed its will. The week before, the defense held the NFL's leading rusher at the time, Curtis Martin, to 70 yards. Go figure. I am concerned as I have been all season. I thought the performance against the Jets represented a turning-the-corner situation. I was wrong.
What do you think of allowing Rohan Davey to try a series occasionally - For Experience - Change of Pace - Surprise - and Evaluation? A bit of insurance at not much of a risk (we have some games upcoming which should offer such an opportunity).
Anthony Aliberti
No. C'mon Anthony. This is the NFL. You don't just throw another quarterback in there, and rarely is a team in position to pull its starter just to give the backup some playing time. If the score is out of whack, perhaps he should come in and play, but other than that, I think it's kind of a silly idea. Sorry. If Brady gets hurt, Ro is in. His evaluation time and experience came in the summer.
What happened to the Pats seventh round pick Christian Morton? I know he was cut but where is he now? And do you guys think Cobbs has a shot of being a dependable backup for Dillon going down the final stretch of the season and into the playoffs?Big Joe
Morton does not appear on an NFL roster. I also cannot say I am encouraged about Cobbs contributing, although our own Andy Hart disagrees with me. I simply have no idea what to expect from a rookie who missed all of training camp and the first seven weeks of the season. I can't reasonably expect him to come in and offer any significant contribution and think it's even unfair to place any expectations on him at this point. I was mildly surprised he was activated last week, but with Dillon out and Pass out, the Patriots were thin at running back just as they seem to be everywhere else. The difference between this year's team and last at running back is that this year's club seems more dependent on the starter because he has been so good and become such a big part of the offense. Last year, the club had no starter and whether it was Smith or Faulk, it didn't matter. It didn't have much affect on the game plan or the offensive approach. That's not the case this year. A team that had run the ball 185 times through six games, or almost 31 times per game, ran it six times Sunday. Certainly the score affected that run total, but it's not like the Patriots gave the running game much effort early on like it would have if Dillon were playing.
Few can replace his enthusiasm and intensity level but, can we expect to see more of Seymour blocking on offense and maybe even the 9-yard up-the-side catch after releasing from a block. Did Seymour practice more with the offense this week?
John Brinz
Seymour will be used as an occasional lead blocker now that Klecko is out, but don't expect to see him catching passes. I wouldn't be shocked if they threw it to him once in a big spot on the goal line, but I don't expect him to touch the ball beyond that.
Hey guys. Two weeks ago against the Seahawks, Ty Law made an interception. When he came to the sideline, he didn't even glance at Belichick while BB was congratulating many of the other players. To me, that was pretty good evidence that the Pats are not one big happy family. Could this relationship between Ty and Bill jeopardize their chance of repeating. Thanks.
Gary Stuart
Los Angeles, Calif.
Gary, I have no idea what you are talking about. I'm not saying it didn't happen the way you say, but I didn't see it and haven't noticed anything out of the ordinary with Bill and Ty's relationship. I'm not suggesting that the events of the offseason didn't affect their relationship, but both men are striving for the same goal. They don't have to be friends as long as they respect each other as coach-player, which I know they both do. Their relationship, if strained, will not affect the results on the field. Ty still does what the coaches ask of him, which is a lot. They are both trying to win games. They don't have to share tea and crumpets to do it. There is also a pretty big possibility that you reading into something that isn't, or wasn't there. Law's injury, though, could certainly jeopardize the team's chances.
Is there any chance the Pats will pursue Dexter Jackson, assuming he passes a physical? I heard several teams may be interested, and with the injury problems Wilson has had, Jackson might be a good fit. Thanks!Eric Theall
Well Eric, I would look into. Secondary depth is a problem and if Jackson is healthy, he could come in and play safety and Wilson could move to corner fulltime. I'm not sure what the results of such a move would be because I haven't seen Wilson play corner on an extended basis. I also have no idea what Jackson's health situation is. I have a call into his agent, but have not heard back yet.
First off I'd like to say you all run a great column. I'll probably miss next season due to a deployment back to Iraq. Here is my question: assuming that Ty Law will be unwilling to restructure his contract, do you see the patriots taking a CB in the first round of next year's draft? If so who do you think would be a good fit?
Sergeant Brown
I think the Pats should consider a cornerback in the first round regardless of Law's status for 2005. But it would be phony of me to tell you who the top college corners are because I simply don't see enough of them to know and don't really delve into the draft until after the season. I went online to look at who some of the draftniks like and for first round guys, it appears like Miami's Antrel Rolle, Clemson's Justin Miller, Michigan's Marlin Jackson, LSU's Cory Webster and Oklahoma's Antonio Perkins might be the guys with Auburn's Carlos Rogers on the bubble as well. Rolle is big at 6-1, 205, but Webster is as well at 6-2, 200 and Webster is an LSU guy (coached by Belichick crony Nick Saban). He would seemingly have a smooth transition into the Patriots defense. Belichick actually mentioned him a couple weeks back as a guy who will be a high draft pick. That said, the player has to be worth the pick. I don't think New England should take a corner at all costs, but if there is one worthy their selection, by all means take him. Shutdown corners are tough to find and usually have to be found in the first round as Law, Chris McAlister, Champ Bailey and Terence Newman were. Miami's two standout corners – Sam Madison and Patrick Surtain – were both taken in the second round. In fact, New England chose Chris Canty ahead of Madison and Tebucky Jones ahead of Surtain. Ouch.
Where do you think Weis and Crennel will be? I think Weis will go to Miami and Crennel will go to the Browns or the Saints?
Tom
Your guess is as good as mine. Certainly all of those teams could be in the hunt and I could see Miami coming after Weis. My guess is that they would want an offensive coach and to steal a successful coordinator from a division rival would be attractive to them. I was a guest on a Miami radio station a few weeks back and they discussed the Weis to Miami scenario. As far as RAC goes, I'm not sure which teams would pursue him. Cleveland had him on their staff in 2000 and didn't really consider him for the head coaching job in 2001 when it opened. So I'm not sure they would look his way. New Orleans might be an intriguing possibility though.
Hi Guys: Love reading your Q&A each week, as well as PFW on TV. You guys are great. My comment/question regards the absence of Carmina Burana just before the team is introduced. The new Pat Patriot intro is fun and very cool but it lacks any emotional punch. In the past, playing Carmina Burana against a video collage of tough, hard hitting Patriot plays built to a powerful conclusion when the team ran onto the field. I just think the impact and strength of the operatic intro works better than the video game-like intro. Thanks for listening.Mary Louise Larkin
Thanks for your input on that. I have forwarded your note to the appropriate party for consideration. Thanks again.
Hey guys! I love reading your column every week and I have a question that may require a little research on your part. When Bill Bellichick first came to the Patriots as the head coach, I remember seeing a stat that he had coached 3 or 4 of the top 5 defenses in terms of points allowed in a season. That included time spent as a defensive coordinator, assistant head coach, and head coach and included some of his teams with the Giants, Browns, Patriots, and Jets. Now that he has had a few great seasons as our beloved head coach, how many of the top 10 defenses has he coached now, again, in terms of points allowed over a season?
Joel Lindgren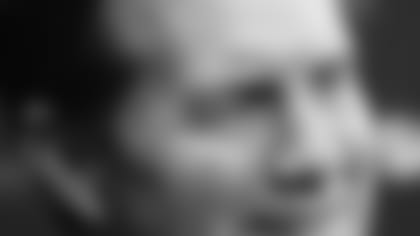 ]()Well Joel, it doesn't require a ton of research on my part because the Patriots fine public relations staff included that fact on page 23 of the media guide. Since 1985, when Belichick was first named a defensive coordinator, he has coached seven defenses that ranked in the top five in the NFL in points allowed per game and 12 that finished in the top 10. His teams have finished No. 1 in that category three times – the 1990 Giants, the 1994 Browns and the 2003 Patriots. The 1986 and 1989 Giants finished second as did the 1998 Jets. His Patriots teams have finished 17th, 6th, 17th and 1st. Believe it or not, the Pats have allowed more points than any team in the AFC East so far this year at 124. The Jets have allowed 116, Buffalo 120 and Miami 121.