So I've heard that Aqib Talib was added with the intentions of moving Devin McCourty to safety. Assuming it's true, I'm guessing this means Alfonzo Dennard and Talib are the starting corners, and McCourty will now start at safety. So my question is, who gets the other safety spot, Patrick Chung or Steve Gregory? Or is it whoever is healthiest?
Zach L.
A lot of people have assumed that McCourty will move to safety. I'm not making that assumption just yet. I've not seen him make a lot of plays at that spot in limited action there, most of that action coming when the Patriots really had no other choice due to injury. Bill Belichick was asked a lot of questions about McCourty on a conference call earlier this week and was pretty non-committal. My guess is that you could see a few different lineups in the coming weeks as Talib gets into the mix and Gregory and Chung return from injury. If I had to make the call, I would start Gregory and Chung at safety with Talib and McCourty at corner. That would leave rookies Dennard and Tavon Wilson as rotational depth guys along with Kyle Arrington. Belichick was clear that he'd like to see some consistent lineups in the secondary. This is the lineup I'd use until whatever point I feel I might need to try something else. Health will obviously play a factor in how this all plays out. So, too, will the results on the field and how the players all fit together as a cohesive unit. There is a half season to try to get it figured out and improve the pass defense for a playoff run.
Andy Hart
With Ravens ahead of us in the standings, Steelers on the rise and Broncos doing well plus having the easiest schedule of all AFC contenders, do you think that Patriots need to repeat their 8-0 run to earn a bye and improve our chances of going the distance?
Shawn G.
There are several critical differences between 5-3 Patriots this and last season, and one of them is the remaining schedule. Do you think that it may be a bit harder to get to number 2 seed this year?
Frank C.
The Patriots schedule is a bit tougher this year thanks to the games against Houston and San Francisco, though both those contests are at Gillette Stadium. Beyond that the team does face some young quarterbacks down the stretch (Andrew Luck, Ryan Tannehill), although those guys are playing pretty well. Houston's toughest remaining games are at Chicago and at New England. If they lost both of those, that would be three losses on the year. Baltimore has a pair of games against the Steelers, as well as hosting the Broncos and Giants. So I could easily see the Ravens having at least four losses. Denver actually has the easiest road, though it includes a trip to Baltimore while hosting the Chargers and Bucs. I would be surprised, right now, if any of the AFC teams ran the slate, including the Patriots. I don't think any of the teams are really good enough or consistent enough to do that. The Patriots can't likely lose more than one game over the second, half, maybe two, and still have expectations of earning a top-two seed in the conference. That said, there is still a lot of football left to be played.
Andy Hart
Why don't the fans and media recognize the great job the coaches and players have done in the defensive secondary this year? The D held the Rams (a team that beat both teams the Pats lost to) to 7 points! They were thin at start of season and with Chung & Gregory injured played Ebner(rookie, mostly special teams at Ohio State)& Cole (waived by 4 teams in 4 years) Dennard (7th round rookie) Williams (7th round last year, released, resigned) Wilson(a rookie) and Arrington (undrafted, released by 2 teams). McCourty (in 3rd year) had to play with this mix.
Ron Curtin
At first I thought this was a sarcastic email. Then I kept reading and I think it's actually serious. Somehow Ron wants us to praise a performance that led to the NFL's 28th ranked pass defense and a league-worst 42 pass plays allowed of 20 yards or more. And it's a problem that's persisted for a few years now. As far as the personnel goes, that's the group that Belichick, Nick Caserio and his coaches put together. So while I'm all for individual effort and believe that both the players and coaches are trying to get better, I just can't really say much that's positive about the results. And it seems that Belichick sort of agreed with that by going out at the NFL trading deadline and dealing for Talib. He took a risk and gave up a pretty valuable pick to try and fix a pass defense that you think has done a "great job" so far this year. I think that says it all.
Andy Hart
In three months, the local media went from 16-0 to all gloom, to SB here we come again. I am too optimistic about this team, but do you think this new exuberance is warranted, or it needs to be proven first say by beating a team with an elite defense or an elite QB?
Alex C.
First, I don't remember anyone locally predicting a 16-0 campaign. The only such prediction I remember was from Pete Prisco at CBS Sports. Most media around here seemed to project a three- or four-loss team, including the entire staff here at Patriots Football Weekly. That's not to say the first half of the season wasn't a bit rockier than I expected. It was. I still think this team can and will compete for a Super Bowl. It's not good enough to pencil in for New Orleans, but it could beat any team in the AFC. I would say the same about most of the other top teams in the conference. Belichick's squad still has plenty to prove, and usually improves over the course of the second half of the season. Given that and the potential upgrade of a guy like Talib, I still think this team is among the true contenders in the AFC.
Andy Hart
Would you start Chung and Gregory at safety, Talib and McCourty at corner with Arrington at nickel with youngsters Cole, Wilson, Dennard and Ebner as backups?
Ed Termoff
That's exactly what I'd do. I think the four you mentioned are the best four defensive backs right now, and deserve the chance to play together and build some cohesive continuity. In a couple weeks, we'll see if Belichick agrees with us.
Andy Hart
Hi folks, appreciate your good work. As a fan from Germany, I am not so familiar with the specialties of football. So: what exactly has a slot receiver to do, where is he working? Regards from Hamburg, Germany.
Thorsten Geil
The slot receiver lines up between the end of the offensive line/tight end and the outside receiver, who lines up wide near the sideline. Slot receivers are generally quicker guys who get off the line and into their routes easily. They run a lot of short routes that are 10 yards or less. Because of where they line up they can run routes that go either straight down the field, to the outside near the sideline or inside toward the middle of the field. They are usually possession type receivers with good hands and the ability to make plays in traffic as they are often working around a lot of linebackers, safeties and cornerbacks. Wes Welker is the premier slot receiver in the NFL today, and some believe his has in some ways revolutionized the way the position is played and what can be expected from the position.
Andy Hart
I wonder when coach BB signs a free agent like Talib, besides the usual words of wisdom like "do your job" and "stay out of trouble", he would tell him - we want you to help us win the SB, or he expects the player to figure it out on his own?
Alex Contour
I don't think any player, especially in New England, needs to be told that the goal is winning the Super Bowl. While I'm sure Talib will have a sit-down with Belichick when he arrives in Foxborough, and probably with owner Robert Kraft as well, that will likely be about how he'll fit in with the team and the community. Some of the obvious stuff you suggested will likely be expressed. But I don't think anything about a Super Bowl will be mentioned. That literally and figuratively goes without saying.
Andy Hart
Why did we get rid of Sterling Moore? It didn't seem like he was making too many mistakes or anything...
Ann Reese
Moore hadn't done a ton for most of the year. He actually got more playing time against the Rams before he was released and then re-signed to the practice squad. One theory is that had he played in one more game this season, Moore would have lost his practice squad eligibility. It's possible that played into the equation. It's also possible that the team was in the midst of trading for Talib when the decision was made on Moore, and the realization that he'd have fewer chances to play moving forward. I thought he played well at the end of last season when he made some big plays for the team on the Super Bowl run. He hadn't played nearly that well early this season. Maybe the team thought he just needed more time on the practice squad to develop, and the addition of Talib gives them that luxury.
Andy Hart
The KC Chiefs are now 1-7. If Romeo Crennel were to be fired, do you see any way that he returns to the Pats? I'm sure that they wouldn't switch coordinators at this time of the year, but could he fill a role as an assistant for the remainder of this year, and take over as coordinator next year like Josh McDaniels did last year?
Gary Goldstein
I could see Crennel returning to New England in some capacity. I don't think his relationship with the organization or Belichick soured in any way. The Patriots reportedly didn't make much of an attempt to go after the veteran coach when he was available before joining the Chiefs, but given the problems on defense I would hope Belichick would consider it if the option opened up (and it probably will). I don't think it would happen this year, but maybe in the offseason.
Andy Hart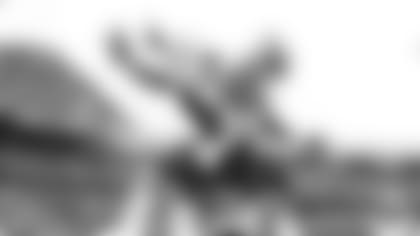 Hi guys, a long-time Patriots fan from Finland chiming in. Love to read your PFW mailbag every week! My question is about the running game. Ridley has thus far been leading the pack, but has on occasion been outperformed by Bolden or Vereen. Vereen also seems to get red zone looks, while Woodhead has only played sparingly. How do you see the running game panning out by the end of the season and next year? Who'll be the top dog?
Mika Mattila
Finland
I think it's pretty clear that Ridley has established himself as the starting/lead back. He'll likely get the most carries on any given week. That can change some based on game plans or who's hot on any given day, but barring injury I think Ridley will be the team's leading rusher over the course of the season for the next few years. I think Vereen could develop into the next guy in line, the change-of-pace guy. I really like his versatility and athleticism and think he can be a star in the Tom Brad-led passing attack. I think you could see Woodhead's role diminish over the next year, and that he might find himself in a battle for a roster spot in the not-too-distant future. Bolden is the wild card in the group. I think he's the "backup" to Ridley, but will likely get his chances to contribute in the modified committee approach the Patriots continue to use in the ground game.
Andy Hart
As a 40-year fan from Nova Scotia I attended my first game when they recently played the Jets. What an experience!! My question is about Brandon Lloyd's contribution. He seems to be very intelligent in his route running which sets up options for Brady. He also is an underappreciated blocker particularly on quick screens. Do you agree?
Marty Townsend
I haven't seen a ton of Lloyd's blocking and have to admit I don't always notice receivers blocking. I'll try to keep an eye on that aspect of his game moving forward. As for his work as a pass-catcher, I've been disappointed a bit. I think he's failed to get much separation from corners at times and has had too many drops. I also haven't seen him stretch the field like I thought he might. He's been OK, although he's been given a ton of chances to make plays. I agree with NBC analyst and former Patriots defensive captain Rodney Harrison, who said he expected more from Lloyd. He's been OK, but not good enough in my opinion.
Andy Hart
Hey guys, my question is why New England consistently refuses to draft the most athletic players for the most athletic positions i.e. WR CB FS. My way of looking at it is you can teach a kid how to play, you cant teach him to be 6'4'' and run a 4.3. I realize this is not full proof seeing Darrius Heyward-Bey and some other athletic players not do very well, but it seems as though what they are doing now isn't working either.
Christian Neureuter
I think the Patriots do draft some elite athletes with all the measurables. And many times those guys haven't worked out. I would put Ben Watson, Chad Jackson and Bethel Johnson very much in that category. I think Brandon Meriweather seemed to have all the athletic ability. He didn't work out. I think Shawn Crable was a guy who had the measurables, and never did anything. The Patriots have made plenty of mistakes in the draft, as have all teams, but I don't think they have any aversion to drafting athletes. I think they've drafted all kinds of players over the years and had varying degrees of success with all kinds of different players.
Andy Hart
Why don't the Patriots use their version of the NASCAR defense more often? That's the only time they get much pressure
Joe Stanley
I think the Patriots have used their look with extra defensive ends – guys like Jermaine Cunningham and Justin Francis – playing on the inside quite a bit this year. But they don't have the same type of talented athletes in the numbers that the Giants employ in their version of the front. I don't agree that the extra DE look is the only time they pass rush has succeeded this year. I think they've gotten pressure in a variety of ways, and have added a variety of different packages, stunts and blitzes in recent weeks that have me intrigued moving forward. I think that a healthy Dont'a Hightower can be a very effective weapon in that area over the second half of the season.
Andy Hart
The Pats seemed to have found a running game in their offence. Should they stick with it or stay with the passing game?
Dave Beck
I would like to see them continue to be a balanced team and run the ball with regularity. I think the running game is going to be a big boost for this team and this offense late in the year and in the postseason. I know some people think that any play that doesn't include Brady throwing to his weapons is a wasted play, but I think it's an investment for the long haul. It's kind of like putting your money in a CD at the bank. You don't get anything out of it right now, but in the long term you're better off financially. The Patriots and Ridley have been putting money in a short-term CD that will mature this January and February.
Andy Hart
Get this message to the coach. He needs to check out a kid named Tommy Meyer at Evangel University in Springfield, MO. Heart of America Conference, NAIA. He is the right kind of running back for the Patriots. Great attitude, tough, fast, good hands, short but strong. He needs to take a look.
Dennis McDonald
I'll pass this along, and keep the name in mind when I start doing my own draft research this winter. Thanks for the intel.
Andy Hart
I'm sure I won't be alone, but I'll make sure the question gets asked, "Will the trade for Talib be a positive thing for this porous Patriots pass defense? I think the real key will be to get Gregory and Chung healthy at the safety spot. Unlike other people, I like our secondary, and they have made some good plays this season, it's just the bad that gets the most noise. With the likes of McCourty, Arrington, Dennard, Wilson and Cole along with the newly acquired Talib, hopefully the unit can gel enough to help out the powerful offense. Go Pats go from way up in Iqaluit, Nunavut, Canada. And keep up the great work at ASK PFW!
Michael Jewis
I figured an email from a play way up in a place that I've never heard of deserved to be read. I think Talib makes the Patriots secondary better. I think that was a huge need. It was the biggest need on a team that wants to compete for a Super Bowl. That's actually what I like most about the trade. Belichick saw a need, acknowledged a need and did the best he could to address it. Does is mean the secondary will be that much better overnight? No. Does it mean the Patriots will win the Super Bowl? No. Does is mean Belichick did all he could to try to make his team better at this point? Yes. That's all we can ask for.
Andy Hart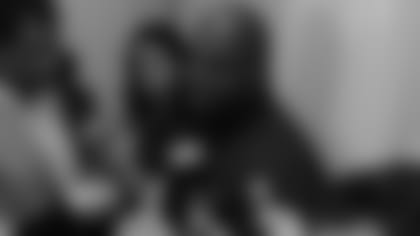 OK so it's bye week, in my book it's the most boring Sunday of the Patriots season. But anyways it's bye week and I thought it would be fun to ask a "fun" question! So this question goes back a week or two all the way from London, it isn't about the Rams game but it is about the trip. So my questions involve the journey to London and its plane. First, was it a team plane or was it the some sort of NFL jumbo jet that took the guys all the way over there? Was there snacks or some type of meal served or did Vince Wilfork have to bring the team snacks even though we all know they were for him. Did they have to go through the security like or a normal person or did the team get special treatment? What was the team dinner over in London, Fish and Chips? Lastly who from the PFW staff was there? This is a long series of questions but I hope you can answer all my questions, because after all, this is the only week we don't have to talk Patriots., right? Thanks again!!!
Kyle Rodgers
The Patriots do not have a team plane, they use a charter each week to fly to away games. That was the case with a much larger Virgin Atlantic charter to go to London. On all flights there is plenty of good food served, including full meals, snacks, drinks and just about anything else you can ask for. I assure you, it's nothing like flying commercial. Generally NFL teams go through security at the stadium in a secure area before getting on secure buses and getting directly on the plane on the tarmac. Sometimes they use security at the airport, but generally in a secure area and not at the terminal with the public. As for food in London, and all away games, that's set up by the team dietician and nutritionist, with all meals and snacks being served at the hotel. Finally, Fred Kirsch and Erik Scalavino made the trip to London for PFW this time around. We all did the trip a few years back, but given the responsibilities Paul Perillo and myself now have with the Dunkin Donuts Patriots Pre-Game Social radio show, we stayed behind. Hope that shed a little light on the logistics of NFL travel.
Andy Hart
Who from the Patriots is on the IR with the tag to return?
Viraj Patel
Tight end Visanthe Shiancoe has that designation for New England. He's been practicing the last couple weeks and the team needs to make a decision on him by the end of this week. He will either be added to the roster, put on IR for the remainder of the year or released. Stay tuned.
Andy Hart
When can Talib get a copy of the playbook?
James Siegel
Talib does not come off suspension and actually become a Patriot until after Week 9, which means after the Patriots play the Bills. So he can't get the playbook and start the learning process until next week.
Andy Hart