Hi Guys, greetings from Hungary I was reading a lot about the Patriots needs at draft and I'm a bit surprised that tight end position is considered as a potential number-one draft pick for Pats. In my opinion, a reliable and potential elite guy for the d-line is a bigger need. Of course a few targets for Brady as well, but I would not start with a TE pick. What do you think?* *Jozsef Bakk
Jó napot, Jozsef! I will be visiting your beautiful country for the first time later this year and am very much looking forward to it. Now, onto your question...
Tight end is certainly a possibility, given the lack of playmakers they currently have on the depth chart behind Rob Gronkowski. And his availability for 2014 is questionable at best, at least at the start of the season, just like last year. Tight end has become a focal point of this New England offense, so, it makes some sense that if there's a blue-chip tight end prospect still on the board when the Patriots make their first selection, they could select him. But the other positions you mentioned are just as likely.
I still believe the Patriots needs another impact pass rusher and wouldn't be disappointed if they opted for a playmaking wide receiver, either. With the Patriots, you can never entirely discount what they will or won't do, nor should you believe everything you read from the so-called draft "experts." The fact is, no one except those in the Patriots front office knows what the team will do with their draft picks. Erik Scalavino
I was checking out the free agents on the market and out of all the receivers available I believe Andre Roberts could be the best fit for us and could demand a small salary. Do you think that would be a temporary fix if it does happen? On the draft note also, should we perhaps trade back from our first round pick to stock up later in the draft? I noticed the depth the draft has in our needed positions, so I believe we'd get more value trading back. Valerian Rabello
When I wrote my free agent analysis for the current issue of PFW, Roberts was a player who wasn't at all on my radar. The four-year veteran was a regular starter for Arizona in 2011 and '12, after seeing marginal playing time as a rookie in 2010. His starts then slipped back to rookie levels last season, although his production has been virtually the same throughout his pro career: he's a guy who'll average 11 or 12 yards per catch and get you about 500 yards and a couple of touchdowns per season. So, you're right, Valerian, when you assume he won't cost much, but I wouldn't even go so far as to call him a "fix" – temporary or otherwise – for what ails this Patriots wide receiver corps. I would look at more talented players (Jeremy Maclin, Brandon LaFell, Jacoby Jones, etc.) before settling on someone like Roberts.
When it comes to draft position, I'm of a similar mindset. I abhor trading down. My preference is always to move up, because that's where the talent resides. Sure, you might luck out and get a starter or even a Pro Bowler in later rounds, but more often than not, if you take your chances with blue chippers, you'll be more likely to have a roster stocked with talent as opposed to "quality depth." Having a good bench is fine – it's great, actually – provided you have starting-caliber starters, which, in many instances, the Patriots lack at this point. They should focus on getting more talent first, then worry about the depth later. Erik Scalavino
We all know Vince Wilfork isn't going to get any younger. Do you see the Patriots trading up in this year's draft to get Jadeveon Clowney?* *David Ricci
Ha! Now that would certainly qualify as a move I would be in favor of seeing the Patriots pull off, but I'm not holding my breath. They would have to trade pretty high up to get Clowney, and I just don't expect that to happen, given their draft history. But if they did, it would have nothing at all to do with Vince Wilfork or his age. Wilfork and Clowney play two different positions and are two very different body types. Getting Clowney would be a complement to Chandler Jones. With both of those players at opposite ends of the defensive line, New England would have quite a formidable pass rush… perhaps the best they've had in a generation or more. Erik Scalavino
Is it possible that the Patriots reach an agreement with [cornerback Aqib] Talib similar to what they did with [right tackle Sebastian] Vollmer, in part based on his presence on the field? Stefano Olivieri
Sure, it's entirely realistic to assume that, if the Patriots re-sign their free-agent-to-be corner, they'll have language in the contract related to on-field presence and performance. Talib is a guy who's missed time due to injury in his season-and-a-half in Foxborough, and there's no denying that he's a difference maker when he's on it (look no further than the most recent AFC Championship Game in Denver for proof).
The question is, if New England chooses not to give Talib their franchise tag this year, will he get more tempting offers elsewhere? Probably, yes. However, Talib does seem to like playing here, so, maybe he'll concede a bit (emphasis on "a bit") when it comes to the dollar amounts, given his injury history. You made the comparison to Vollmer, but remember, Seabass wasn't as highly coveted a player as Talib will likely be, so, getting him to re-sign was perhaps easier than it will be with Talib.
However, if reports out of Indianapolis are true, the team and Talib may have already begun the process of working on a contract. Several media reported that both sides met during the Scouting Combine, when almost every team's power brokers and player agents are together in the same city at the same time. New England has exclusive negotiating rights with Talib until free agency begins March 11.* Erik Scalavino*
Long-time reader from New Hampshire. Love what you do, keep up the good work. Why is the draft so early this year? Do you think there will be any potential positive or negative side effects from the earlier draft? Thanks. Paul MacNeil
Umm… Paul? Not sure when you thought it was going to be held, but the 2014 NFL Draft is actually later than usual. About two weeks later, in fact. Historically, it's been held around the final week/weekend of April, but this year it will take place May 8-10. The obvious negative side effect to this is that we now have to endure two more weeks of protracted talk and speculation about the draft, instead of getting it over with and getting the players into the system quicker. I'm not a fan of this move. The NFL is only doing it in an attempt to get higher TV ratings during the month of May, which is a "sweeps" period for networks and their affiliates. Erik Scalavino
Hey guys, my question has to do with players changing positions. People talk about corners moving to safety, but could a safety move to linebacker? I thought of this when I read that Adrian Wilson is getting ready for camp. If not him, can you think of any that could or could have? Monty Borrowman
Yes, there have been examples of safeties moving to linebacker, though not a whole lot. I'll give you a couple of recent ones. The Patriots actually experimented with safety Tank Williams a few summers ago as a linebacker, but a better example would be Bryan Scott. He started his career as a strong safety with the Atlanta Falcons and since 2007 has been with the Buffalo Bills. During the '09 season, Buffalo suffered several injuries at linebacker and asked the 6-1, 220-pound Scott to move to outside linebacker. He remained there until being released by Buffalo last summer.
Maybe Wilson could make the move, but the Patriots also could use more help at safety. Plus, I'm not sure how much Wilson has left, physically, and moving to a more demanding position might not be the best idea for a guy coming off a couple of major injuries. Erik Scalavino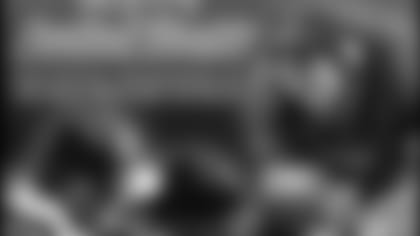 ](/fan-zone/patriots-football-weekly.html) Hey guys, I'm just wondering about draft day strategy and the Pats. There always seem to be some questionable picks (I suppose you could say that for all teams), but the Tavon Wilson pick stands out to me. The Pats have made a second-round pick for the guy that some analysts didn't even have being drafted. I know that Belichick selects the guys he wants when he wants and you can never be sure what another team will do, but what is the sense in selecting a player in the 2nd/3rd round that is a 6th/7th projection or maybe is even going to be available as an undrafted player? Surely there is better talent available in the early rounds and use a much later pick on him? Rob Masters
Couldn't have said it better myself, Rob. I've been beating that drum for quite some time now, and not just with Wilson, although he's the latest example of Belichick becoming infatuated with a player and taking him in a spot that defies conventional wisdom. Once in a great while, he hits on such reaches (Matthew Slater is an obvious one, and perhaps Duron Harmon, although the jury is still out on him). But more often than not, you're right. There is much better talent available when the Wilsons and Jermaine Cunninghams and others like them get over-drafted and, as a result, wind up becoming victims of unfairly high expectations, through no fault of their own. Erik Scalavino
Love the ["PFW in Progress" radio] show. I listen from Melbourne Australia. Why don't punters aim for the sideline with directional punts and go for field position, instead of kicking a high punt and hoping the coverage team will pin them down? This works in our local game (Rugby League). Is it the shape of the ball? Love the Pats and you guys are fantastic. Aaron Millar
Thanks for listening Aaron. Your question is a good one, and we've gotten it a few other times before from readers. What you're referring to is called a "coffin corner" punt, which used to be very popular in American football. Sadly, as a former punter/placekicker, I've seen these directional kicks fall to the wayside, and that started to happen, actually, when some Australian Rules players began entering the league about 10-15 years ago.
They had an unorthodox way of holding the football and kicking it end-over-end rather than spiraling, and special teams coaches fell in love with it. The end-over-end approach usually provides more backspin when the ball hits the ground, giving the coverage units a better chance of downing the ball inside the 20. So, that could be why so many coaches have eschewed the coffin corner in favor of the rugby-style punts. The NFL is very much a copycat league. If a team has success doing something, others usually follow suit.
Such trends tend to be cyclical, though. If what you say is true and the Australian game is going back to the coffin corner, maybe you could send some of those guys here to re-teach the NFL punters how to resurrect this lost art form. *Erik Scalavino