With Josh McDaniels taking back over as offensive coordinator what do you expect the biggest changes to the Patriots offense will be in 2012? Do you expect they will try to run the ball more? Who do you think has more upside Shane Vereen or Stevan Ridley?
*Ken Andsager
*Honestly I don't expect there to be many noticeable changes to the Patriots offense. It was very productive under McDaniels and remained that way under Bill O'Brien with very little changing along the way. One thing that was altered was the deep passing game but that was more due to Randy Moss' presence than anything else. Under McDaniels he had two solid seasons (2007-08) before tapering off in 2009 and eventually yapping his way out of town the following season. So O'Brien didn't seem to emphasize the deep passing game as much as McDaniels did, but I think that was more circumstantial due to Moss' petulance than any philosophical opposition to it. Now, McDaniels has Brandon Lloyd, and although he's not a burner like Moss he does have the ability to stretch the field. Look for the Patriots to take more shots with a viable outside option they haven't had the last couple of seasons. I know a lot of folks believe McDaniels likes to run more screens but I feel screens were a staple of O'Brien's offense the last three years with Wes Welker doing plenty of damage with them during that time. McDaniels may incorporate the backs in that part of the attack a bit more, but the screen has been a big weapon for this team for years.
I don't expect any more reliance on the running game than they've had in the past. I feel the Patriots could be more productive on the ground with both Vereen and Ridley – the former out of spread formations and the latter in more traditional running sets. Both possess much more explosiveness than BenJarvus Green-Ellis and could provide some big plays in the running game, although not necessarily through more attempts. Of the two I believe Vereen has more upside as a potential big-play runner and receiver, but time will tell.
Paul Perillo
Hello. I've read in two separate publications that Tom Brady's arm strength is weakening. Had I read it in only one publication, I'd have ignored it, but now I'm concerned. Is Brady's arm truly weakening? If so, what does that mean for the 2012, 2013 and 2014 seasons? Thanks.*Joseph Theban
*I'm not sure where you read anything about Brady's arm strength weakening but I'll take your word for it. And truth be told I believe that's probably the case. But I'm not concerned about in the least. Brady threw for more than 5,000 yards last season and the Patriots offense continues to be as productive as any in the league. Until I see signs of things tapering off due to Brady's inability to get the ball where it needs to be on time, then I won't lose any sleep over it. Now, in terms of getting the ball downfield I do believe Brady has slipped a bit in that regard. There have been more than a few underthrown deep balls that have hurt the team in recent years – his interception in the Super Bowl when he missed Rob Gronkowski is a glaring example. But Brady's forte has always been timing and accuracy more than anything else, and judging from how he looked during the spring I don't see any reason to believe those traits are diminishing.
Paul Perillo
We should give Kevin Faulk another season with the Pats because he and Joseph Addai are veterans that can tell the rookie and second-year backs something to look for.*Daniel Adams
*No one loves Faulk more than I do. In fact, he's the only guy left who was here when I started working for PFW back in 1999. He's made so many big plays for the team over the years and I have no doubt that has a few more left in him if he got the chance. But unless there is an injury to one of the current backs I doubt he'll return. Like Sammy Morris, who was quoted recently about his desire to return, Faulk represents great insurance in case something happens to one of the backs. With young players like Vereen and Ridley there's always a chance that things don't work out the way you hope, so having a guy like Faulk in the wings is great. He's a true professional and has handled himself with class throughout his time in New England. But right now I feel Vereen, Ridley, Addai and Danny Woodhead bring more to the table.
Paul Perillo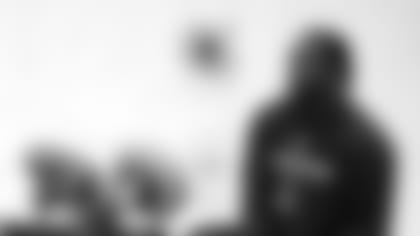 Greetings from Afghanistan! What position is the best fit for Dont'a Hightower? Do you see him more as a MLB, an OLB or a DE? At 6-2, 265 pounds, he is easily one of the biggest LBs in the league. Do you see him more as an in-the-box LB, or will we see him on the outside as well? LT Mancini FOB Zangabad, Afghanistan*Adam Mancini
*To steal Erik Scalavino's oft-used line, thank you for your service, Adam. It sounds like you have a lot of excitement over the potential for Hightower to factor into the defense. I must say that I share your enthusiasm. Player his size who can move the way he does don't come along often. While I haven't seen much of him in a Patriots uniform to determine how he'll best fit, I view him as a more suited for the inside – ideal as a 3-4 inside guy. He has the smarts and athleticism to perform in a variety of spots and I expect to see him outside in sub packages as well – not necessarily as a defensive end but as an edge player. Hightower is definitely one of the guys I'm most excited about watching this summer.
Paul Perillo
I know the Pats brought in a bunch of wideouts this offseason, and adding another to the mix sounds a little insane, but there are a couple of guys still out there with some youth and serious talent: Braylon Edwards and Mike Sims-Walker. Both have had their fair share of highlights as well as injuries in the past, but do you think either could be a Pat next season on a low-money, low-risk deal?*Ian B.
*First, I want no part of Braylon Edwards. He's basically a poor man's version of Randy Moss (OK, a destitute man's version of Moss). He's big and can run and is capable of making big plays. But his hands are just as questionable as his attitude and work ethic. He's never come close to living up to his draft stock (No. 3 overall for Cleveland in 2005) and is coming off an injury-filled season in San Francisco. No thanks. Sims-Walker is more intriguing but I still don't seen the Patriots making a move. He appears destined for Houston and is also coming off an injury that landed him on IR last season. He's shown flashes of ability with Jacksonville but has yet to prove he's capable to doing it consistently. If the Patriots already have a number of veteran receivers headed to camp so I don't see the need to bring in another.
Paul Perillo