I was a little bit annoyed by the random celebrations by Rob Gronkowski and Matt Light. I seemed to have taken the loss harder than they did and I'm not even a player on the team. What were your thoughts?
Jacob Mattson
Well, I can tell you for certain that you did not take the loss harder than any member of the team. To a man, they were devastated in the immediate aftermath of the game. They put everything they had into winning a Super Bowl - working for the better part of six months toward one goal - and to get that close and fall short was excruciating for all involved. The fact that a couple of players chose to dance several hours after the game should not be viewed as a sign that they did not care. How players choose to grieve after a loss is up to the individual. Some players chose not to even attend the party at all while others were there and were quite subdued. Does this mean they cared more than Gronk and Light? Absolutely not. I have no problems with how any of the Patriots chose to deal with such a disappointing defeat.
Paul Perillo
Now that I'm through grieving, it's time to move forward. Some questions for 2012. Is Jermaine Cunningham a bust? Should any of our Arena League DBs be kept around next year? What do you think? What big, fast WR would you like us to get in Free Agency? Do we need a bell cow RB, ala Corey Dillon instead of our running back by committee guys?
Ott Reid
Lots of questions here … and even more that I deleted in the interest of time … but some good ones to chew on. Cunningham certainly looks like a bust at this point. After getting some significant playing time as a rookie he was a non-factor in Year 2. Part of that must have been due to the scheme changes the team underwent and injuries slowed him as well, but at some point he should have been able to contribute on a unit that was not playing well virtually the entire season. I think he has some athleticism but to be honest I never saw in college the things the Patriots did and now he's facing a make-or-break third year. If he's not producing by the end of training camp next summer he'll likely be gone. Personally I expect him to be here but I'm not expecting much of an impact.
As for the defensive backs, I think you're being too hard on them. Certainly the Patriots need some more talent at the back end and Devin McCourty bouncing back from a terrible second season would be a big part of that. But Kyle Arrington played well and I liked what I saw from Sterling Moore down the stretch. He could be part of the equation next year. Also, Ras-I Dowling will compete for playing time if he can stay healthy - admittedly that's a big if. That's four cornerbacks to go with Patrick Chung at safety. Clearly none of the other safeties is a sure thing to return so that's an area in need of help. I'd look for Bill Belichick to address the defensive backfield both in the draft and in free agency.
At wide receiver, I know a lot of people are enamored with Brandon Lloyd, and he's been productive with Josh McDaniels so that makes sense, but I like Reggie Wayne. He showed last season that he's not just a product of Peyton Manning as he still turned in a productive season with little to no help from his quarterbacks. He appears to be the type of veteran who knows how to win and would be looking to close out his career with Tom Brady rather than waiting for rookie Andrew Luck to develop. He's a great route-runner with great hands and the speed to make big plays. He'd also cost less than Lloyd or San Diego's Vincent Jackson, another guy who's getting a lot of attention. I love Jackson but my guess is his price would be too high.
Finally, running back - in short, no, I don't think you need a bell cow like Corey Dillon. I like the committee approach and I'm looking forward to that committee being led by Stevan Ridley and Shane Vereen next season. The infusion of youthful athleticism will provide a boost of big-play ability to the backfield.
Paul Perillo
What position do you see being New England's top pick in this year's draft? What position do you think they should draft with their top pick?
DC Guy
Wow, I guess it's time to get ready for the draft. I'm going to answer this the easiest way I can. I still believe an edge defender is the team's top need - someone who can get after the passer and force the offense to game plan for him. Unfortunately, I think the Patriots will probably look more to the defensive backfield instead, although is a need as well.
Paul Perillo
Hey guys, I was watching the game again the other day and I don't know if the refs missed it or what, but there was a number of penalties that the Giants got away with. I'm not saying the Giants cheated, but there is no way they could missed that many penalties. Do you think maybe the pressure of the game just got to them?
James McCreless
Yes, I do. I believe the refs wanted the Giants to win. It was pretty clear to me. Congratulations on being the first to blame the refs, James … usually there's a long line of people doing that.
Paul Perillo
Can you tell me in what years did the Patriots play in the Super Bowl?
Steve Brothers
The Patriots have now been to the Super Bowl seven times in their history and have a 3-4 record. They went after the 1985 season and lost to Chicago. Then again in 1996 and lost to Green Bay. Then they won three times in four years - 2001, 2003 and 2004 - beating St. Louis, Carolina and Philadelphia, respectively. The two most recent trips came in 2007 and this year with both resulting in losses to the Giants.
Paul Perillo
Is it possible that Bernard Pollard's tackle on Rob Gronkowski deliberately put substantially all his weight on Gronk's leg just above his ankle with intent to injure?  He has a high level of coordination and physical control over his body and he has had so much success in the past.
Mike Fitzgerald
I am not going to try to get inside a player's head and try to determine what his intentions were, but I don't think there was anything out of the ordinary that happened on that play. Gronkowski has made defensive backs look terrible all season by breaking tackles and picking up extra yards - remember what he did in Washington? If Pollard doesn't put his weight on Gronk there's a good chance the tight end breaks that tackle as well. Pollard is a physical player who has been involved in some significant injuries for the Patriots so we all look at him quite skeptically. And when he offers little remorse after the fact it only fuels our suspicions. But I really don't think he was trying to hurt Gronkowski on the play. It looked to be like he was holding on for dear life. Of course, he may have known exactly what he was doing and landed on the ankle on purpose. Who knows?
Paul Perillo
*Do you think the lack of an offseason program due to the lockout hurt Devin McCourty's performance this year? He had a great rookie season and maybe went into the offseason over confident and did not do the hard work needed to get better every year. With a full offseason program this year and a helping of humble pie after his tough season do you see McCourty improving next year? Keep up the great work on "PFW in Progress." *  
Dennis King
Trying to figure out which is the real Devin McCourty will be one of the big items of interest this offseason. He was great as a rookie and obviously not so much in Year 2. From what I know about McCourty and what I've been told, work ethic is not a problem. He came to camp in excellent shape and was considered one of the team's hardest workers during the offseason. Remember, his teammates voted him captain after just one season so obviously they didn't feel he was overconfident. I don't think his poor play had anything to do with complacency or anything of the sort. Now, clearly being part of the team's offseason program would benefit anyone, particularly a young player, so hopefully that will be the case this year. But there's really no way of knowing whether or not he will return to his rookie play or if what we saw this year was more in line with what to expect going forward.
Paul Perillo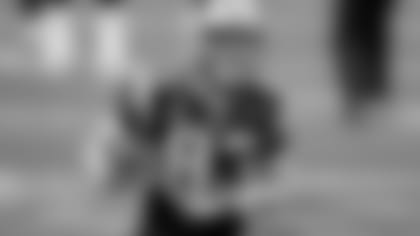 *I know that Wes Welker is a free agent and I hope we sign him back since he is the best slot receiver in the game. Now having said that is there any chance of signing any of the free agents at WR, like Reggie Wayne or Dwayne Bowe? Also, is there anybody in the draft that has the type of tools as Vincent Jackson? I was wondering if it would be a good idea to draft a big WR similar to Vincent Jackson, because I believe that a receiver like that together with Rob Gronkowski would be a tremendous weapon for the offense, and also a guy like Malcom Floyd would not hurt. Well what do you guys think? Thank you. *  
Alberto Gonzalez
As I said earlier, I do believe Wayne is a potential candidate in free agency. The Patriots have tried their luck, with varying degrees of success, with veteran wide receivers in the past. Wayne fits the mold in that he's been a solid pro, been productive, won't cost too much and may be looking for a change. He's been quoted as saying he'd love to play with Tom Brady and with Indy likely moving toward Andrew Luck in the draft it would be understandable if a veteran like Wayne chose to go elsewhere.
In the draft, Oklahoma State's Justin Blackmon is a big, fast receiver who will likely go very early. South Carolina's Alshon Jeffery is huge but not nearly as productive. He's actually been a disappointment during his college career but he definitely has the physical tools to succeed.
Paul Perillo
*When compared with the 2010 squad that (overall may have been better than the 2011 team) fizzled and died against the Jets, do you feel that the 2011 team vastly overachieved? I mean having the 31st overall defense and not much in the way of wide receivers (excluding Welker)? *  Josh Strzeszkowski
On paper I believe the 2011 team overachieved because what I saw didn't necessarily coincide with a Super Bowl team. But in reality, I don't believe it overachieved based on the opponents it went up against. The AFC was quite down in 2011 and the Patriots took advantage of that. Indy obviously was out of the picture when it lost Manning. The Jets completely imploded and were not a threat from the start of December on, leaving them out of the playoffs. And San Diego struggled through yet another underachieving season. That took three potential contenders out of the picture. In their place stood Cincinnati with a rookie quarterback, Denver with a fullback playing quarterback and Houston with a third-string rookie playing quarterback. None stood a chance of matching up with the Patriots in the playoffs. Pittsburgh was formidable until Ben Roethlisberger suffered a high ankle sprain, the same injury that effectively took Gronkowski out of the Super Bowl for the Patriots. The Steelers were out. So, that left Baltimore and obviously the Patriots had all they could handle with the Ravens, surviving on a dropped touchdown pass followed by a missed chip shot. That marked the Patriots first and only win of the year against a team with a winning record. So while it may be considered overachieving to get to the Super Bowl, New England was favored to win 18 of their 19 games (at the Jets was the only exception) in 2011 so clearly most felt they were better than the teams they played.
Paul Perillo
*I have two ideas that could greatly improve the defense. First, I don't think that the Eagles will keep all three of their high priced corners this year and I think Asante Samuel will be the odd man out. Bill should bring him back. McCourty could move to safety and depending on how Dowling progresses, corner could be a strength. Second, trade a first- and second-round pick to Minnesota for Jared Allen. This is a lot to give up for a player that only has a few more years of elite play, but we only have a few more years with Tom. Is this a fair trade for Minnesota? Am I crazy thinking these two moves would help the Pats defense become scary good? *  
Monty Borrowman
I would absolutely love to add Samuel and Allen to the defensive mix but I'm not going to hold my breath waiting for it to happen. Samuel has done nothing but make big plays for the Eagles since he signed in Philly in 2008. I'd love to see him join McCourty and the rest of the corner and he'd likely not cost a ton at this stage of his career. As for Allen, a first and a second is a steep price to pay. I'd be willing to offer a first but probably not both. He's a terrific player but as you stated, he's not exactly getting any younger. He's also got a sizable contract left with base salaries set to be around $11.6 million in 2012 and $14.2 million in 2013. Again, I'd love to see him coming off the edge but I don't think it's happening anytime soon, and that's assuming Minnesota would unload him, which wouldn't make a lot of sense to begin with.
Paul Perillo
Great work, tough end to an otherwise stellar season. I've got a question, why can't the Patriots seem to develop WRs in this system? Other teams seem to have a lot more success in grooming draftees into successful roles. The Pats have drafted plenty of WRs but very few work out. Production comes from outside sources or retreads from other teams. The TEs we drafted, Gronk and Hernandez caught on just fine. Do the Pats have a WR coach? Will McDaniels handle this going forward? It seems odd to me that such a prolific offense can't foster young talents at that position.
Jim Cunningham
It's true the Patriots have had trouble developing young receivers. Deion Branch (2002) and David Givens (2003) are probably the best examples of young receivers the team acquired through the draft and developed into productive players. Otherwise, the team's best wideouts have come from outside the organization - Wes Welker, Randy Moss, David Patten, Jabar Gaffney, Donte' Stallworth, etc. The Patriots do a have a wide receivers coach - Chad O'Shea - and he was quoted in a Boston paper over the weekend explaining how difficult the transition can be for a receiver learning the team's offense. He explained how Tom Brady has been in the system for so long that he's operating at a much faster pace than someone trying to learn and at times that's been a problem. There are a lot of reads and adjustments necessary on every play and O'Shea said that at times the newer wideouts have struggled trying to get up to speed. But all of that doesn't take the team off the hook for its inability to develop talent at the position. It's something they're going to have to improve in the future.
Paul Perillo
Logan Mankins held out for his big contract. He had a couple good years, but I think he is THE MOST OVERRATED OL in the league. I'd rather have had someone else in there that was paid much less. BB should've let him walk and re-signed Wes Welker with that money. Dan Connolly has been great when asked to start. Mankins got burned so many times on Super Bowl XLVI as well as XLII. Waste of money as far as I'm concerned. He should either restructure his contract or go chop wood in his back yard. He's terrible when it counts the most!
Dave Sarro
Well, let's just say you and I disagree. Mankins is not overrated in the least. While I don't think the 2011 season was his best by any stretch, I don't think it had anything to do with his contract or his mindset. And I also don't think he played as badly in the Super Bowls as you are portraying. Mankins is a very tough, physical player who always comes to play hard. His professional attitude is one that permeates the entire line and that of its coach, Dante Scarnecchia. He's much more talented than Connolly and to say there wasn't a huge difference between the two in 2010 when Mankins returned is laughable. Connolly is a solid player but Mankins is capable of much more. Picking at him for the Super Bowl loss seems silly to me. He made mistakes like everyone else, but he was by no means the biggest problem.
Paul Perillo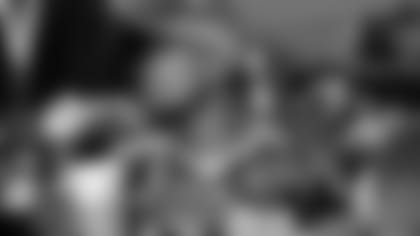 What do we make of Ocho? It felt to be a very odd year with him, very low usage, very little comment, and yet it was always a "we're happy with his contributions" "he's one of the more active guys in practice" kind of comments from coaches etc. Is he gone? Does he stay? And if so, will he be a different player this year?
John MacLeod
No one knows for certain other than the Patriots staff but I'd be stunned if he returned. They got absolutely nothing from him and that was with Ocho on his best behavior. He didn't seem any more comfortable in the system during the Super Bowl than he did at his first practice. And perhaps more importantly, I didn't see a guy who was physically capable of doing the things he had done in Cincinnati. In other words, I don't think all of his problems were related to his lack of knowledge of the system. I just don't think he's that good anymore. For that reason more than any other I believe the Patriots will pull the plug.
Paul Perillo
Can't seem to find the answer to a simple question on the website: who has played the most games in a Patriot uniform? Bruce Armstrong? Mosi Tatupu? Troy Brown? Who?
Steve Jakob
You've come to the right place, Steve. And you'll be glad to know you had the answer all along. (You even had most of the top five). Bruce Armstrong (1987-2000) is the Patriots all-time leader in games played with 212. He is followed by Julius Adams (206), Mosi Tatupu (194), Troy Brown (192) and Ray Clayborn (191).
Paul Perillo