I was always under the impression that it was spelt Foxboro but now I'm seeing more and more Foxborough. How is it correctly spelt?
Clark Morris
This probably isn't the most interesting question to a lot of our fans so I will keep the answer short. The Town of Foxborough is officially spelled with the –orough ending. But many places in the town and references to the town use the –oro ending. It know that's not a real definitive answer, but as Bill Belichick would say, "It is what it is." The –orough ending is more official, but the –oro is easier.
Andy Hart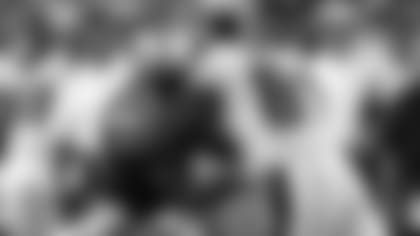 ]()Hi: I looked at my ticket from Sunday's game, and noticed the following: 1.) Only two players are pictured. They are: Eugene Wilson ( # 26) and Tyrone Poole (# 38). Add up their numbers and you get 19. 2.) Look at the Ref in the picture. His number on the uniform is #19. Why is this significant? Because number 19 does NOT belong to a referee. It belongs to: Scott Green who is a Back Judge and would not wear a white cap. 3.) On the lower end of the seating area; BUT, in between all the players, ref, and graphics, the following appears: (Sec.) 19 in a row. (Note: these words do NOT appear in Gillette. Any chance you can print tickets now for the playoffs that have the words "Two in a row." for two super bowls in a row? Or print a ticket that states I can have a picture of me next to the two SB trophies? :-)*Noel Texeira*
Noel, you noticed something that was well publicized in the papers following the win over the Dolphins. Well done. Those references you pointed to were a "subtle" effort by PFW Editor-in-Chief Fred Kirsch to commemorate the potential recording setting win on the season tickets. I am glad you enjoyed it and will pass the praise along to the Boss.
Andy Hart
Corey Dillon runs the ball hard and constantly for the PATS, every game in and out, yet he never gets a single TD. Every time there in the red zone Tom Brady throws a TD pass pretty much using Dillon as a mule. What is this garbage? Taking him out after that great run and giving the ball to some scrub is just a smack in the face, the pats treat Dillon like garbage.Bob Bigins
Mr. Bigins (I am not touching your last name with a 10-foot pole. When I made a reference to Double D in a previous Ask PFW I got myself in a little hot water.) I think your concerns were addressed this past week against the Seahawks. Dillon got his two rushing touchdowns, and if you remember Dillon took a chance away from himself when he fumbled on the goal line in Buffalo. Don't worry, as long as he holds on to the ball he will get his chances to punch it into the end zone. He has run the ball well all year and if he can continue to do so his chances will continue to grow in number. Offenses are at their best when they are balanced and unpredictable. Varying the ground game with the aerial attack only makes the team stronger in the long run.
Andy Hart
A poll at Foxsports has the Eagles ahead of the Pats - could you put it in the news section?Mark Richardson
First of all, Patriots fans really need to get over this concern over what everyone else thinks about the team and just focus on the fact that your team hasn't lost in more than a year. Enjoy winning and being on top of the football mountain. Second, the site you are referencing is a fan poll that is simply ranking the teams based on fan input – not any expert analysis. If Patriots fans want to go to Foxsports.com and flood the ballot box with votes to move the Patriots, although when I checked the site New England was on top, that is up to Patriots Nation. Foxsports.com's power ranking, as is the case with every other legitimate ranking in the world, has the Patriots on top. New England is the most respected team in football and is breaking records that have stood for decades. Lack of respect is no longer an issue with this team. Let's move on and enjoy the success while we can, because sooner or later it is going to be a distant memory.
Andy Hart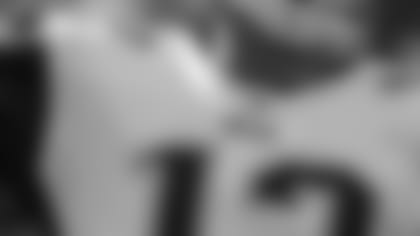 ]()No one ran a bootleg better than Steve Grogan, especially when down near the goal line. Why don't we see Tom Brady bootleg especially since he is so good at hiding the ball and running play action plays? While we are at it, why don't we ever see flea flickers, hook and ladder plays, drop kicks, or option plays in the NFL? One of the best plays I've seen since the Brady era was a pass from Patten (I think) to Brady. Wouldn't it make sense to run at least one trick play every now and then just to keep defenses guessing?*Bertrand Dugal*
I am not sure what games you are watching, but I think Charlie Weis does run at least one trick play a game. In fact, he has drawn significant criticism in his time in New England for being too tricky and overly creative when pure, smash-mouth football might have been a better course of action. You referenced a pass to Brady from Kevin Faulk in 2001, that is one of the examples of Weis' creativity. He's called many such plays including reverses, double reverses, end-arounds, wide receiver passes and many more. As far as the bootlegs go, Brady is never going to win games running the ball, and as we saw last Sunday doing so puts the Franchise in harms way. Brady is athletic enough to move in the pocket, but is certainly not a running talent anywhere near the likes of Grogan or Michael Vick. He does enough to help his offensive linemen out, but running more would not be a good thing for his future or the future of the team as a whole.
Andy Hart
I notice that you have answered only a few questions from fans this week. Is it because you are not get many questions? Again no link for questions at the bottom of the PFW page.Otis Hill
Otis, my man, we are working on the Ask PFW placement issue. As with anything new, the redesign of Patriots.com still has a lot of bugs to be worked out. I think the new look will be a huge positive in the future, but stick with us as we work out the kinks. And if you don't like something or have ideas to improve the site please email them to us here at Ask PFW or click on the feedback link at the very bottom of the page on Patriots.com. We always appreciate the input of our readers.
Andy Hart
I wish current injuries were more updated ASAP. Also, I thought it was a new rule that coaches had to be specific about actual injuries; much to Patriot's dismay. Is the coach still trying to be vague-for instance about Cory Dillon?
Susan Tenofsky
Belichick is following the new rules for the reporting of injuries. Dillon was listed with a foot in injury, in the past that may have been listed as a leg injury. The word foot is probably a bit more specific than Belichick would really like. Other than that the only extra degree of clarity that is called for by rule is that with a skill player like a quarterback or kicker – such as a quarterback's arm injury or kicker's foot – the listing must include the specific side of the injury. The Patriots have followed the rule as well, listing both Brady and backup quarterback Jim Miller on the injury report with right shoulder injuries. It may not be what fans are looking for, but Belichick is following the rules in terms of reporting injuries and that is all you are going to get.
Andy Hart
Do you know if Cedric Cobbs will be activated? He had some monster games against some very good competition in college. I for one would like to see him in action and someone within the organization must like him if they were willing to dump Mike Cloud without batting an eyelash. Who is likely to be cut to accommodate Cobbs?Bud
Good to get an email from a frog. Will Weis or Er be emailing anytime soon? Cobbs and linebacker Matt Chatham are now available to start practicing with the team or be activated to the roster. The team has the next three weeks to decide to start practicing either or both players and would then have 21 days from the first day of practice to decide to put the player on the active roster, release him or put him on PUP/IR for the remainder of the season. While there is no official word yet, both Chatham and Cobbs appear to be healthy and it could come down to the need for either player combined with the availability of roster spots. With the trio of Dillon, Rabih Abdullah and Kevin Faulk all producing, the need for Cobbs may be limited right now. But we will all have to wait and see, and I will admit I am extremely intrigued by the rookie back's combination of size, speed and athleticism. I think he could be a unique addition to the offense, either now or in the future, and has a huge up side.
Andy Hart
Hey Guys, I'd of said take his "[testicles]" but he seems to be missing a pair of 'em. You guys do a great job keeping us informed. I thought it was common knowledge that the Pats injury and locker room info was kept shut down to the league's bare minimum I doubt the CIA, FBI, or Homeland Security could get the inside scoop from Coach Belichick's Football "Free dome" Fighters. No questions this week, just wanted to say thanks from a transplanted Pats fan out here behind 49er and Raider enemy lines......ok enough of the nine one rhetoric. Just a quick story I got into it with 2 Raider fans in the parking lot of a local hardware store I was wearing my Pats cap and they said to me "You know that was a fumble," of course referring to the Snow Bowl. I replied "You guys are still whining about that play? It was 3 years ago and every game has a [bad] call if not several. The refs in the NFL are so inconsistent that it has become part of the game and I expect to get some and to lose some because it happens every week in every game !" They replied, "Yeah well you would whine too if it happened to your team but we will give you this.............you guys have the BEST QUARTERBACK in the league !" I humbly agreed with them "You got that right." Then I got into my truck and got outta there fast cause both these guys where a few feet smaller than Mt. Katahdin. I just wanted to let some folks in the PATRIOT NATION know that the respect is creeping across the country slow but steady, week by week. So keep the faith and stand strong and proud and enjoy it while it lasts! And oh ya -- Hey Adam don't let the door hit [you] on the way out!Hammer'n Hank
Thanks for the support Hank in telling Adam (an emailer from last week's Ask PFW) where to go. And I am happy to include your very detailed account of the encounter with Raiders fans. The respect for this team is indeed out there and the sooner Patriots fans realize that the sooner they will enjoy the current state of success.
Andy Hart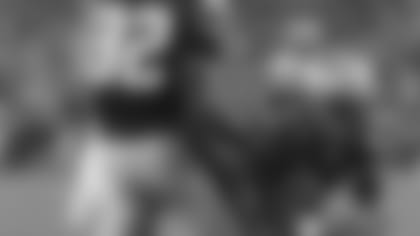 ]()I thought Ben Watson was terrific in the games he played. Why is he inactive?*Chang Yoo*
Chang, first off I enjoy your delicious chocolate drink. Hoo is your partner in that enterprise? Unfortunately for Patriots fans, Watson injured his knee in practice in the week leading up to the Arizona game. He had to have surgery and was placed on injured reserve for remainder of the season. He is not on the active roster and is not eligible to play until next year.
Jerry Rice is 42, and while he's no speedster, he's still a reliable route runner and has exceptional hands. Throw the ball anywhere near Rice and he catches it. He says he can still contribute, but sharing field time among Oakland's crowded receiving corps has him feeling held back. And so, he wants to leave Oakland. I started thinking about the Patriots and their banged-up receivers. (And I'm always a little dangerous when I start to think.) Do you think the Pats would find any value left in the NFL's all-time greatest receiver, perhaps for one more season, even if he's getting old? Do you think his skills fit system the Patriots are using? I know, I know, it won't happen. But it kind of makes you go "hmmmm," doesn't it? Thanks for reading and best wishes to you all.Ryan P.
Obviously by now we all know that Rice has been traded to Seattle, but I thought it was worth it to look how he could have fit in New England. Rice has always been a bit of a yapper, if I remember correctly he complained about not winning the MVP award in one of the Super Bowls, and no longer has the skills to overshadow his complaining. He didn't fit in a crowded receiving corps in Oakland and certainly wouldn't have been happy in New England's offense. Tom Brady throws to all his guys, treating the one who is open as his favorite. I don't think Rice would have enjoyed that. He can help Seattle, filling what may turn into a void left by Koren Robinson, and will likely get more balls thrown his way than he would have in New England. While there are a number of wide receivers hurt right now, they will all be back and that would have made Rice just one of a group of five-plus guys – clearly not what he's looking for at this point in his fading career.
Andy Hart
WOW! Kudos to whoever dreamed up the tickets for the 19th game. They got everything but the long-haired guy with the "Paul Is Dead" sign in there.Rick Soden
As I said in a previous answer, I will pass the ticket praise along to all those who made it happen. But I have no idea what your other reference is all about. Is this another one of those things that I don't get because I am young that will cause Paul Perillo to make fun of me. I do know some things that happened before I was born, but some thing are also generational.
Andy Hart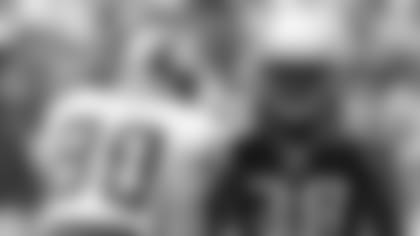 ]()The patriots have three badly injured receivers, Dillon is pretty badly hurt, Tyrone Poole is hurt, and Ty Law has been fighting a hamstring all year. I am worried that the patriots are going into the tougher part of their schedule without packing a full cannon. Can you tell me something about these injuries? I want to know what is wrong with Ty Law.*
*Brian K.
Law has battled some leg tightness all season, dating all the way back to the preseason, but he has been able to play through it. Unless it becomes more severe I don't think it is really an issue. I feel the same way about the Dillon foot injury. He's played through it and I think it is a non-factor for now. But if he goes down on a more permanent basis, so do the chances of the Patriots winning on a weekly basis. The biggest injury I see right now is the knee problem Poole is having. I don't think you can afford to lose the veteran corner opposite Law over the long haul. With him out of the lineup Asante Samuel becomes the starter and Randall Gay goes from an insurance possibility to your nickel back. I think that is a tough job to ask a rookie free agent to fill. He's been able to make plays so far, but the more teams see him the more they will try to expose him. And as far as the injuries at wide receiver, I have come to expect them with this group. It is a deep group, but one that lacks durability. They have all dealt with injuries in the last few years and that is what I expect form them. But as long as two or three can step on the field each week, I think the offense will be OK.
Andy Hart
What games are the Patriots going to wear their silver jerseys this year?Nathan Graf
You didn't hear it from me, but I expect to see New England in the silver jerseys for their December 12 matchup with the Bengals at Gillette Stadium. Tell anyone I told you that and I will deny it.
Andy Hart
I'm not panicked about Seymour's slow start. Is it common for a player of his caliber (All pro) to have a big off year after such a great one?Moses Ip
Don't we all, Moses? I don't think there is any real trend in terms of All-Pro guys having tough follow-up years. I mean if it existed you would never have guys with back-to-back All-Pro years and that is a pretty common occurrence. I wouldn't worry about Seymour. Stats or no stats, and he has in fact picked up in that area of late, Seymour is one of the best defensive players on this team and one of the best at his position in the NFL. Teams scheme for him and he is used differently on a weekly basis, but in the end he is a productive force that makes this defense, and all the individual players around him, better.
Andy Hart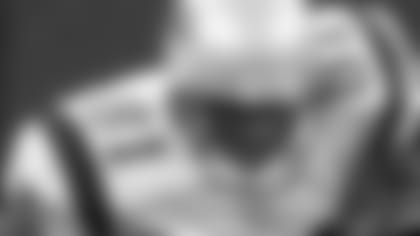 ]()Bethel Johnson is one of the fastest receivers in the league... why not just let him loose down the sidelines and spread the field for Corey Dillon? It would also open up all the underneath routes for backup receivers David Patten and David Givens.*Armando Ramirez*
In theory your proposal is perfect, but I don't think it would work that way right now on the field. If a guy does just one thing, it makes him pretty easy to defend against. Unfortunately I think Johnson's work ethic and skills have made him that type of one-dimensional offensive player at this point in his career. At which point he becomes a more regular option in the offense will become a more potent weapon. Until then, he is what he is. That's a solid and sometimes-spectacular kick returner and a guy you send deep a couple times a game to keep a defense honest. Nothing more, nothing less.
Andy Hart
With all the recent talk of the Pats current 19 game win streak, it got me to thinking about past Patriots win streaks. As a Pats fan since '72 (and PFW subscriber since '97) I can recall a few. Could you find out what the Top 10 Patriot winning streaks of all-time are? For example, I think that 12 is the second longest streak? (9 ending 2001 season, including playoffs 3 at the start of 2002 season). And in '94 I think there was a 7 game streak? I recall five wins to start 1974. Don't you think this would be a great idea for a future PFW article? I do!
PFW editor Bryan Morry thinks that is a great idea for a story and that's all that really matters. I wouldn't be surprised to see such a topic addressed in a coming issue. As far as the streaks go, after the current stretch the longest would be the '02-'03 12-gamer that also includes both regular and postseason games. The rest of the streaks that would include postseason games are all seven or less. In terms of streaks including just regular season games, streaks that are generally acknowledged by the league in the record books, the current 17-gamer is obviously the longest. That is followed by the nine-game stretch to end 2001 and begin 2002 and then an eight-game streak over the end of the 1994 season into early 1995. The team had seven-game winning streaks in 1986, 1978 and one that spanned the end of 1976 into 1977.
Andy Hart
Is it my imagination or is the emergence of Stephen Neal at right guard been a major reason why the Pats have been able to run Dillon so successfully. It seems that they prefer that side. Thanks, Otis ps. If you can, please ask your website developer to post PFW on the Pats webpage and also to have the ask PWF link at the bottom of the page. I have to use the search facility to find PFW and feedback to ask a question.
Otis Hill
Thanks to our Ask PFW issues in terms of web site placement and emails received, O-T-I-S goes in the record books with two questions answered in the same day. You must be so proud. Anyway, Neal is doing a good job in the running game and I too have noticed the team running Dillon over his side quite often. When healthy the scouting report on Neal has always been that he has the ability to be a dominant run blocker. The questions surrounding his play have always come in the passing game. Obviously he's overcome those questions and that is why he is in the starting lineup, paving the way for a very successful stretch of games for Dillon and the New England rushing attack.
Andy Hart
I traveled from the El Paso, TX desert to see the Seahawks game, and it was well worth the trip. I did have two questions regarding penalty calls: one call on Roosevelt Colvin and one non-call on the Seahawks. Roosevelt Colvin was called for unnecessary roughness for apparently doing the same thing he did in Miami, hitting a player in a three-point stance to point out a false start. I was a little fuzzy on how you could be overly aggressive to an offensive player set in a blocking stance that didn't appear to be given a helmet or face mask hit. Did I miss something on that play? The second call was a Brady takedown after he threw the ball. It took place in front of a referee and was not simply a continuation of defensive momentum after a legal hit. How much can a defender permissibly do after the quarterback releases the ball after getting contact prior to the throw?Mike Gorman
One for two isn't bad, Mike. I agree with you on the Brady call, but couldn't argue more with your view on the Colvin penalty. To me, that play was the definition of unnecessary roughness. Colvin hit the player with more force than is called for simply because he could. I am all for the violent nature of football, but if we are going to crack down on defenders hitting quarterbacks and receivers to the ballet-like degree that we have of late, then that penalty has to be called as well. I have seen it go both ways, but I think they got it right on Sunday. But by that same set of rules, the Brady throw down has to be a penalty as well. The defender clearly threw the quarterback to the ground well after he released the ball. It was unnecessary and much more blatant than the penalty Rodney Harrison received for hitting Matt Hasselbeck in the knees. I will never understand the officials based on the calls they make on a weekly basis, but I think they at least got one of these two calls right. But then again, that is probably their league-wide average for all calls.
Andy Hart
This has probably been covered before, but can you tell me about the practice squad, specifically, what are the rules concerning signing players off of a teams practice squad. Does the team interested in another teams practice squad player work out a deal with that team or does the player have to clear league waivers. Does the interested team owe a draft pick if they sign a player?
Dave Caissie
You can sign a team off another team's practice squad at any time, the only caveat is that that player must remain on your active roster for three weeks. There are no waivers or draft picks involved in the process. The practice squad players are essentially free agents who have just been practicing with another team when they are signed.
Andy Hart