COLORADO SPRINGS, Colo. – The Patriots are still getting accustomed to the thin Colorado air as they prepare for Sunday's meeting with the Oakland Raiders in the even higher altitude of Mexico City.
Thursday, the team held a walkthrough practice at Falcon Stadium on the campus of the United States Air Force Academy, their weeklong headquarters here in Colorado Springs. They'll hold one more training session on Friday before departing Saturday for Mexico.
"You feel it still," admitted running back Dion Lewis about the physical effect of the 6,000-ft. altitude at the Academy, "but you still have to go out there and play. So, I'm sure the air is going to catch up to you at some point. You just have to be ready for it and know how to handle it."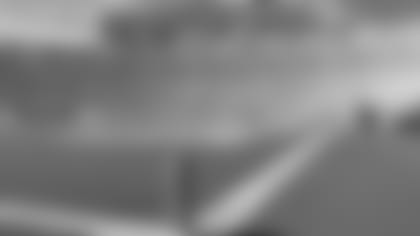 "It's been a good week of preparation," maintained safety/co-captain Devin McCourty. "This is not a vacation. Obviously, it gives us great perspective being here [at the Air Force Academy]… Guys have been locked in and trying to get to know Oakland as well as we can. We know they have an advantage coming off their bye week. So, we've kind of been in a catch-up mode mentality, trying to get to where they are as far as preparation."
In addition to wide receiver Chris Hogan (right shoulder), right tackle Marcus Cannon  (left ankle), and special teams co-captain Matthew Slater (hamstring), all of whom are not taking part in practices due to their various injuries, there was no sign of starting center David Andrews when media observed the arrival of players to today's on-field workout. He was later listed by the team as having an unspecified illness.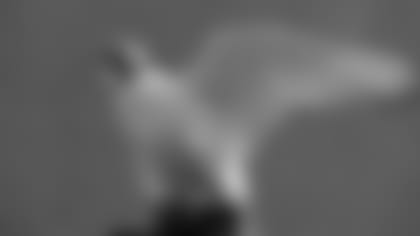 At the conclusion of practice, the Patriots were treated to yet another visit from Air Force personnel, this time of the winged variety. The team met the official mascot of the Academy, a snowy white Gyr-Falcon named Aurora. She and her military handler were accompanied by three of her mascot colleagues, all of whom are trained by Academy cadets: Oblio, a Peregrine Falcon; Achilles (better known as "Ace"), a hybrid black Gyr/Saker falcon; and a Kestrel named Zeus.
The mascots apparently put on an aerial show for the team, which was then allowed to have an up-close petting and handling experience with the trained birds.
"That was a little different," McCourty remarked with a grin.
"It was real cool to see the birds flying," rookie defensive end Deatrich Wise smiled.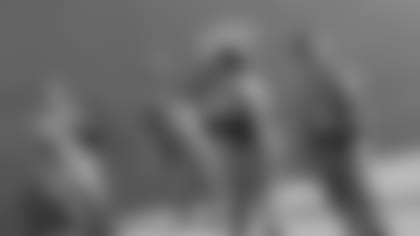 Patriots on Pro Bowl ballot
Earlier this week, the NFL began allowing fans to vote online for their favorite players to take part in the 2018 Pro Bowl. More than two dozen Patriots are on the ballot, including Lewis and Wise.
"I've never even thought about that," Lewis responded when told of the news. "That's never even crossed my mind. I didn't even know they started voting. I'm just focused here, trying to prepare for the Raiders and give my team the best chance to win."
"That's awesome. It's an honor to be among the list of defensive linemen," a clearly taken-aback Wise reacted. "It's pretty cool and I hope I get votes. It's pretty awesome."
The Pro Bowl game will be held in Orlando the week before the Super Bowl. Fans can visit www.nfl.com/probowlvote until December 14 to vote. Pro Bowlers will be announced on NFL Network on December 19.