INDIANAPOLIS – Everyone's talking about Rob Gronkowski and his injured left ankle. And with good reason. His ability or inability to play in Super Bowl XLVI could significantly alter how the Patriots attack the New York Giants on Sunday.
From a Giants perspective, if New England's All-Pro tight end doesn't play, they'll consider it a stroke of good luck. But they aren't counting on that.
"I really do think he'll play," head coach Tom Coughlin told reporters Wednesday before either team hit the practice field.
"It sounds like he's making great progress … I just think that we'll prepare as if he'll play and we'll do our due diligence with any of these other personnel combinations that come up … We are preparing naturally for different personnel sets, also including the fact that we think he'll play."
The Giants have a few banged up players, but today, only running back Ahmad Bradshaw (right foot) didn't suit up, as Coughlin announced at his daily media session. That news came as somewhat of a surprise to Bradshaw, when I told him what Coughlin had said, even though Bradshaw didn't practice last week either.
"I might get a couple plays today depending how I feel when we get to the practice," he insisted. "[The coaching staff] may not like that idea, but we'll see how I feel … I didn't know I wasn't practicing today, but, you know, may I can get a play, just a rep, just to get in there and stay in it. I've been doing it all year, just practicing on Fridays and Saturday [walkthroughs] and going out and playing [on Sundays.]"
While New York's offense certainly isn't dependent on its rushing attack to move the football and score points, it certainly would help provide balance if Bradshaw, the fifth-year back from Marshall, and the Giants' committee of backs can produce on Sunday. Bradshaw was unavailable for the Week 9 encounter in Foxborough because of that same troublesome right foot.
He assured Giants fans and observers that he would be ready to go for the Super Bowl, however.
"I'm not messing with that. I don't miss game days too often and I missed four this year. I felt bad for my team. For me just to miss any games, it's heart-breaking.
"I've got the heart of the lion," he proclaimed. "This whole week is for recovery for me and for this team actually. I can't complain about my feet right now. I'm able to walk around and not be in pain, get out of bed and not be in pain, so I'm excited about that …
It is the Super Bowl. You're not going to miss this game for anything. I feel great. This whole week of recovery just makes it even 10 times better. I just hope to go out Sunday and be 100 percent."
Bradshaw is even more determined to play in this game, he revealed, because he wants to square off against his good friend and offseason workout partner, Patriots linebacker Brandon Spikes, for the first time in their career. The duo share an agent, which is how they met.
"He's a great athlete," Bradshaw said of Spikes, who has become quite familiar with the linebacker's often excitable personality on the field. Has he seen shades of that off the field as well?
"Hell yeah," Bradshaw replied, "he's a great athlete. When it comes down to competition, he competes hard."
Bradshaw, a Virginia native, had good things to say about his former high school opponent, Patriots linebacker Jerod Mayo, as well as New England's front seven as a whole, but he also made a bold prediction about Super Bowl Sunday.
"Jerod Mayo, we came out of high school together. We had visited University of Virginia and I've seen it in him since then of how good he was. Wilfork is just a monster in the middle. That's what you ask for. We've got a great group of guys on offense that can handle business and we'll take care of it."
It'll be an interesting role reversal Sunday for Larry Izzo. Four years ago, he was a special teams co-captain for New England in Super Bowl XLII in Arizona. On Sunday, he'll be an assistant special teams coach for New York.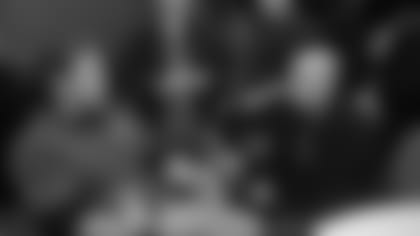 Now that he's on the opposing sideline, in more of an authority-figure role, Izzo couldn't help but reflect on how his years with Bill Belichick have influenced him as a coach.
"Anytime you're around someone for eight years, you're going to pick up things," Izzo explained. "He has some phrases that kind of are things you hear year in and year out. When something is not what it should be, you know what his reaction was going to be. I find myself, yeah, you think of it in the same way. Like, 'This is bad football.' Sometimes you hear it in your head and it makes you laugh, because you hear Bill yelling at you."
And even though he's a Giant now, the loss to New York in that Super Bowl, which ruined New England's perfect season, still haunts Izzo.
"I would say that that was a low moment as a player as far as you are there and there was a lot on the line, big picture, and we didn't get it done. We got outplayed," he admitted.
"Anytime you have a game like that, whether it's the Super Bowl or whenever you lose, it sucks. Multiply that times a million and that's like losing the SB. That's about all I can say about that. It was a great game and all the credit goes to this [New York Giants] team right here because they beat us that day."
Super Bowl XLVI will provide a reunion setting for UMass alums Victor Cruz of the Giants and Patriots safety James Ihedigbo.
"Oh, yeah, my boy 'Digs," the Giants wideout began with a friendly smile.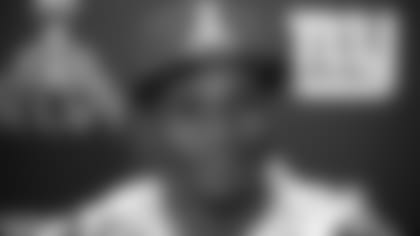 Ihedigbo hosted Cruz on a recruiting trip to Amherst and convinced him to become a Minuteman.
"He just sold me on how much of a family everyone there was," Cruz explained. "The whole team was always around, there was never a segregated group of guys, a team effort. Everyone was always in everyone's rooms and partying and just having a good time, laughing with each other. So, when I saw how close everyone was, I said, 'I have to be a part of this."
Though they're opponents this week, the two still share a close bond. Cruz said he's excited to face his former teammate on football's biggest stage – a long way from their Division I-AA days together at UMass.
"We always talk all the time, man," added Cruz. "It's really a testament to his hard work. Ever since college, you can see his work ethic. He's just a freakish athlete. It's good to be in the same game with him. I'm proud of him, proud of everything he's done. He's had a journey himself as well. It's fun to have some UMass guys out there. I'm sure, in between plays, we'll have a lot to talk about."