BB: OK, just going through, spending more and more time on Carolina. Really impressed with the way they're playing and all the things they do – offense, defense, special teams. Well coached, not very many penalties, doing a good job protecting the ball, turning it over. Making a lot of key plays at the right time in all three phases of the game – they are a very opportunistic and instinctive team. And of course they've gotten off to some really good starts. They've played well in all the games but they've gotten a big advantage on their opponents in the first quarter and first half. Us being able to be ready to go and being able to match that – the start and the intensity and the execution that they have – will be a key part of this game too. So, all things we're working on. Glad we have a little bit of extra time for them because we need it to prepare for them.
Q: How are you using the extra day in this week's schedule?
BB: I'd say we're just doing a little bit more of everything, not any one specific area. Just kind of trying to put a little bit more time into everything we're doing. Just spread it out, just take the extra time and do a just little bit more in each area but not dedicated to one specific thing.
Q: On the fast starts – what do you like about what you guys have done with starts? What would be a high point for you in that area and what would be an area you look at and say that's not going to be good enough?
BB: I think we've had a number of decent starts – the second Jets game, the Pittsburgh game – a lead at the half playing fairly well, being, I don't want to say in control of the game, but somewhat in control of the game. Those would be a couple of examples. But it was just the reverse of that in the Miami game. Each game has its own characteristics. It will play out the way it does. I can't really worry too much about what has or hasn't happened. We just have to play a good 60-minute football game against Carolina. It has to come from the opening kickoff to the final gun. It's just going to have to be 60 minutes of consistent football, good execution and being alert, doing all the little things right which then usually leads to good results on some of the bigger things. And have little things, those can unravel the big picture.
Q: Carolina's Special Teams Coach Richard Rodgers spent a number of years at Holy Cross. Can you give some insight into Carolina's special teams units?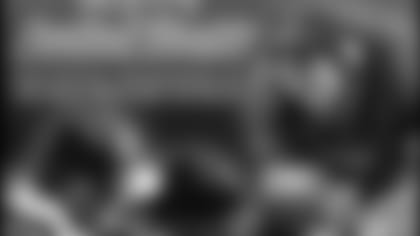 ](/fan-zone/patriots-football-weekly.html)BB: They've done a good job in the kicking game. Obviously, the kicker's had a great year – lot of touchbacks and he's only had one missed field goal. He made the big field goal last week to give them the lead and eventually the win in San Francisco. Good return game. They're a physical coverage team. They have a lot of bigger guys. They have some real physical linebackers and safeties. They do a good job. They're aggressive with their coverage and they have good specialists and they have an explosive return game with Ginn [Ted Ginn, Jr.]. Good rush team, blocked one this year. But anyway, they rush the field goals and they have explosive guys there, obviously [Greg] Hardy does a good job, [Chase] Blackburn. They get good pressure off the edge. They're solid in all three areas, but they do a good job in the kicking game.
Q: According to last year's statistics, Carolina led the league in read-option plays. Has going against other read-option teams already this year helped you in your preparation for Monday night's game?
BB: I think our exposure to it going all the way back to Philadelphia in preseason, working against the Eagles and of course we saw some of it last year, especially against San Francisco. We knew coming into the season this was going to be an area we needed to make sure that we had enough defense for and we spent enough time so our players understood their different responsibilities with this type of offense. We saw it at Philadelphia, we've seen it twice with the Jets, we saw it from Buffalo; whether it was hurry-up or not, but the plays and the overall type of attack that those teams use and Carolina uses. I'd say that Carolina probably has a little more volume in the type of plays that they run. I don't know if they run it more than Buffalo or the Jets. That kind of varies sometimes from game to game. They have overall a lot of volume in the running game, so that's one part of it you have to defend with Carolina. It's certainly not all option like it is, or read like it is, let's say at Philadelphia. I mean that's by far the majority of what they do. Or at least when we practiced against them it was. But, with Carolina, that's only part of it and of course the ability of the quarterback with [Cam] Newton handling the ball makes it even more dangerous because he can rip off a lot of yardage like [Colin] Kaepernick could, that same type of thing. We have to do a good job, be disciplined on that. But yeah, definitely the fact that we've worked against those teams that have used that or some element of it has been beneficial. Miami as well - Miami's another team that was in the gun almost every play with their running game. They had a few runs under center but most were in the gun. That's another exposure to it. So really I'd say over half the season so far we've dealt with it or some element of it on a weekly basis.
Q: One of the big stories yesterday was the release of Texans safety Ed Reed. When something like that happens, what is the process that you go through as an organization to decide if you want to make a move on that player?
BB: Well first of all, there's usually, not always, but there's usually an indication of things like that – there's usually an indication that they could happen. Not saying they're going to happen, but that they could happen, and that's one of the things that our personnel department, pro personnel department, does a real good job of, is they stay on top of that. So when you have players who are – whatever their situation is – that we think could potentially become available, then we start working on them ahead of time, so that when it happens – or if it happens – we're not sitting there trying to scramble around and find out the information and evaluate the player on film and so forth. Most of the time you have a little bit of a lead-in on that if you're paying attention to things that are going on, whether it be some type of internal problem, or maybe it's a player that's had decreased playing time, or maybe there's a contract issue that you can see coming to a head, or you have some indication from whoever that it's going to happen. I'd say most of the time we have a little bit of a head start on that, and then if it doesn't happen, it doesn't happen, and we evaluated the player and the situation anyway. If it doesn't come up then there's no, obviously, action to take on it, but often times it does, and so we try to stay ahead of that. And of course that depends on what our situation is; I mean, there's a lot of players that could be available out there, but if it's a situation where you have a need at a certain position or it's a fit, then you're more interested and more apt to do something than if the player is out there and you have something going on at another position, but not that position, and that could affect what type of decision you would make there. It could be the same player, but it's more sometimes about timing than it is about the player that's available or the situation that you're dealing with on your team at that point in time, which there is always something, whether it's injuries or the type of scheme that you're getting ready to face or that you want to use, and where your depth is at different positions, how to put all that together. I'd say that's kind of the overall process.
Q: Do you actually have any interest in Ed Reed?
BB: I don't think it would be appropriate for me to comment on players who aren't on our team.
Q: Rob Gronkowski made headlines again this weekend for some apparently inappropriate comments. How does the organization condone that?
BB: I'd say that right now my main focus is on Carolina, and anything that happens that we need to address as a team, internally or individually with a player, would be handled on that basis.
Q: How would you sum up the play of Devin McCourty, Steve Gregory, Duron Harmon, and the safety group as a whole? What are your thoughts on how they've produced this season?
BB: I think overall that we've had pretty solid play out of the five guys. Tavon [Wilson] and Nate [Ebner] have both missed a little bit of time during the season, but they've been good contributors for us in the kicking game and they've played a solid role for us there, and continue to, I'd say, work and get reps for us defensively, even though they haven't had a lot of opportunity there. Devin and Steve and Duron have kind of been in a little bit of a 3-for-2 situation, or sometimes 3-for-3 when we go to dime defenses where all of them are on the field at the same time, but I think they've all been productive. Harmon has made a few plays on the ball, Devin, I think is having a real good year, Steve has been productive for us. I think that those guys have all worked hard, when they've been on the field they've all been solid contributors, and we've certainly had a lot less problems this year than we had last year, even the last couple of years, with balls getting thrown over our head in the middle of the field and things like that. We've made more plays on the ball back there, so that's been a pretty solid part of our defense. I'd say overall the tackling has been good, not perfect, but good in terms of not giving up big plays on missed tackles in the middle part of the field as well. But always room for improvement, and always get tested at every week like I'm sure we will this week with a guy like Cam Newton who can launch it as far as anybody and [has] a good group of receivers, so it doesn't really matter what we've done before, it'll be what we do this week. But overall I think that group has worked hard, communicated well, and overall played pretty solid for us.