BB: **It's been kind of a long day here. It started off with Josh [Boyce] in the fourth round. Josh had a good career at TCU. Really top kid, strong, tough, fast. He's had good production down there. We had him as a receiver there at the top of the round then we had quite a bit of time on our hands. During that time, we ended up working out the deal with Tampa for LeGarrette [Blount] and we're excited to have him here. I think he's a good football player. He's had a lot of production. I think he got into a situation last year where they obviously went with [Doug] Martin, but I think this guy is a good football player, we're happy to add him to our team. And then we took [Michael] Buchanan from Illinois. He's had a good, productive career at Illinois. He's played with a lot of good pass rushers up there. He's had production every year in a good conference, a steady player. And finally of course, Steve Beauharnais, who's been a middle linebacker at Rutgers – another real productive guy, a real smart, football guy. We're battling away on the free agents – a lot of those guys out there. Of course it's kind of fast and furious with the post-draft signings, with all 32 teams trying to go after a lot of the same guys. We'll see how that plays out, but we're slugging it out there. Hopefully by Monday we'll be able to get back to normal, get them in here next weekend and start rolling in rookie minicamp and have a good month, month and a half of catching everybody up and start putting the team together on the field. Instead of just a bunch of names on the board, we'll actually see how it looks out there on the football field doing football. [I'm ] looking forward to that too.
Q:In the NFL Network interview, you talked about a re-do at the wide receiver position, with the two guys you drafted and Danny Amendola coming in. How rare is a potential wholesale change?
BB:I don't know, but look at the guys who have caught balls at that position and we don't have a lot of them on our team. [Julian] Edelman and then a couple balls here and there, so we'll see how it all comes together. I don't know.
Q:Is there any part of it that's invigorating for the coaching staff to get with a new group and try to get them up to where you want?
BB:Yeah, sure. Every year is exciting; every year is challenging. We've gone through that with other positions on our team. We did that with the tight end position a couple years ago. We did it at the running back position when that turned over. Certainly, almost the entire defense has turned over, other than Vince [Wilfork]. The specialists all turned over; other than Steve [Gostkowski], they all turned over a couple years ago. It's part of football.
Q:What is the thread among all three Rutgers players? Is it the school and the program and the coaching that you know of and you're familiar with, or is it not pieced together? Are there individual reasons that tie together somehow?
BB:I think certainly it's coincidental to a degree. But I just would say that the players – I mean, I've known Coach [Greg] Schiano for quite a while. I'd say the players he recruits and the program he runs is in a lot of ways similar to what we do. So the fact that he's recruited those kids four to five years ahead of when they come into this league and they've been in a program that's, in a lot of ways, probably similar to ours, then it's probably not that surprising that we would like some of the kids he's produced, both talent-wise and total makeup. I would say certainly with this group, these three guys, they're all very bright. Football is important to them. They've all been productive. They're unselfish players. They work hard for the team. They do a lot of little things in the game like communication and special teams and all those types of things. So there's a common thread: they're football guys that work hard at it, that have had good careers there and that continue to get better because it's important to them. And they're smart, instinctive players.
Q:How much of a head start in your system does it give those three players?
BB:I don't know. We'll have to get them in our system and let them start playing and learning and get some reps out there and see how it goes. I don't know. I'm going to coach them all the same, give them all the same opportunity, and evaluate what they do. I can't make any predictions or projections on anybody.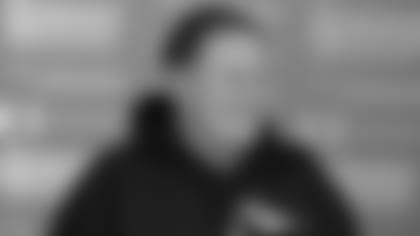 Q: **Did Josh Boyce do something at the combine that maybe helped his cause?
BB:Well, for everybody it's their whole mosaic. It's a big jigsaw puzzle; it's a lot of pieces that go together. I don't think there's any one thing. Josh has been a productive player. I think our grades were consistently, on all the scouts that saw him, pretty consistent. So I don't think we saw him a lot differently from one scout to another, from one year to another or from one part of a year to another or at the combine or at the training camp or during the season or all those things. He's been pretty consistent all the way through, more so than other guys we could use as examples. He had a strong combine but he's been a good player in a good conference. He's been productive. I think he does a lot of things well.
Q:Is it common to get a lot of consistency from all your scouts on one player?
BB:I would think it depends on the player. If the player's consistent, I think it's common. If the guy is, for whatever reason not, then you see a lot of fluctuation. Sometimes that could be scheme changes or injuries or something that's nagging him. It could be a guy who gains experience and does better. It could be a guy who maybe is a senior or whatever the circumstances are, slumps a little bit or his production slows down. Especially at the receiver position, we know a lot of that is a function of the quarterback. Sometimes that looks like it's reflected in the receiver but a lot of times there are other things going on or a change in offensive scheme and things like that. They're all different. I think we have plenty of guys that are consistent and then there are other guys who some things are better than others. Some are strong at one thing, not so strong at another. It's harder for a scout to evaluate that. Do you evaluate the good things? How much do you take down the down things? Can you straighten out the things that aren't good or are the things that are good more circumstantial? Are they going to be able to translate to the next level? Are his strong points going to outweigh his weak points? Are weak points going to outweigh his strong points? You get all types.
Q: **Is there any advantage to having a football player or athlete that has excelled at another sport?
Q:Do you like athletes who played other sports and succeeded?
BB:Some do, plenty don't. It's part of the whole puzzle. It's one piece. Maybe it shows their versatility or their competitiveness or something. We've had guys that have done that. Steve Gostkowski was like that. Lawyer [Milloy] was like that. They end up in one sport or another but I don't know. Wrestling – Steve Neal. Some of those guys have. I could probably name just as many guys that have and didn't do well, so I don't know. Certainly I think depending on the sport you can see the strengths in that area. [Jeff] Demps was fast, Neal had good balance. [Tom] Brady's throwing mechanics are pretty good so maybe there is a correlation in a particular skill from one sport.
Q:Who is going to work most closely with the new receivers?
BB:It will probably depend on what we happen to be emphasizing. Chad [O'Shea] of course. There will be other guys involved with them. When they're involved in the kicking game, it will be Scott [O'Brien] and Joe [Judge].
Q:Brian Daboll maybe a little bit?
BB:Sure, we didn't bring him here to tape ankles. He's going to be involved with different guys. Josh [McDaniels] will be involved with the players and I'm sure I'll be involved with them to some degree.
Q:Where do you see Jamie Collins? Do you see him initially as an edge player or do you see him at linebacker?
BB:That's a good question. I have my own personal opinion on that. We'll try him at different things and see how it all comes together. I think if he's versatile and I'll use Rob [Ninkovich] as an example – I think that's a good one. If he can do multiple things and do them at a high level, maybe he'll go where he's needed or maybe he'll go where he's best. I don't know. A lot of times that happens on the offensive line. You have your five best players out there. Maybe one guy would be better at another position, but to get the best five out there, a guy has to play maybe his second best position. It may happen with Jamie, it may not. I'm not sure. It's similar to what we did with [Dont'a] Hightower last year. There are a lot of things he did, what he ended up doing and with Ninkovich for that matter. What Rob did one year and what he did another year and what he might do from game to game, it could be a little bit different. Maybe that's their role and maybe it isn't. Maybe they'll do a little bit more of one thing. We'll just have to let that play out.
Q:On the trade for LeGarrette Blount, were you looking for a bigger, power back or were you just trying to add another running back?
BB:I think we felt like we had an opportunity to get a good player at a price we thought was fair, good value for what we gave up and so that's why we did it. Our job is to acquire good football players – that's what we're in the business of. When you can get a good football player and the price is right – if we can afford the price, depending on what it is, whether that's financial or compensation, depending on what the trade terms are. It's all tied in together. If it's a good player at the right price and it's affordable then you have to consider it. Sometimes they work out, sometimes they don't but in this case it did.
Q:Was he primarily short yardage and goal line last year with Tampa Bay?
BB:No, I would just say [Doug] Martin really became their guy. When he played, I wouldn't say he was limited in that role. Certainly his first two years he wasn't.
Q:Steve Beauharnais is the same size as Tracy White. Do you see any of him in Beauharnais?
BB:No. Well, yes, but no, not really. I see them as different players.
Q:On Demps, was track the reason it just didn't work out?
BB:We just felt the overall trade was good for our football team. Any time you get something, you have to give up something – or most of the time. You usually don't get something for nothing. We gave up something and we got something. We feel good about what we got. I'm sure Tampa feels good about what they got so that's why it was done.
Q:What's the feeling now that the draft is over?
BB:It's still grinding away. We're working through the free agent process, guys after the draft. I think that's been an important part of our team through the years. Once again, last year we had several players either make our team or make our practice squad or in a couple cases, some combination of both. Maybe they were on one or the other for part of the year, but other guys came in that weren't drafted and contributed to our team, like [Marcus] Forston, like [Brandon] Bolden, Justin Francis and other guys like that in the past – the Brian Hoyers and the Mike Wrights, you can go right on down the list. So that's still an important time in the team building process. We're grinding away at that. I'm sure there will be a lot of player movement in the next week or so. Players that are getting released after the draft after teams have filled their needs or acquired people or whatever happens. Then it's going into phase two of our offseason program with players that are here, which means we can start working with players on the field, which we haven't been able to do. That will be part of it. Rookie mini-camp at the end of the week, that will be indoctrination for those guys and then Monday, May 13, that's when we'll be able to bring the rookies in and let them get involved in everything. We'll go into that and OTAs and get ready for training camp. It's a day-by-day process. Hopefully we can take each one of the days going forward and make our team better, whether it's on the field with our current players, whether it's some kind of player movement, acquisition, transition, to get our team in a competitive situation for training camp. Once it's integrating the whole team on the field during the OTAs, then it's doing that. All those steps that lead up to that are important. The further along our team is now, the further along that rookies are when they come in, the better quality we'll have in our OTA practices. The better quality we have in our OTA practices, the more ready we'll be for training camp.
Q:Is there something about the wide receiver position specifically that makes it a greater challenge for new players to catch up to players who have been here?
BB:I would say that a lot of players that have come here, however they've come here, have usually commented on the amount or the learning or the adjustments, something, the pace. I'm not coaching any other team in the league so I don't know what the other 31 teams do, but I would say that a lot of the players who come here feel challenged at that position based on…look, we've had an offense that's been in place for 13, 14 years now. It evolves a bit every year, maybe gets modified a little bit, but it's grown. It's certainly – it has a lot more breadth to it than it did in 2000, 2001, 2002. That means a new guy coming in has to learn – to a degree – 12, 13 years of stuff instead of a guy that's coming in and learning the system from scratch with a new coach and that type of thing. It probably is a lot. I think that's challenging. The move from college football to pro football is a pretty big jump in terms of protections, coverages, blitzes and all those kind of things. You watch a lot of college film, sometimes you only see one or two coverages. You don't see that in this league.
Q:Is that something you have to be cognizant of as you try to integrate new players? When Michael Lombardi was at NFL Network he made the comparison to Dan Marino at the end of his careers and they had trouble getting new receivers to play.
BB:Sure. I think that's a balance you have to…when you put new stuff in, you have to usually take something out. You just can't keep adding, adding, adding. At some point you have to trim the fat. It's a balance, but at the same time you don't want to take that experience and not take new plays or new adjustments or new things that you do and be able to utilize those skills, because a lot of the players can do it but you have to try to catch the younger guys up. Again, we've done that at a lot of different positions. We've turned over the tight end position, we've turned over the running back position, and we've turned over a number of the positions on the offensive line. Now we're doing it at receiver. I think it's a little bit of you have to figure it out as you go. You have a plan, you try to do it a certain way but as you get into it, you see how it's going and what certain players are able to do or how quickly they're able to adapt and what's taking longer. You modify your teaching; sometimes you modify your scheme a little bit. Obviously, some of the things we do with Rob [Gronkowski] and Aaron [Hernandez] are different than what we did with some of the other guys we had here. Some of the things we do now are a little different than what we did when we had Kevin Faulk. The team is always in transition to a degree. You have try to figure out where you want to go and how to try and get there. Usually you have to change things as you go along a little bit.