FOXBOROUGH, Mass. (AP) -- Buffalo took advantage of sloppy, Tom Brady-less New England to hand the Patriots their first home shutout at Gillette Stadium, winning 16-0 Sunday.
It was the first loss of the season for New England (3-1), which was playing its final game before Brady returns from his four-game "Deflategate" suspension. The Patriots, who moved into Gillette Stadium in 2002, were last blanked at home 6-0 by the New York Jets in 1993 at Foxboro Stadium.
Tyrod Taylor connected with LeSean McCoy for a 7-yard touchdown pass in the first quarter, Dan Carpenter added three field goals for Buffalo (2-2).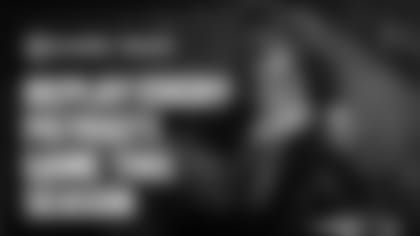 It was Buffalo's second win in its last 16 visits to Foxborough. Including his tenure with the New York Jets, it gave Bills coach Rex Ryan his first regular-season road victory over Bill Belichick in eight tries. The last Bills' shutout win away From Orchard Park was 23-0 over Washington in a Buffalo "home" game at Toronto on Oct. 30, 2011.
After struggling to maintain drives and finding a run-pass balance, Taylor was spot-on Sunday. He finished 27 for 39 for 246 yards, and directed a unit that was 7 for 15 on third downs. The Bills had been 10 of 36 combined in the first three games.
Buffalo's defense also carried over its dominant effort from its 33-18 win over Arizona, sacking rookie Jacoby Brissett three times.
Brissett made his second consecutive start in place of Jimmy Garoppolo (sore right shoulder). But Brissett, playing a week after injuring his right thumb, struggled to find the command he had in leading the Patriots to a 27-0 win over the Texans. New England finished 1 for 12 on third downs and managed just 277 total yards. The Patriots drove into Buffalo territory only four times, with three of those drives ending in a lost fumble by Brissett, a missed field goal, and a turnover on downs.
"Nothing was good enough," Belichick said. "At any position, at any phase of the game. It just wasn't good enough."
After managing to reach the red zone with four drives in their first three games, the Bills did it on their first two series Sunday.
Their first possession, a 12-play, 65-yard drive, ended in Taylor's touchdown strike to McCoy. The second stretched 52 yards over 10 plays and was capped by the first of two first-half field goals by Dan Carpenter.
Ryan on getting a regular-season win in Foxborough: "God, it feels good to finally win here. ...It's satisfying. But let's face it: They had a player out."
Patriots WR Julian Edelman on that missing player: "Anytime one of your best players isn't there, there's something missing. We handled a lot of it well. Today we just didn't. The Bills outplayed us, so that's that."
PREGAME SCUFFLE: Several punches were thrown when a shoving match erupted near the sideline about an hour before kickoff. The altercation appeared to begin when Brissett was jogging along the field and was shoved by Bills safety Robert Blanton. Brissett didn't stop, and New England rookie receiver Malcolm Mitchell retaliated by shoving Blanton. Blanton responded by punching Mitchell in the chest and head-butting him, which led to several other players and assistant coaches getting involved. Later, Bills safety Aaron Williams shoved a Patriots assistant coach attempting to separate the players. As the scuffles began to dissipate, Buffalo cornerback Nickell Robey-Coleman landed a punch on Blanton's facemask.
FIRST DOWN EFFICIENCY: The Bills matched a season high for first downs with 16 in the first half alone. Buffalo had 16 in each of its past two games after opening the season with 11 in a 13-7 loss at Baltimore. Taylor opened by hitting 14 of his first 17 attempts for 138 yards and a touchdown before closing the half 17 of 22 for 165 yards. That topped the 119 yards passing he had in last week's 33-18 win over Arizona.
SLOW GOING:The Patriots' offense was anemic in the opening quarter, failing to get a first down while managing 20 total yards. It was the first time the Patriots went without a first-quarter first down since Week 8 of 2011 against Pittsburgh. Bills safety Aaron Williams said the win was still satisfying even with Brady out.
"We're probably going to hear the excuses that (Brissett) was a third-string quarterback. Garoppolo was out and Tom didn't (play) ... It's a game man. They get paid just like we do. They got to prepare just like we do."
FIRST CATCH: TE Rob Gronkowski, who played sparingly in his season debut last week, caught his first pass of the season, an 11-yard reception in the fourth quarter.
INJURIES: Patriots DT Vincent Valentine left in the third quarter with a back injury. Bills CB Corey White was escorted to the locker room in the fourth quarter and placed in the concussion protocol after being shaken up while covering punt.