Danny Woodhead vs. Indianapolis Colts. Photo by Keith Nordstrom.


FOXBOROUGH, Mass. (AP) -- Tom Brady passing, Danny Woodhead running - and tackling. An unbeatable combination, even for Peyton Manning.
Brady was brilliant for the second straight week, outdueling Manning in their annual meeting, a 31-28 New England victory Sunday over Indianapolis. Coming off a 350-yard, three-touchdown performance against Pittsburgh, Brady had only six incompletions in 25 passes and threw for two TDs.
Woodhead, picked up when the Jets cut him in September, scored on a weaving 36-yard burst, showing power, speed and agility. Seconds after his brilliant run, Woodhead made a sensational tackle on the ensuing kick return, drawing as many cheers as he did while scooting into the end zone.
Brady not only beat four-time MVP Manning, the only other quarterback of the last decade in his class, but tied another QB icon for an NFL mark. Brady has won 25 straight regular-season home starts, equaling Brett Favre's record when he was with Green Bay.
The win kept the Patriots (8-2) tied with the Jets atop the AFC East; they meet in two weeks.
Indianapolis (6-4), which has faced New England eight straight seasons, staged a spirited fourth-quarter comeback. But Manning was picked off by James Sanders in the final minute.
Indy had beaten the Patriots in five of the last six matchups. The Colts, who won their first 14 games a year ago en route to the AFC title, lead the AFC North. But they're so banged-up - they were without five key players Sunday - that considering them a Super Bowl contender right now might be a reach, even with Manning's magic.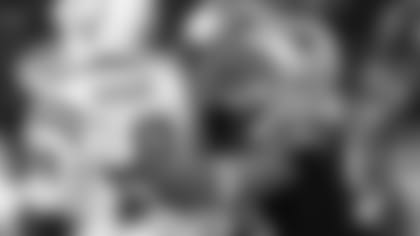 ]()Manning finished 38 of 52 for 396 yards, four TDs and three interceptions.
He got the Colts within 31-28 with 4:46 left on an 18-yard pass to Blair White, who earlier in the fourth period caught a 5-yard TD toss. And Manning brought them within range of a stunning win before Sanders' pick.
Manning's inaccuracies early on were costly. He misfired high several times, including a throw to Blair White that sailed directly to safety Brandon Meriweather. A 39-yard runback set up the Patriots at the Indy 32 and, four players later, Brady hooked up with Wes Welker over the middle for a 22-yard score.
Unable to apply any pressure on Brady, the Colts' defense then was torn apart on a 15-play, 82-yard drive capped by Aaron Hernandez's 8-yard TD catch. The rookie tight end stretched over the goal line for his third TD and a 14-0 lead.
It didn't last long. Manning found his touch, despite consecutive brutal drops by Reggie Wayne and Austin Collie. Indy converted three third downs, including some nimbleness by Manning to avoid the pass rush and float a completion to Donald Brown for 25 yards. The TD came to third-string tight end Gijon Robinson - hardly surprising considering all of the Colts' injuries - from the 1. Robinson's second catch of the season got him his first career touchdown.
But the Colts' defense again was no match for the precise Brady, who guided a 65-yard drive to BenJarvus Green-Ellis' 5-yard scoring run. New England had the ball three times in the first half and got into the end zone on all three series.
Not that Manning flinched. He took Indianapolis 85 yards, 77 on passes to Wayne, including a perfect spiral over cornerback Kyle Arrington for an 11-yard touchdown with 4 seconds left in the half. Despite being throttled without the ball, Indy trailed only 21-14 at the half.
Woodhead's TD and Shayne Graham's 25-yard field goal ended any thoughts of a Colts comeback. Green-Ellis rushed for 96 yards and Woodhead had 69 in support of Brady, too.
The win lifted Bill Belichick into 12th place in coaching victories with 171, moving ahead of Hall of Famer Paul Brown.