Brianna Muñoz is honored and humbled to have worked as a New England Patriots Cheerleader for the 2011-2012 season.  Since then, she has attained her doctorate in dental medicine and has matched to a residency program in pediatric dentistry at Connecticut Children's Medical Center.  "Brianna M. the Patriots Cheerleader" is now Dr. Muñoz the dentist! While originally from Worcester, Massachusetts, Brianna currently resides in Farmington, CT where she recently graduated from the University of Connecticut School of Dental Medicine.  With an ardent interest in science as well as art, she completed her undergraduate degree at Providence College with a double major in Chemistry and Biology and a minor in dance.
Brianna most aptly could be described as a Science Cheerleader. Breaking stereotypes was an integral component of being a Patriots Cheerleader.  In fact, all thirty-one women on the squad were committed to hard work and volunteerism, ideals which were embodied by Myra H. Kraft.  Coach, Tracy Sormanti, always instilled in them a strong sense of what it meant to be a Patriots Cheerleader both on and off the field.  From visiting children's hospitals to participating in cancer walks, volunteerism was a fundamental aspect of being on the team.  Further inciting her desire to help others, Brianna's most memorable moment as a Patriots Cheerleader was working with the Make-A-Wish Foundation.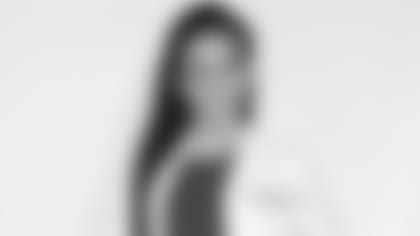 Following her time with the Patriots, Brianna continued to serve the community throughout dental school.  As part of a service trip, she worked on a team with the Friendship and Oral Health Program to provide comprehensive oral care to the indigenous Huilo-Huilo community in Neltume, Chile.  As President of the Pediatric Interest Group, she directed the Special Smiles Program for Healthy Athletes at Special Olympics, served as a Board Member for the South Park Inn Homeless Shelter, taught weekly health classes to fifth grade students through Hartford Health Education, coordinated the Connecticut Child Identification Program, and volunteered for countless other organizations.  Aside from serving the community, she has been fascinated by the investigative process throughout her academic career.  Based on her original research, Brianna received the Dean's Award and provided oral presentations at the International Association for Dental Research General Session, the Hinman Student Research Symposium, and the UCONN School of Dental Medicine Student Scientific Research Day.  In addition, she delivered poster presentations at the New England Science Symposium and Yankee Dental Congress.  Brianna recently was inducted into the Omicron Kappa Upsilon National Dental Honor Society and was the recipient of the Provost's Outstanding Senior Woman Academic Achievement Award, the Pierre Fauchard Academy Academic Achievement Award in the Profession of Dentistry, and the Special Care Dentistry Award for Achievement in Dental Care for Disabled Persons.   She has written both published and peer-reviewed manuscripts while concurrently studying for exams, seeing patients, and teaching a Zumba class twice a week.  Time management and commitment were just a few of the skills cultivated by working as a Patriots Cheerleader that have shaped Brianna as a dentist today.