DENVER - On a day that was all about Broncos history, this might ring a bell: A 98-yard, fourth-quarter drive to save the game and get a city thinking Super Bowl.
Kyle Orton moved Denver from its 2 to the end zone to tie it Sunday, then Matt Prater kicked a 41-yard field goal in overtime for a 20-17 victory over New England that made rookie Broncos coach Josh McDaniels a winner over his old boss, Bill Belichick.
On a day when they wore mustard-yellow jerseys and vertically striped socks to celebrate their 50th anniversary, the Broncos improved to 5-0 for the first time since 1998 - the last time they went to the Super Bowl.
Orton threw for 330 yards and two scores and did his best John Elway impression. McDaniels pumped his fist over and over as he ran toward the stands where his family sits. And the defense - well, it held New England (3-2) scoreless in the second half and looked a lot like the Orange Crush of yore.
Denver's fourth-quarter drive certainly wasn't "The Drive" - Elway's classic, 98-yard march that helped beat the Browns 23-20 back in 1987 - but it will go down as one of the best in this franchise's history.
Easily the most surprising since the Broncos took the field half a century ago. Even the 1977 Super Bowl team - the team that coined the term "Orange Crush" - was viewed as an up-and-comer back then, something the turmoil-wracked Broncos certainly were not heading into 2009.
Trailing 17-10 with 9:59 left, Orton was at his patient best during the game-tying drive. A 14-yard completion to Jabar Gaffney, a screen to Knowshon Moreno that sprung for 27. A 7-yard completion to Eddie Royal, who finished with 10 catches for 90 yards.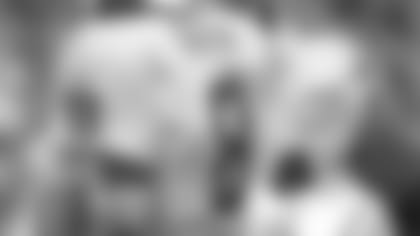 ]()Brandon Marshall, who scored the game-winner last week against Dallas, did the honors this time, too, catching a pass on the sideline, then spinning and breaking a tackle for an 11-yard score that tied the game.
The teams traded a pair of possessions around midfield to close regulation, then the Broncos won the toss and drove 53 yards to set up the winning field goal.
The game was billed as a matchup between coaching mentor and pupil - one of many Belichick has faced since he started winning Super Bowls and pushing young head coaches out into the NFL world.
It started with some tactical showmanship from McDaniels, who put the Broncos in the wildcat formation on their first drive and watched them rip off gains of 12, 13 and 14. Belichick called a timeout to adjust, the Broncos stalled and Prater missed a 48-yard field goal.
From there, it was exactly what both coaches promised it would be - a hard-fought game decided more by the players than the Xs and Os.
The Broncos forced Tom Brady to be patient and pick underneath, the way he has most of this season. He went 19 for 33 for 215 yards, but only 63 of those came in the second half during which the Denver defense lived up to its billing.
It has allowed a grand total of 43 points in five games - one of the best starts in the league's history. And add this to the resume: Denver handed Brady his first overtime loss. He fell to 7-1.
Orton, meanwhile, improved to 18-2 at home as an NFL starter, and the widely derided decision to anoint him the quarterback and trade away Jay Cutler still looks like a good one.
Denver's decision to choose Moreno with its first draft pick when the defense needed an overhaul also looks good. The rookie made his first start - in place of injured Correll Buckhalter - and finished with 88 yards rushing, along with the key, 27-yard catch during the tying drive.
Copyright © 2009 The Associated Press. All rights reserved.