FOXBOROUGH, Mass. - New England Patriots LB Tedy Bruschi announced his retirement today, closing his 13-year career as one of the most productive Patriots players in the team's 50-year history. As a team captain, Bruschi's relentless work ethic and on-field intensity helped set the tone for the entire team.
"For the past 13 seasons, Tedy Bruschi helped define what it means to be a New England Patriot," said Chairman and CEO Robert Kraft. "The heart and soul of the defense during the most successful era in the history of the franchise, Tedy also served as an example to every new Patriot of what it takes to be a champion on and off the field. Tedy's tenacity as a player made him a fan favorite long before he helped bring three Super Bowl championships to New England. His remarkable and courageous return to the field following a stroke only added to his legend as one of the most significant and memorable athletes in the history of New England sports. We are blessed in so many ways to have had Tedy Bruschi as a career Patriot."
Bruschi, 36, was originally drafted by the Patriots in the third round of the 1996 NFL Draft. The Arizona product spent his entire 13-year NFL career with the Patriots. Bruschi leaves the football field having played a major role in leading the Patriots to 11 winning records, including nine playoff seasons, eight division championships, five conference titles and three Super Bowl crowns. In Bruschi's 211 career games (including regular-season and playoffs), the Patriots had a 144-67 (.682) record, including a 16-6 (.727) playoff mark.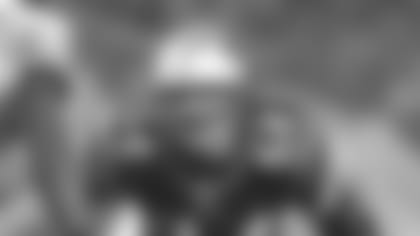 ]()Bruschi earned his first Pro Bowl honors following the 2004 season after co-captaining a Patriots defense that allowed just 16.25 points per game, the third fewest in franchise history. Bruschi is the only player in NFL history to return four consecutive interceptions for touchdowns and his career total of four picks returned for scores ranks second in Patriots history. He is tied for fourth in NFL history among linebackers, and Bruschi is the only Patriots linebacker to return multiple interceptions for scores in a single season (2002 and 2003).
Beyond his impressive numbers, fans and his peers revered him for his accomplishments off the field and for his dedication to the New England area. After Bruschi suffered a stroke in February 2005, he dedicated himself to raising funds and awareness to fight stroke along with the American Stroke Association. He established "Tedy's Team," a vehicle to help battle stroke, the number one cause of disability in the United States. Members of Tedy's Team have run in the Boston Marathon and the Falmouth Road Race and have raised hundreds of thousands of dollars for stroke research.
Bruschi returned to the lineup for the final nine game of the 2005 season following his stroke, and in his first game back he earned AFC Defensive Player of the Week honors following a 10-tackle performance vs. Buffalo (10/30/05).
Bruschi played in 189 regular-season games for the Patriots, more than any other linebacker in team history, third among all defensive players and sixth overall in team history. Bruschi played in 22 career playoff games, the highest total in Patriots history and tied for the second highest total of any active player (Adam Vinatieri, 23).
For his career, Bruschi finished with 1,134 total tackles, 30.5 sacks, 12 interceptions, including four returned for touchdowns, 62 passes defensed, 18 forced fumbles, six fumble recoveries, including one returned for a touchdown and 55 special teams tackles. Bruschi averaged 105 tackles over the last six seasons. His 2003-2008 total of 631 stops are the most on the team over that span. Over that time, the Patriots allowed an average of 17.25 points per game, the second best total in the NFL.