Tom Brady followed up his Super Bowl MVP, Pro Bowl first season as an NFL starter with a statistically impressive 2002 campaign. But regardless of the fact he was asked to shoulder more of the offensive load last season or that he put up highly productive numbers, Brady knows that in the end his play as a quarterback will always be judged, at least in part, by the success of the team. 2001 brought Super Bowl rings and life on top of the world for the former Michigan star. 2002 ended without a playoff appearance. As one of the key cogs in the Patriots machine Brady knows he must work to change that.
            [![]()]()

            For his part Brady believes that more than anything New England's failure to make the postseason points to the extreme competitive balance in today's NFL and a lack of consistency in the Patriots 2002 squad.  

"It's tough when you compare season to season," Brady said during the Patriots mini camp last month. "Each team adds so many players, new coaches and new plays. The schedules are different. I think overall last year we weren't very consistent in the way we played. I think any time that happens, you go 9-7. We started very well. Then we had a four-game slump and from where we kind of battled back. Late in the year when we beat Miami, we were hoping to get in the playoffs. It is not like we're too far away, but there were three teams that were 9-7 and we lost out on the third tiebreaker. It just shows you how competitive the league is and how much more consistent you need to be each week to make the playoffs and a make a run at the Super Bowl."
Brady may have a few factors in his favor that could lead to improvements when training camp rolls around on July 23. First, the Patriots added a quarterbacks coach, John Hufnagel, this offseason. In his two seasons as the New England starter, Brady and the other signal callers have gone without a position coach as those duties were handled by offensive coordinator Charlie Weis. With Hufnagel, a former NFL quarterback and a guy who has worked with the likes of Peyton Manning, Tim Couch and Mark Brunell in his coaching career, the New England quarterbacks now have someone who is solely focusing on their meetings, practice time and the fine tuning of each players individual game. The addition can only help Brady and the other quarterbacks.
A second factor that could help Brady through the long NFL season is the addition of a fourth quarterback for training camp, sixth-round pick Kliff Kingsbury. Brady appeared to get a bit worn down in the later part of the 2002 season and could benefit from a few less reps and throws in camp. While Brady finished with impressive numbers by completing 373-of-601 passes for 3,764 yards and 28 touchdowns, a significant portion of that production came in the first nine games of the season. He threw 21 of his league-leading 28 touchdown passes and had six games of more than 250 yards passing in his first nine starts. In his last seven games, he threw for just seven scores and did not eclipse the 250-yard passing mark, in fact he topped 200 yards just three times. His season totals were quite impressive, but if Brady can extend his early season production through a more consistent 16-game campaign, it will increase the overall potency of the New England offense.
With no quarterback controversy to worry about, much of the interest surrounding the quarterbacks in camp will revolve around the backup spot that was held last season by veteran Damon Huard. With Huard in the final year of a three-year deal in New England, and the unlikely chances that he will return following the season, there is the possibility that second-year pro Rohan Davey may push him for the job. While Huard certainly has the edge in experience having started 6-of-34 career games played, Davey was a fourth-round pick last April, likely with the hope that he would develop into the team's backup. Patriots Head Coach Bill Belichick has said this offseason that the 6-2, 245-pound Davey will be given every opportunity to compete for the backup spot in camp and that that is what the team expects him to do.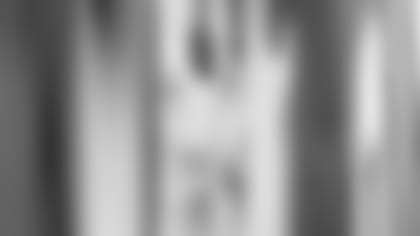 ]()
            Kingsbury, aside from lightening the load on the other quarterbacks, would have to be a long shot for the 53-man roster. While teams, including the 2000 Patriots, have carried four quarterbacks in recent years it is a difficult task to retain four at the position with roster spots coming in such high demand in other areas. A three-year starter at Texas Tech the 6-3, 213-pound Kingsbury put up mind-boggling numbers in the team's pass-happy offense. As a senior he completed 479-of-712 passes for 5,017 yards and 45 touchdowns with just 13 interceptions. He threw a total of 95 passes for scores in his career with the Red Raiders. But as impressive as his numbers may be, Kingsbury showed limited arm strength and down field ability in rookie and mini camps this offseason. While a roster spot is not out of the question, a trip to the practice squad would probably be more likely. As the 10 draft picks battle for roster spots, Kingsbury may be one of the April selections left on the outside of the 53-man numbers game.  

The Patriots released wide receiver T.C. Taylor Thursday afternoon. Taylor spent five weeks on the New England practice squad last season and just completed a season in NFL Europe. The 6-4, 220-pound Jackson State alum had an injury-slowed season across the pond and did not record a reception in his playing time