Markell Carter is about to get a new roommate. And the second-year Patriot couldn't be happier.
Carter's younger sister, 21-year-old Keyarrie Hudson, has been battling Lupus for more than a year. Hudson is actually in the process of moving in with Carter in New England, not just to spend time with her brother but to take advantage of the better doctors that are available in greater Boston.
"Lupus is still kind of exotic back home. In Oklahoma there aren't really a lot fo specialists for it," Carter said.
Hudson, who will return to Oklahoma to attend Ryan State in Tulsa, will also be on hand to continue to be an inspiration to her big brother.
"She's doing well. She's really strong," Carter said of his little sister. "She's a lot stronger…Lupus probably would have been, it would have been the end of me. But for her it's just a new chapter in her life and she took it on full force. She's doing a lot better.
"Just to see her go through those struggles and see here have a smile on her face every day even though I know how much it was hurting her and just how she stayed in her faith and how she just stayed herself. A lot of people would have been depressed and lost who they were. But she was that same girl before and after."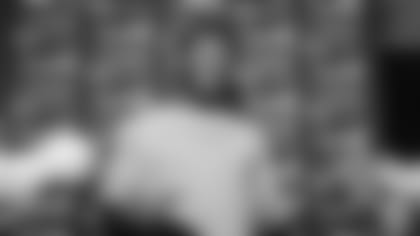 Rookie free agent defensive end Justin Francis is the latest in a long line of players to make the jump from Rutgers to New England. Another person making that jump this year is former Scarlet Knights lacrosse player and walk-on football long snapper Steve Belichick. Belichick was announced earlier this week as a coaching assistant on his father's staff.
But Francis and Steve Belichick go back further than even football. They met in a math class during their sophomore year. Francis recalls looking next to him and seeing Belichick working away on his Mac book. He jokingly looked over and said, "You're Coach Belichick's son. I [stink] at math, so don't judge me." And they've been friends ever since.
Francis admits he now kind of sees his friend and former teammate as a boss.
"I do. And it's kind of weird," Francis said with a smile. "He's a good friend and he's never going to direct me in the wrong path. I'll always respect him, respect his job and respect him as a friend as well.
"Steven has been a great friend for me for quite some time. He's kind of guiding me along as well, keeping me on a straight path."
Notes
Former Patriots guard Joe Andruzzi, as he's done for years, seems to once again be working with the New England strength at conditioning staff this spring. Andruzzi has been on the field for the last two days of rookie mini-camp. … Former NFL quarterback Chris Simms, son of Phil Simms, has been on the field for camp this week. He was warming up his arm as if preparing to throw before practice on Friday and Saturday. Simms is working in a yet-to-be-announced role with the New England scouting department. But like Nick Caserio has done in the past, can also bring a value to the practice field with his ability to throw. … Nate Ebner was limited in stretching on Saturday, after riding the bike during stretching on Friday, and seems to be nursing some sort of injury. … All 20 draft picks, undrafted rookies and first-year veterans were on the field for the stretching portion of Saturday's practice. The three tryout players from Friday's workout did not appear to be in attendance. … Carter joked that "peanut butter and banana sandwiches" have been part of the diet that's allowed him to put on more than 10 pounds of productive weight since arriving in New England Carter is now up to 275 pounds, 25 pounds heavier than his playing weight during his final season at Central Arkansas. … Francis wasn't surprised by it, but still referred to the Patriots playbook as "ginormous."