Bill Belichickgot a breather from his daily press conference duties. In his stead, the team sent director of player personnel Nick Caserioto the podium to address media questions.
After breaking the news that Wes Welkerwould be back on the field later that morning, Caserio faced a slew of questions about the Patriots All-Pro wide receiver, who's recovering from knee and shoulder surgeries. Caserio was asked for his reaction to the speedy recover of his quick-footed pass-catcher.
"I mean, I think he works hard. He's committed to football. I think every player has to go at their own pace," Caserio responded. "I think Wes is a unique guy, there's no question about it. He has been a productive player. But he realizes that he has to go out there and prove himself once again, regardless of what has happened in the past, just like any player. Wes works hard, he's got a good skill set, he does the right things, and I think it's a tribute to him and his work ethic and his competitiveness and is toughness to get back on the field, so we'll see how it goes."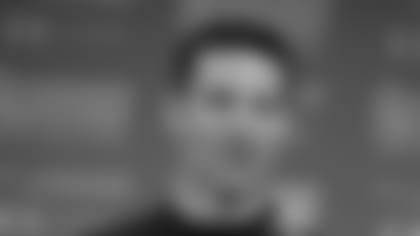 ]()With the release of Shawn Crableon the eve of camp and the unexpected absence of Derrick Burgess, outside linebacker has become a position of even greater intrigue for the Patriots. New England's roster currently stands at 78, two below the league maximum for training camp. So, Caserio was asked if the Patriots might add a player or two at that spot.
"I think right now we have a group that's here that we're working with. And obviously with those players that aren't being here, there are some opportunities for those guys in practice to work on their individual techniques, to continue to improve," he said.
"I would say it's kind of business as usual for us from the standpoint that we're evaluating what players are available, who might be available and whether or not they might be a fit for what we do. As it relates to that position, or any other position for that matter, I think our philosophy has been that if there is player out that that we feel can help us, we'll consider it and we'll move forward from there."
Of course, the other big story entering camp that has quickly taken a back seat is the issue of Logan Mankins. The Pro Bowl guard is unsigned and has demanded a trade, but remains the property of the Patriots.
"We're focused on the players that are here. Anything contract related, I'm not going to really get into that today. We're just focused on today's practice and the players that are here and their individual improvement on a day-to-day basis.
"There are a lot of guys that have worked in there [at guard], whether it's been Dan Connolly, whether it's [Rich] Ohrnberger, whether it's Nick Kaczur. So the guys that are here, this is their opportunity to go out there and improve on a day-to-day basis. Any player that's on the club, they wouldn't be here if we didn't feel good about them, so that's why they're here. So they'll go out there and ultimately the player is going to define what their role is and who those players are based on their performance, so we'll let that play out."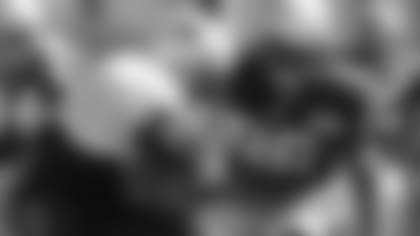 ]()Sunday Afternoon Notes*
Weather: Breezy, partly cloudy, upper 70s**
Who's Hot: Jermaine Cunningham **The rookie has been getting more and more reps at outside linebacker, usually on the left side opposite Tully Banta-Cain.
Who's Not: Gary Guyton**
During Team Defense period against the scout team, Guyton planted awkwardly and went down in a heap. He appeared to injure his left leg and, after some attention from the trainers, eventually walked back to the locker room under his own power.
*Play of the Day: Butler pass defense
*In a one-on-one drill between receivers and defensive backs, cornerback Darius Butlermatched Brandon Tatestep for step down the right sideline on a go-route. Although Tom Brady'spass was perfectly place, Butler swiped at the ball just as it reached Tate's hands at the goal line, preventing what would have been a score.
Thirteen players were either not in pads or not in attendance at all. The ten from the morning practice, plus cornerback Jonathan Wilhite, linebacker Thomas Williams, and guard Stephen Neal. Wilhite, Bret Lockett, Thomas Clayton, Terrence Johnson, Neal, Ron Brace, and Mike Wrightwere all on the field in shorts and t-shirts to work with the team's medical staff on their rehab.
Every time he so much as touched the football, Welker received thunderous applause from the thousands of Patriots fans in attendance. After a few such displays of affection, Welker caught a pass near the bleachers, turned to the crowd, and waved his arms up and down in a "keep-it-up" manner, much to the fans' delight. Their cheers grew louder each time Welker made a play thereafter. This happened in the same part of the field where Randy Mosshammed it up with a kid during the morning session.
In the one-on-one drill, rookies Taylor Priceand Devin McCourtysquared off a couple of times, and Price got the better of his defensive teammate.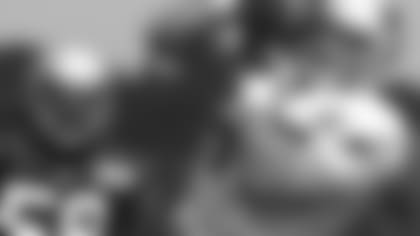 ]()Rookie tight end Rob Gronkowskicontinues to display an almost effortless ability to catch passes. On the other side of the ball, rookie inside linebacker Brandon Spikeshas exhibited a bad habit of holding offensive players' jerseys in pass coverage drills.
Welker took part in Team Offense period against a scout team defense, the first time he'd participated in team activities since returning from knee surgery.
Kickoff team was the special teams focus of this practice.
During the special teams portion, Brady and backup QB Brian Hoyerwent to the opposite field and took turns trying to toss a football into a trash barrel from 40 yards away. Number 12 hit the barrel twice, while Hoyer managed the feat once. Neither was able to score a direct hit inside the target, but it was entertaining to watch nonetheless.
Two-a-days continue Monday morning at 9:30. The second practice, scheduled for 7 p.m., is open to season ticket holders only.