The New England Patriots Charitable Foundation kicked off the season-long "Celebrate Volunteerism" campaign with special weekly focuses on education (Sept. 18-24) and mentoring (Sept. 25 - Oct. 1).
The Foundation teamed with United Way of Massachusetts Bay & Merrimack Valley for "Education Week," with activities including a book collection at the Sept. 18 Patriots versus Chargers game. Patriots fans were invited to donate new and gently used children's books at the gates of Gillette Stadium and in the ProShop, which were later sorted by Patriots and United Way volunteers. As part of Patriots Community Tuesdays, Shaun Ellis, Kyle Love and Matt Slater personally delivered books donated by Patriots fans to children and volunteers at Ellis Memorial & Eldredge House in Boston, Mass. on Sept. 20. Later that afternoon Leigh Bodden delivered donated books to children and volunteers at the South Shore Stars childcare facility in Randolph, Mass. Ellis, Love, Slater and Bodden spent the day recognizing educational volunteers at each organization, reading books to children, participating in question and answer sessions and sharing stories about people who made a difference in their lives when they were in school.
"Education is definitely important, I know if I didn't go to school I wouldn't be where I am," said Bodden. "I can see volunteers [at South Shore Stars] promote education to these kids so that they can succeed."
The following week, the Foundation teamed with Mass Mentoring to celebrate "Mentoring Week." on On Sept. 27, Deion Branch, Julian Edelman and BenJarvus Green-Ellis paid a surprise visit to students and mentors in the Volunteers in Public Schools (VIPS) program at Morse Pond School in Falmouth. The players shared stories of memorable mentors in their lives and encouraged those in attendance to volunteer. Following a question and answer session, Branch, Green-Ellis and Edelman led teams of students and mentors in interactive team-building games.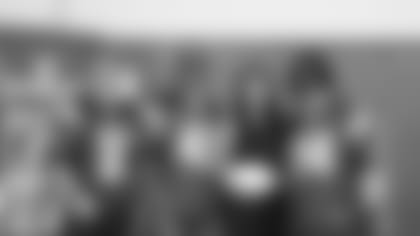 "Where I come from, we knew you don't have to be an older person to be a mentor. You can be 11 and [mentor] a seven-year-old and show them the right way [to go]," said Green-Ellis. "So the whole time I was growing up I was mentoring other people and older people were mentoring me."
Each week, volunteerism resources are featured on www.patriots.com/community, includeing information about volunteer opportunities, reasons to volunteer and the opportunity to join the "Celebrate Volunteerism" movement by pledging volunteer hours. In addition, each week the Foundation selects an outstanding volunteer as the "Patriots Difference Maker of the Week." Arlene Sanos was selected as the "Education Week" winner and presented with an autographed football by Ellis, Love and Slater. Amanda Martinez was selected as the "Mentoring Week" winner and was presented a football autographed by Branch, Edelman and Green-Ellis.
Throughout the 2011 season, the New England Patriots Charitable Foundation will celebrate volunteerism as its season-long initiative. With this special focus on volunteerism, the Kraft family and the Foundation will honor Myra Kraft's lifetime commitment to philanthropy and charitable service. Myra's great example as the ultimate volunteer will serve as a never ending reminder of the importance of giving back. To pledge volunteer hours, nominate a "Patriots Difference Maker of the Week," submit photos of volunteer work or participate in an upcoming collection drive, visit www.patriots.com/community.