Q: Are teams scheming for you much differently this year offensively or is it too early to tell?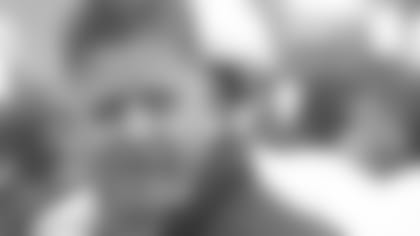 ]()CW:** Every team is different in their philosophy. It isn't like a team scheming for you, like the Indianapolis Colts, they play one defense. The Arizona Cardinals, they play a totally different defense. Now, we are getting into the Buffalo Bills and they play a totally different defense. This isn't really a tricky league like everyone thinks it is. Basically, you have a philosophy. We happen to be a game-plan team. Everyone knows that we are a game-plan team, so that is why going into games, what we always try to do is try to take their personnel and their scheme and try to find ways to attack it. I think that will be standard throughout the entire season. Each team has their own personality.
Q: What will having Kevin Faulk back mean to your offense?
CW: Because his style of running is so much different than Corey [Dillon's], it presents a big dynamic for a defense to get ready for because it is such a great change of pace, whereas you don't have to count on just using Kevin on third down. If you put him in on first and second down as well as put Corey in on first and second down, they are two totally different styles of runners. It poses some problems as far as schematics and what teams want to try to take away.
Q: David Givens has gone on a nice run over the last six games and even going back to Super Bowl. What is the difference with him?
CW: Well, first of all, his confidence has grown. I think when he first got here, coming in as a late round draft choice from a university that is not really throwing the ball very much. It wasn't about having ability or having skill, but now you get into the pro game. He also sustained a couple of nagging injuries and you just wonder if you are ever going to make it. I think now his confidence is budding both in himself and the quarterback has confidence in him as well. I think that helps the development grow even more. It helps the offensive coordinator have confidence in him as well.
Q: The offensive line seems as if it doesn't get a lot of credit for the pass protection. A lot of times it goes to Tom Brady and his ability to read defense and get rid of the ball quickly. How good is the pass protection along the offensive line?
CW: Well, there is a combination of two things. That is a two-part question. Credit for pass protection goes to several different facets. It goes to the offensive line, the backs that are in pick up, the tight ends that are slow blocking, to wide receivers getting open or not getting open and then Brady making the right decision fairly quickly. A lot of times the offensive line gets hung out to dry because the quarterback will get sacked and everyone will say, 'Well, the offensive line gave up a bunch of sacks.' Well, if nobody is open, and the quarterback holds the ball, it still goes back to the offensive line. I think that we do, schematically, once again and starting with Tommy who does a really good job of reading coverages and getting rid of the ball quickly. I think our offensive line has been underrated for quite some time. Between Dante [Scarnecchia], Jeff [Davidson], Brian [Daboll] and Ivan [Fears] working with those guys that are involved in blocking and protection, I think they often get unnoticed because you only notice them when something bad is happening. You don't notice them when something good is happening.
Q: The offensive line does get under appreciated and we are guilty of that in the media. Part of the reason of course is the fact that even though the draft is just a crapshoot anyway, you have guys on the line that are late round picks or were undrafted free agents to begin with. People tend to ascribe the line's success to Brady getting rid of the ball so quickly and he is so good at evading rushers in the pocket.
CW: Well, there are two things there. That is a good question. The first thing is natural ability. Sometimes those guys they get drafted at the top of the rounds, as far as offensive linemen, those height/weight speed guys, the guys with the measurements. The stud athletes. It now comes to how do they play and how do they play with the other four guys. Because I think with any good offensive line, the chemistry of the offensive line has a lot to do with your success and failure.
Q: For you to have seven guys working in and out, is that an unusual situation chemistry wise, having that many guys and dealing with that?
CW: Every team goes to a game with seven or eight offensive linemen. You always have at least one backup inside guy and at least one backup outside guy. I think in the long run, you say you would like to settle into just five guys, but to know you have a swing tackle who is getting a lot of reps who is ready to play, and you know you have a swing inside guy who is getting a lot of reps who is ready to play, bodes well when one guy does go down and you don't have that same luxury to rotate guys in and out. As we all know, injuries happen. If all of a sudden, knock on wood, somebody went down, there is not going to be a panic or a crisis situation because you have guys that have been playing right from the start of the season that would be ready to play.
Q: How does having Corey Dillon here change the way you feel about what you need to do offensively? How much easier does it make things?
CW: Well, when you have a dynamic runner, because you have to look at Corey historically and what he has done in the league, obviously he is a front line running back. This isn't a guy that you are coming to develop. He walked in the door a front line running back, and [we had to] have him get familiar with what we do, and conversely have us get familiar with what he does, because you have to learn a little bit about the guy too. What does he do well? What doesn't he feel so comfortable with? As you get to understand him, and he gets to understand you, and the blockers get to understand that you better keep blocking because he is going to be running right through you if you don't. What it does is establishes a much more aggressive, physical mentality up front and also puts a lot more pressure on defensive coordinators and therefore defenses, to say, 'Okay, what are you going to try to do against the Patriots.'
Q: Going back to the ability to be a game-plan offense, does that depend a lot on your comfort level with the quarterback and the growth of that comfort level?
CW: Yes. That is a fact. That is almost a rhetorical question there because with this guy, where he was and where he is, he is the next closest thing to a coach. Not that he is error-free, but I certainly make plenty of mistakes myself. But, it has gotten to the point now, by the time he comes in and we put in the plan and by the end of the week, he knows the plan like a coach knows the plan. He has the ball in his hands, and that is a good thing, to know you have a guy that really understands what we are trying to do, and I think that the ability to put more responsibility on the quarterback is directly related to his ability to handle those responsibilities.
Q: Have you given him more and more [responsibility]?
CW: We will continue to put more and more because he has shown that he can handle it.
CW: He likes the mental challenge of going to the line of scrimmage where, 'You can run this, but if they do that, you do this.' That is the simplest vernacular I could use to explain how we do it. It is easier to do that when you are at home than when you are on the road because there is a noise level that comes into play. I think that the bottom line is, it isn't like he goes to the line of scrimmage and there are 15 different plays he can call. He just knows that on most of our plays, we have a venue if we have something bad happen, we can get out of it.
Q: You said he was making progress with it. How close to 100 percent is he?
CW: Well, I evaluate myself as not close to 100 percent, so I am certainly not going to put him up there either, in case you are wondering. He is pretty good. We wouldn't be doing it. We worked in plenty of systems where the quarterback had no leeway. None. We are calling the play and that is the play. If the play doesn't work, then we will come back and we will call the next one. That is the other extreme obviously. Usually it is somewhere in between. In this case we have gotten to a level where most of the times, there is a venue to get us out of a bad play.
Q: Knowing it has only been two weeks, where is this offense in terms of where you think it can be or where you know it has to be later on?
CW: We are very, very dissatisfied with our ball possession number one. Very dissatisfied. We have prided ourselves into a team that doesn't turn the ball over, and I think we have been a bit careless. It is going to come back to cost you sooner or later. Number two is, and I am not just preaching to the choir with Bill [Belichick's] feeling on penalties, but we can't have line of scrimmage penalties. There are going to be penalties that occur in the game. We had a delay of game the other day in a game that we took, but we knew we were going to take it. Conversely, in the first game, we are down in the red zone and we take a delay of game penalty, which we shouldn't be taking. Now instead of having third and two, we are third and seven. I think that two of the critical areas are ball possession and penalties. I think that along with scheme and getting better at everything we do, there are two areas that can kill you the fastest.
Q: Can you give an analogy on where he is in terms of his decision making and running the game as a quarterback versus where he was in 2001?
CW: Night and day. From 2001 to now, it is night and day. Let's go down to when he came in the league. We talked about ability with first round draft choices before, there is also a mental ability that comes into play too. That is one thing that he had walking in the door. He had moxie and he had character and he had that competitive fire. He had all of the qualities that allow you to develop into that person, but there are a lot of people that have thrown abilities away [and] that have never reached their potential. Who knows what his potential is as a football player but using his brain, I mean he is already right at the top of the league as far as being able to handle that element.
Q: Do you think he has spoiled you?
CW: I think that he makes my job a lot easier. I think that anyone that has a guy like him, who all of a sudden didn't have a guy like him, would be scrambling to decide how he is going to have to constrict what they are doing to not be able to expand it.
Q: You mentioned the offense being a game-plan offense, take what the defense gives you and exploit it. Could you have been a game-plan offense in 2000 with what you had? What does it take to be a game-plan offense?
CW: It didn't make a difference. We have always been a game-plan offense. Really, the NFL only comes down to only a couple of things. Personnel is number one, and what they do and what you do. That is what it comes down to. Who are their players? Who are your players? Where are their strengths? Where are their weaknesses? Where are your strengths? Where are your weaknesses, because you have to try to hide your weaknesses now and play to your strengths, and at the same you want to attack their weaknesses and stay away from their strengths. I am talking generically, but this is really the way football goes. We have always been that way, where a lot of teams believe in just, 'Here is what we do and we are doing it no matter what they do.' That is not the way we play.
Q: Is this the best offense you have had here?
CW: This is the best group of football players we have had since I have been here. That doesn't mean they are going to be the best team, but they are the best group of football players.