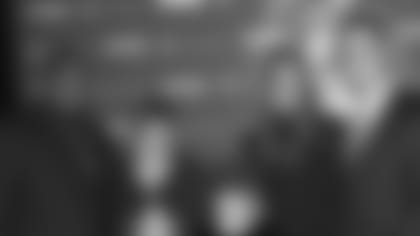 ]()BOSTON, Mass. - New England Patriots quarterback Matt Cassel and defensive lineman Vince Wilfork were honored at the Children's Hospital Boston event "Champions for Children's" at the Seaport World Trade Center Boston Tuesday night.
Cassel and Wilfork were recognized as "Champion Award" recipients, an annual honor bestowed on Boston athletes who exemplify outstanding commitment to the community and to Children's Hospital.
Each year, players from the Boston Bruins, Boston Celtics, New England Patriots, Boston Red Sox and New England Revolution join representatives of Boston's financial, real estate and venture capital communities to raise funds for Children's Hospital at "Champions for Children's". All money raised goes to the Children's Fund for patient care, research and community outreach programs for kids who need it most. This year's event was hosted by ESPN's Chris Berman and WEEI's Glenn Ordway.
Cassel and Wilfork visited Children's Hospital Boston this year making room-to-room visits with patients.
Cassel said he is "always amazed" with the work and research done at Children's Hospital and is thankful for the opportunity to help the children.
"As professional athletes we are so blessed to be able to do what we do," Cassel said. "To be able to use our position to give back to the community, especially at a place like Children's Hospital, is very special. To make an impact on these young children's lives and their families is something that we are happy and lucky to do."
Wilfork said visiting with patients and their families is something that "hits home" for him. His father David passed away after a long battle with diabetes. Wilfork said he knows what the patients' families are going through and always wants to "lift their spirits."
"It is a blessing to see these kids live every day because even though they are struggling they never give up," Wilfork said. "Going through what I went through as a youngster, I know how tough it can be for these families. Visiting with these kids is something that is very special to me. If I can put a smile on their face just by giving them a handshake, hug or by taking a picture it's something special."
Also representing the Patriots at the event were President Jonathan Kraft, offensive tackle Wesley Britt, and guards Russ Hochstein and Stephen Neal along with former Patriots Gino Cappelletti, Tim Fox, Robert Perryman and Garin Veris.