Rookie Cedric Cobbs has aspirations of becoming an actor in the future. But for now, the fourth-round pick is intent on learning his lines as an NFL running back.
"Acting is something I plan on pursuing after my football career is over," said Cobbs, who majored in drama and enrolled in the Fullbright College of the Arts at Arkansas. "Guys like Eddie Murphy and Martin Lawrence really inspired me at a young age. But right now my focus is football and doing whatever I can to show the coaches that I belong here."
Cobbs was one of 26 rookies and first-year players on hand at Gillette Stadium two weeks ago for the team's rookie mini-camp. The 6-0, 221-pound running back displayed quick feet while darting around the practice fields wearing just his helmet and his new No. 34 practice uniform.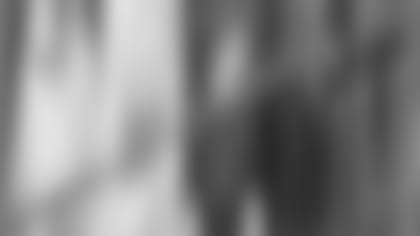 ]()
            But the offense he played in at Arkansas, where he racked up more than 3,000 rushing yards and averaged more than 5 yards per carry, was much less sophisticated than the average pro system. While with the Razorbacks, he and quarterback Matt Jones were the focal points of the offense – both predominantly as ball carriers. Jones didn't put the ball in the air much, and when he did put it up, Cobbs wasn't much of a factor.  

That will obviously change as he becomes part of an NFL offense, particularly one with the creative reputation that Charlie Weis' has in New England. One of Cobbs' biggest adjustments will be getting comfortable with his responsibilities in the passing game. While he claims to be a willing and effective blocker, he'll need to add to his route-running and pass-catching resume to earn significant playing time anytime soon.
"It's just a learning process," Cobbs said. "If I want to make this team [becoming more familiar with the passing game] is going to be a requirement. The coaches don't take it lightly when you don't know your assignments. We were mainly a running team in college and this is a lot different. We had maybe two or three different routes we had to run. Here, I don't know how many we have, probably 20. And then you get into the different names, numbers and colors."
There's a theory among football watchers that running back is a position that requires less instruction and more instincts. The thought is that gifted runners either have the innate ability to carry the football effectively or they don't, and no amount of instruction can allow a player to develop skills like speed, elusiveness and vision.
Bill Belichick admitted he subscribes to that theory for the most part saying that in terms of strictly running the football "there's a lot of truth to that." But where Belichick believes rookies running back can struggle is in the passing game, where Cobbs appeared to be light years away from NFL caliber, at least based on a couple of practices without equipment and very little preparation.
"The problems coming from the backfield are in the passing game," Belichick said. "In terms of protection, route running and handling different coverages so the flow of control is distributed underneath to open up the pattern and not congest it. Backs don't have a lot of experience with that and that's a big step for them.
"I don't think there is any question about [Cobbs'] running skill. He probably ran for more yards than any other back in the history of Arkansas. He had a lot of production at Arkansas in the running game. He has less background in the passing game. He is going to have to work on that. How quickly he will pick that up and how naturally that will come to him, I don't know."
Cobbs will get a chance to show how much progress he's made thus far when he joins the rest of the rookies back in Foxborough on May 16 as the Patriots prepare for the passing camps that precede the full-squad mini-camp that will run June 7-12. At that point, he's still sure to be well behind in terms of the playbook, but that won't stop him from acting the part.
"The biggest thing for me is I want the coaches to see that I'm a good guy and I'm willing to do whatever it takes," Cobbs said. Kick returns, blocking punts, punt team … whatever. I'm ready to go in and am willing to put the work in. Nothing comes free – every spot must be earned."
If he keeps acting like that, he's sure to win a role in the Patriots backfield of the future.