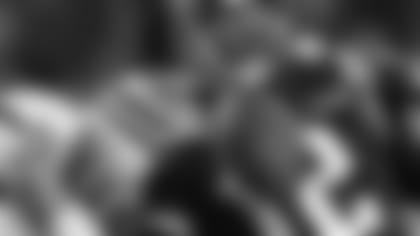 ]()The Colts did it in convincing fashion, showing no mercy to a Patriots defense that had cornerback Randall Gay starting at safety and Richard Seymour again missing action with his knee injury.
It was clearly the Patriots defense that simply could not keep up with the Colts offense. Manning finished with 321 yards on 28 of 37 passing and three touchdowns. Edgerrin James added 104 yards on the ground with his 34 carries and a touchdown. Marvin Harrison and Reggie Wayne both eclipsed the century mark; Harrison with 9 catches for 128 yards and two scores and Wayne with 124 yards and a score.
Tom Brady had a decent night playing catch-up for all of it. But his 265 yards and 22 of 33 passing with three touchdowns wasn't nearly enough.
After tying the game early at 7, New England was really never in this one. All the Patriots can hope for now is that they meet these Colts again this season, but there's a long way to go before that can even be contemplated.
It didn't take long for Peyton Manning to victimize the Patriots depleted secondary. On his second play from scrimmage, he looked deep down the middle of the field to Marvin Harrison and connected for 48 yards to the New England 9. On third down, Manning threw over Asante Samuel to Harrison for the touchdown from a yard out.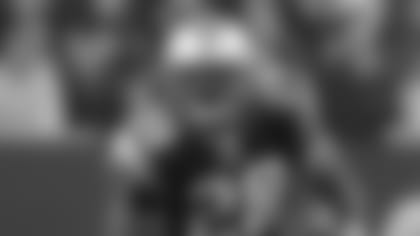 ]()New England used more of a ball control attack to strike right back and even the score. Dillon ran the ball four times and made a beautiful fingertip catch on a second and 10 swing pass good for 16 yards to the Colts 30. On third and 11, Daniel Graham hooked up with Brady for 10 yards leaving the Patriots with a fourth and 1 decision from the Colts 21. They went for it with a quick slant to David Givens for 5 yards. Two plays later, Brady found Branch in the end zone from 16 yards away.
As the first quarter ended, Indy was in the midst of an extended drive that had them on the Patriots 21. Earlier during the series, the Colts had a fourth and 1 of their own to contend with. They made the first down with a James run up the middle for 2 yards. That play came after a 12-yard pass to Wayne on third and 13 when it looked like the Patriots might force a punt.
That conversion paved the way for the Colts second touchdown in two series. It was a grinding, 17-play drive going 9:02, 68 yards and ending on a 5-yard James run to the end zone.
After New England went three and out and punted, the Colts took over on their own 5 after a special team penalty. Manning managed to escape a third and 9 from the 6 with a 16-yard completion to Bryan Fletcher.
It looked like the Colts were heading toward Patriots territory again when they were called for a delay of game on third and 6. That set up a third and 11 from the 38. Manning dropped back and threw down the middle where Mike Vrabel made a great play on the ball and picked it off.
That's the kind of turnaround the Patriots have feasted off against the Colts in the past but this time Brady was sacked for a loss of 12 and fumbled on first down. Tom Ashworth recovered the ball but not until his team had lost 28 yards.
Brady made 5 back on a pass to Graham setting up third and 23. Somehow, David Givens slipped behind Jason David of the Colts for a 35-yard reception and the first down. A 13-yard run by Dillon to the 17 had things looking good for New England.
But on the next play, Dillon was hit behind the line of scrimmage and fumbled. David atoned for his earlier missed coverage by recovering and all of New England's work to get that far went for naught.
Worse, Manning went back to work and took his team from their own 27 right into the Patriots end zone. The scoring play was a 10-yard pass to Reggie Wayne to end the first half scoring.
New England went to the locker room down 21-7 and looking for some way to stop the Colts offense. And despite Brady going 10 for 10 in the first half, his running game only had 15 yards. New England's defense needed a breather.
The Patriots first series of the second half took all of 29 seconds -- three incompletes to Graham and Ben Watson -- and the defense was back out on the field.
The Colts again moved methodically down the field in 11 plays to take a 28-7 lead. On third and 3 it was Manning to Brandon Stokely for 13 yards. On third and six it was Manning keeping for 12. From the 4 it was Dominic Rhodes for the score.
The New England offense showed some life on its next try. Aside from a couple Dillon runs for a total of 12 yards, it was all tight ends. Brady hit Watson for 23 and 7. From the Colts 31, he called a screen to Graham that No. 82 took on the right side and followed his blockers until he found open field to the end zone.
An onside kick on the ensuing kickoff did not fool the Colts and after the recovery and return, it was first and 10 Indy from the New England 22.
Wouldn't you know it? The Patriots held the Colts to 5 yards forcing a 35-yard field goal to make the score 31-14. If that kind of stand could have happened on the other side of the field, the momentum might have swung the Patriots way.
As it was, the Colts managed to stop New England on downs after New England took over. Brady was forced to go for it on a fourth and 4 and threw incomplete to a blanketed Givens. Manning went for the jugular on his next play with a 29-yard completion to Wayne to the Patriots 27.
After moving to the Patriots 5, the New England defense was suddenly becoming stout, stopping James twice and forcing Manning to throw incomplete on third down, but it was too late. A Mike Vanderjagt 20-yard field goal gave the Colts a 20-point cushion at 34-14 with 13:58 to play.
New England made it a two score game with a 19-yard Brady to Troy Brown touchdown. The scoring drive started at the New England 31 and took 9 plays. Branch started things off with a 17-yard catch and later had a 10-yarder down to the Colts 19. The Brown scoring play was a low ball from Brady that Brown caught and then literally rolled into the end zone with before he was touched.
Down 34-21 with 10:15 left, any hope of a miracle comeback hinged on the Patriots stopping the Colts from scoring even three on its next series and doing it quickly. But it was too much to ask of a tired and hurting New England defense. After killing some clock down to the Patriots 30, Manning went over the top to Harrison with Samuel in coverage again for the death blow and six points.
At 40-21, the Colts elected to go for a two-point conversion to make the game a three-touchdown spread but in what seemed a sign of frustration, Bill Belichick threw out his red challenge flag, forcing a review of the previous touchdown play. After the delay, the play stood and Manning threw incomplete.
That was the ballgame with the Colts content to let the clock run out and the Patriots replacing Brady with Doug Flutie on the Patriots last series.
Despite the loss, New England remains on top of the AFC East at 4-4 with a divisional match upcoming next Sunday in Miami.
Patriots inactives: Andre Davis; Kevin Faulk; Patrick Pass; James Sanders; Matt Light; Dan Klecko; Richard Seymour; Matt Cassel (3rd QB).
Colts inactives: Kory Chapman; Ran Carthon; Matt Giordano; Ben Utecht; Keith O'Neil; Sweet Pea Burns; Aaron Moorehead; Josh Thomas.