INDIANAPOLIS - Searching for the potential heir apparent to Tom Brady is not exactly a new phenomenon. As far back as 2009, when the Lions selected Matthew Stafford with the No. 1 overall pick, the boys on "PFW in Progress" have been discussing the possibility to moving on.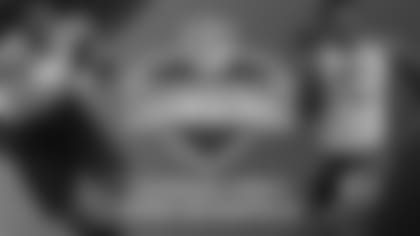 At the time one of our offseason debates posed the following question: Would you be willing to deal Brady for the top pick? With Stafford the clear choice entering that draft, the idea of moving on and restarting with a talented passer wasn't as far-fetched as it may appear.
Obviously it was a bit premature at the time since Brady has continued to produce at a high level for the past five years, but he'll be 37 at the start of the 2014 season. Ryan Mallett remains the lone backup and is entering the final year of his rookie deal, and it's unclear how the coaching staff views his long-term viability to one day step into the large shoes Brady will eventually leave.
Brady signed an extension last year that runs through the 2017 campaign, but with relatively low salaries over those final three years the Patriots could easily start a new regime if The Franchise exhibits any signs of slowing down.
Those factors, coupled with a deep and talented class of quarterbacks available in the draft leave plenty of intrigue at this week's Combine. NFLDraftScout.com lists 17 quarterbacks with potential draft grades, and seven of those are projected to go somewhere in the first three rounds.
Three or four of those passers could go in the first round led by Texas A&M's Johnny Manziel (5-11, 207), Louisville's Teddy Bridgewater (6-2, 214) and Central Florida's Blake Bortles (6-5, 232).
Manziel was the first to the podium on Friday and drew an immense crowd. Quarterbacks Andrew Luck and Robert Griffin III were popular figures at the 2012 Combine and Manti Te'o's crowd last year was the largest anyone could remember.
Johnny Football's throng this afternoon may have been bigger than any of them. He was quite passionate as he talked about his commitment to the game and how he views himself as a small town guy who will do anything in his power to help his team win.
An example of his passion came right at the start. Word had already leaked that Manziel had measured at 5-11 3/4, falling just short the 6-foot mark he told people he would hit prior to the Combine. When asked about it the confident Manziel said he plays like he's "10-feet tall."
While fell just short of his predicted mark, Manziel doesn't figure to be affected much by his height. His athleticism is off the charts, as is his ability to improvise outside of the pocket. He watched Seattle's 5-10-plus Russell Wilson win the Super Bowl and credited him with knocking down the door for vertically challenged quarterbacks everywhere.
Seahawks coach Pete Carroll discussed the topic a bit during his press conference at the Combine.
"Russell's a great football player and a great competitor," Carroll began. "It just doesn't matter what package he's in. It's not because he's 5-11 that he's a great football player. He's a great football player. It's interesting now here we are in another draft with some notable players. I think it was Johnny who said something about Russell has opened the door for him and guys like him. That's true. Prior to the last couple of year the general thinking was that guys of Russell's stature couldn't play, which obviously is wrong. That's wrong. Anybody who said that was wrong. Not everybody who's 5-11 can play quarterback. You have to be a great football player and all the elements that make up Russell that make him very, very unique.
"College football has really generated a style of play that has allowed us to see the quarterbacks as athletes away from the pocket. A great deal of their work has to be done in the pocket. But then a whole other game starts when the athletes get out and move. There's nothing more difficult for a defensive coach to deal with, that element of the scrambling quarterback that can create after the regular play starts and begins again because it's the most unpredictable. We're seeing more and more of it. However, we've also seen that you can't last in this league running the football as a quarterback. It's just too physical, the pounding is too great. You don't have to be runners to be effective using that mobility."
Most experts believe Manziel will be a top-five pick, and despite the obvious differences in styles he reached out to Tom Brady prior to the Combine for some advice. Manziel referenced the exchange he had with the Patriots quarterback.
"For him to reach back out to me after I sent a text message to him was extremely cool," Manziel said. "[It was] kind of a really funny conversation at first, [then we] worked our way into a more serious conversation. But it was really nice. I'm very thankful for him to be able to extend a hand out to me in the situation that I'm in."
He also passed along a joke Brady, never one to threaten any speed records, offered the fleet-footed Manziel.
"If I teach him to run like I can, he'll do anything in the world for me. It was pretty funny coming from him," Manziel said.
Bridgewater is perhaps the most polished of the three and also could go at the top of the first round. He had tremendous production for the Cardinals and protected the ball extremely well, throwing just 24 picks in 39 career games while tossing 72 touchdowns.
Bortles is the wild card of the three. He burst on the scene midway through the 2013 season after opening eyes with an impressive road win at Penn State. He finished his career with a BCS Bowl win at the Fiesta Bowl over Baylor, and at 6-5, 232 has drawn comparisons to Ben Roethlisberger, only with more athleticism.
After seeing Bortles in person a better comp may be Luck, as the UCF star had a much leaner look than the Steelers quarterback. His meteoric rise has some questioning his NFL readiness, but many believe he is every bit the prospect of his more celebrated peers.
"There's no doubt that I need coaching, I need help," Bortles said. "I believe everybody in the game does. I'm going to work my butt off to do everything I can to be the best that I can be to help the team be the best it can be.
The next group of quarterbacks begins with Fresno State's Derek Carr (6-2, 215), who projects as a late-first, early-second-round pick. He's the younger brother of former No. 1 overall pick David Carr, who was the very first pick of the expansion Houston Texans in 2002.
David Carr's career never panned out, and many believe the beatings he took early on contributed to his lack of success. That fact was lost on the younger Carr.
"There are no expansion teams, we were pretty fired up about that," Carr joked when asked how he could avoid his brother's pitfalls.
Carr has basically grown up in the game, watching film with his brother at the age of 12 and considers him "a tremendous resource."
Moving closer toward the middle rounds where the Patriots could possibly be in the market for Brady's successor, there's an interesting group of quarterbacks to pick from. Eastern Illinois' Jimmy Garoppolo (6-2, 219), Alabama's A.J. McCarron (6-3, 214), LSU's Zach Mettenberger (6-5, 235) and Georgia's Aaron Murray (6-1, 201) could go anywhere from the second to fourth rounds.
Garoppolo is a bit of an unknown but enjoyed a stellar career at Eastern Illinois, where he surpassed the passing marks of Saints head coach Sean Payton and Cowboys quarterback Tony Romo. He intends to throw at the Combine, unlike Manziel and some other the other top passers.
"I wanted to come out and showcase my talent against the other best quarterbacks in the nation, that's what the combine is all about," Garoppolo said. "The exposure really helps a small school guy like me. It's tough for us to get our names out there. We're not always on ESPN and on TV and everything like that, so every little bit of exposure like that helps me and helps get my name out there."
McCarron is a guy who has been compared to Brady in the past. His ability to manage the game and exhibit leadership has been evident throughout his terrific career playing for Nick Saban and the Crimson Tide. Asked what his greatest attribute was, he answered much like Brady might.
"I would think being a winner," McCarron said. "Everybody says I played behind NFL talent at Alabama. Well, usually in the NFL, what's in the NFL is NFL talent. So I don't see how that can be a knock. I'm a leader. First one in, last one out. And I feel like I've always put us in a good situation to win the ballgame."
McCarron was asked specifically about the Patriots organization, and the idea of playing behind Brady and for Bill Belichick, who obviously has a close connection to Saban.
"I love the Patriots organization. If I had the chance to go there and sit behind Brady for however long and learn from one of the best to ever play the game, that'd be an awesome experience," he said. "It's almost like New England is the Alabama of pro football. Coach Saban learned under coach Belichick so, it'd be almost like déjà vu in a way."
Mettenberger and Murray are both coming off torn ACL's that derailed their final seasons and dropped their draft stock. Mettenberger in particular likely would have gone higher than the third/fourth round projection NFLDraftScout.com has listed for him.
Murray said he's in weekly contact with renowned surgeon Dr. James Andrews weekly and feels he's "way ahead of schedule" and intends to participate fully in his Pro Day April 16.
Those mid-round prospects figure to draw some Patriots interest, and if indeed Belichick is looking to set plan in place for the future, it would seem one of that group - McCarron in particular - would make sense.
If none of those candidates fits the bill, there are a handful of late-round possibilities. San Jose State's David Fales (6-2, 220), Wyoming's Brett Smith (6-2, 206), Pittsburgh's Tom Savage (6-4, 230), Clemson's Tajh Boyd (6-1, 222) and Virginia Tech'sLogan Thomas (6-6, 250) range from the fourth round to possible free agent candidates.