INDIANAPOLIS - The defensive end spot has been a high-level need in New England for more than a year.
That led to the Patriots using two of four picks in last April's draft at the position, including their top overall selection on third-round prospect Derek Rivers.
But when Rivers missed his rookie season with a torn ACL suffered in training camp, trusted veteran Rob Ninkovich retired in training camp and trade-addition Kony Ealy failed to find a fit in Foxborough, it left the position very much undermanned throughout 2017.
Other than now-established veteran Trey Flowers and relatively impressive rookie fourth-round pick Deatrich Wise Jr., New England spent most of the season with a rotating cast of characters on the edge of the defensive front. The lack of talent and depth at the spot hindered the unit both in terms of stopping the run and generating any sort of consistent pass rush.
While Rivers' return this summer will potentially add to the group, there is little doubt that defensive end remains a top need for the Patriots heading into yet another draft.
Certainly there is generally some overlapping or interpretation in the pre-draft process in the search for edge players. One team's defensive end is another's outside linebacker. That's again true in regards to a group of 2018 Combine edge prospects that NFL Network analyst Mike Mayock has referred to as "thin."
"The edge rushing class is down this year," Mayock said. "There aren't many edge rushers and everybody wants one."
According to NFLDraftScout.com somewhere in the range of 28 defensive ends have draftable grades, including four potential first-round picks.
The group is led by North Carolina State star Bradley Chubb (6-3, 275), coming off back-to-back 10-sack seasons for the Wolfpack. At this point in the process, Chubb is expected to be a top-five selection and likely the first defensive player selected. He certainly believes that he should be.
"My confidence level is going to say I'm the best player," Chubb said of his spot in this year's draft class. "I feel like I put it on tape for four years. Good film. I feel like I'm the best player. I'm not going to say one person's better than me. There are a lot of great players. Saquon Barkley put up ridiculous numbers yesterday. Josh Allen, Josh Rosen. All the quarterbacks you're hearing about, lot of great players. I just feel like I'm up there at the top."
Though it's unrealistic to think that Chubb would be in play for the Patriots, he had his mind on Foxborough when asked which NFL passer he was most looking forward to sacking.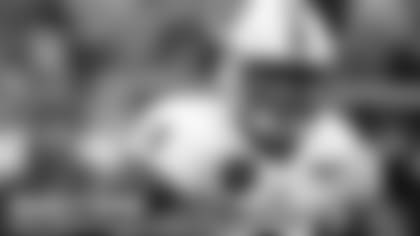 "Of course I'm going to say Tom Brady," Chubb said. "You sack Tom Brady then you're doing something right. I feel like Tom Brady is a quarterback I'll have on my list."
Other defensive ends with the potential to go in the first round include Texas-San Antonio's Marcus Davenport (6-6, 259), Ohio State's Sam Hubbard (6-5, 265) and LSU's Arden Key (6-5, 265).
Hubbard is one of a number of Buckeye defensive end prospects to keep an eye on in regards to the Patriots given their work under respected Bill Belichick pal Greg Schiano. The group has diverse talent that challenged opposing offensive lines with the "Rushmen" package that includes future high-end prospect Nick Bosa, brother of current Chargers stud Joey Bosa.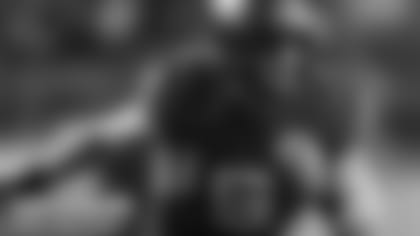 Hubbard is a solid, diverse talent slotted to possibly go late in the first round who passed up college lacrosse scholarship offers to stick with football in Columbus. He acknowledged he had a formal Combine meeting set up with the Patriots, one of a few defensive ends to make that admission.
With the talent spreading the production around the Ohio State defense, Hubbard had a relatively modest 17 sacks over three seasons, including seven last fall. Schiano, the former head coach at Rutgers and in the NFL with the Buccaneers, once called the front the best he's ever coached at any level. Rather than dream of what could have been bigger sack numbers in a different system or situation, Hubbard saw the group efforts as a net positive.
"I look at where it got us," Hubbard said of fellow Buckeye end Combine prospects Jalyn Holmes (6-5, 279) and Tyquan Lewis (6-3, 276). "We're all here in position to play at the next level."
Hubbard lists his strengths as his football IQ, versatility and the value he brings as a person both on and off the field.
"I can do it all," said the rather humble end said, adding "that's about as close as I'll get" to bragging.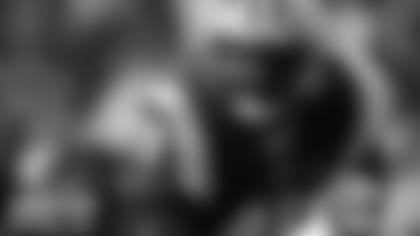 The key for Key this week is explaining some of the issues he's dealt with off the field, including major fluctuations in his weight, injuries and taking a leave of absence from the football team last winter. He's considered as gifted as any edge player in the draft, but also comes with plenty of questions.
Key wouldn't comment on why he left the LSU program last year and admitted that teams are asking about it quite a bit.
"I tell them the real. I tell them that was my biggest adversity," Key said. "I went through it and I'm past that and I'm looking forward."
Focusing on the positives, Key thinks he brings elite talent to the next level.
"My pass-rushing ability. I'm the best pass rusher in the Combine," Key said. "I like to rush out of a three-point stance. I can drop because I can. I can do it, but I don't want to. I'm a pass rusher. I want to rush the quarterback.
"I'm long, I can bend the corner. I can spin. I can move the offensive lineman's set and use a move off of that, and of course speed rush."
After the would-be first rounders the next crop of talent at defensive ends projected for the second and third rounds includes Washington State's Hercules Mata'afa (6-2, 252), Obo Okoronkwo (6-1, 243), USC's Rasheem Green (6-4, 275), Alabama's DaShawn Hand (6-4, 282), Wake Forest's Duke Ejiofor (6-3, 275), the Buckeye Holmes (6-5, 279), Mississippi's Breeland Speaks (6-3, 285) and Florida State's Josh Sweat (6-4, 250).
Mata'fa is an intriguing if imperfect option. He notched 21 sacks over three seasons, including 10.5 last fall when he played a lot on the interior of the defensive line. He's clearly undersized, even drawing comparisons to former Patriots linebacker Tedy Bruschi who was a dominant pass rusher in college at Arizona.
Mata'fa emphasized that he believes he can play any position on the front seven in the NFL, but is best suited for defensive end.
"I think I'm the most versatile pass-rusher in this draft," he said. "You can line me up anywhere and I can rush the passer. My get-off is the fastest in this draft, and I have a lot of upside to my ability. I think coaches take notice of that.
"I feel like I can play any position. I just love getting after the football and getting after the quarterback, it doesn't matter where I'm at."
With confidence toeing the line toward cockiness, Mata'fa said he's never really modeled his game after anyone in the NFL.
"I model myself after myself," he said. "I don't think anyone plays the game like I do."
Like Mata'fa, Sweat is just dripping with confidence as well. A high-profile prospect for the Seminoles, he's had to prove he's completely healed from a severe knee injury in high school. He did that with 14.5 sacks over three seasons at FSU and felt good about his medical evaluations this week in Indy.
Like so many others, he banks on trying to bring pass rush to the next level that he believes so many covet.
"The NFL period is a pass rush league," Sweat said, going on to describe his strengths. "I'm explosive off the ball. I have great hands. Great hips."
And great confidence. He said he's "trying to build my brand and get on more draft boards" but isn't focused on where he lands in the draft, just what he's going to do when he gets to his new football home.
"I have my eyes on the rookie sack record," Sweat declared, openly targeting Jevon Kearse's 14.5 sacks for the Titans in 1999.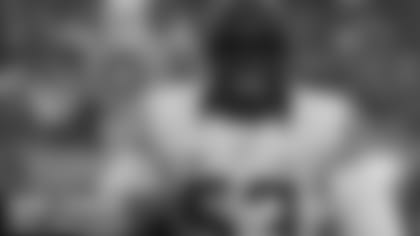 Ejiofor finished his college career with 24 sacks for the Demon Deacons, including 17.5 and 34 tackles for a loss over the last two seasons. Unfortunately he stood at the Combine press conference podium wearing a sling on his right shoulder after posterior labrum surgery three weeks ago. He hopes to be ready for training camp, but it's certainly not an ideal situation.
While getting healthy is the focus, Ejiofor considers his film study and mental preparation a foundational aspect of his game.
"It's something I'm really strong on in preparing for our opponents," he said. "There's a lot I like to study, starting off with the offensive formations, so you know what to expect. From there, it's studying the offensive linemen in terms of how they set, whether they're an aggressive setter or a passive setter, and seeing their stagger to see how I'm going to attack them that week."
Holmes also raves about the group effort toward success at Ohio State, including various schemes that saw him "master" rushing from the inside in the three technique. He emphasizes, like others, that he can get after the passer from all over the front even though he's a slightly bigger end who never had more than two sacks.
"I feel like I'm real comfortable with all of it," Holmes said of the various spots along the line. "At the end of the day, pass rush is pass rush. I feel like I've already proven I'm versatile. I'm athletic and can really move around a lot."
NFLDraftScout.com lists at least 15 defensive ends that might go in the last few rounds of the draft. From a Patriots perspective some names worth keeping an eye on would be Ohio State's Lewis (6-3, 276), Miami's Chad Thomas (6-5, 277), Utah's Kylie Fitts (6-4, 259) and Tulane's Ade Aruna (6-5, 262), among a number of others.
Between missing time after transferring from UCLA and injuries, Fitts' best football may be ahead of him. He had seven sacks back in 2015 but just 4.5 over the last two years, when he combined to play in just 9 games due to a variety of injuries. He rings the injury bug up to bad luck and feels like he's learned to take better care of his body.
In terms of positives, Fitts focuses on the versatility he brings to the next level.
"I think a lot of the runs in this class can play the run or the pass. I can play the run, rush the passer or drop into coverage as well," Fitts said, noting he had a formal interview scheduled with the Patriots after previously meeting with linebackers coach Brian Flores in an informal setting.
While so many of the defensive ends talked about their rush ability, Thomas acknowledged that special teams might be key to his future. He played in the kicking game at Miami, where he had 4.5 sacks in each of the last two seasons.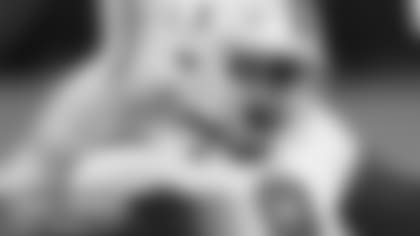 "I feel like if you put me on special teams, I'll make a play," Thomas said of what is a good way for a latter-round guy to think. "You have to play special teams. You have to take pride in it. That's how you are going to make a team in the NFL."
The group of outside linebackers at the Combine is also filled with potential edge players that might fit New England's needs. Maybe the most interesting name in that group is former Boston College star and potential second-round pick Harold Landry (6-2, 250). Though he lacks the height and length that many might prefer on the edge, Landry is only a year removed from a 16-sack season for the Eagles. He battled an ankle injury and increased attention from opposing lines this fall, but remains confident what he brings to the next level.
"I think that nobody in this class has a first step like mine, the bend like mine and the burst to the quarterback like me," Landry said. "I am not saying I am perfect, there are plenty of thing I can improve on in my game, but in this draft I do believe I am the best pass rusher."
Another interesting outside linebacker who has been linked to the Patriots late in the first round in some mock drafts is Boise State's Leighton Vander Esch (6-3, 256). He had a breakout final junior season that included 140 tackles and four sacks. The former priority walk-on who played eight-man football in high school bulked up a bit for the Combine and is focused on continuing to prove himself.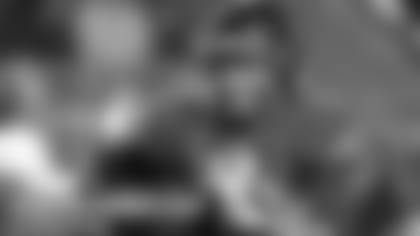 "Playing weight this year was around 240. I weighed in here at 256. I wanted to put on some weight because I know all the guys are bigger, faster and stronger in the NFL and I've gotta keep up," he said. "I knew that was important going into it. Like I have the whole time I was at Boise, I just developed myself physically to make sure I'm successful on the field."
Though the overall talent in the defensive end/edge class may be considered a bit thin, there are certainly a bunch of unique, confident athletes on hand this week at the Combine.
Most have questions to answer and perceived flaws to overcome. But for teams in need on the edge like the Patriots and so many other team are, the payoff of finding a potential playmaker at the spot can certainly be more than worth the risk.