INDIANAPOLIS – When it comes to evaluating the NFL draft, few if any positions are less glamourous than the offensive line. But for Patriots fans whose memories are fresh with Tom Brady getting bashed nearly two dozen times in the AFC Championship loss in Denver, blocking will take on a greater importance this spring.
Regardless of how things unfold come April, there will be significant changes up front for New England, at least at the top. After taking a two-year hiatus, legendary offensive line coach Dante Scarnecchia is coming out of retirement to replace his successor Dave DeGuglielmo, whose contract expired and was not retained.
Scarnecchia developed a sterling reputation for maximizing his talent, which wasn't always filled with high draft picks and blue-chip prospects. Now he inherits a young group looking to rebound from what was a disastrous 2015 campaign. Although injuries affected the play of the entire team, and the offensive line periodically, health was not a major problem. Center Bryan Stork opened the season on short-term injured reserve while recovering from a concussion sustained during training camp. He missed the first seven games but returned to take part in the final nine. Left tackle Nate Solder missed the bulk of the season after tearing his biceps in a Week 5 win in Dallas, and his presence was certainly missed as well.
Beyond that, the rest of the contributing players missed very little action. Right tackle Sebastian Vollmer missed just one game while the Patriots went with a youth movement inside with rookie fourth-rounders Tre' Jackson and Shaq Mason manning the guard spots while undrafted rookie David Andrews filled in for Stork at center. Four-year veteran Josh Kline also saw significant action at guard as Bill Belichick often switched personnel from series to series as well as game to game.
But even before Solder went out the line was struggling to keep Brady on his feet. Brady was sacked 11 times in the four games Solder played and 27 times in the 12 that he missed. That's an average of 2.75 per game with Solder and 2.25 without him. While there's no question Solder's absence hurt the team, it's also not accurate to blame the woes on his injury.
In all Brady was sacked 38 times, which was the ninth highest total in the league. That doesn't even take into consideration the countless number of hits he took that didn't result in sacks, or the complete lack of a running game the Patriots finished the season with.
So if New England is taking a peek at some offensive linemen during the course of the draft process, it's certainly understandable. But exactly how that manifests itself is unclear. Given the resources the team committed to bolstering the interior of the line last spring, adding another guard or center wouldn't seem to be a priority.
Tackle could be a different story, however. Marcus Cannon did not play well as the swing tackle who took Solder's place in the lineup. When he suffered a toe injury in his first game on the left side, Vollmer moved from right to left and Cannon eventually took over on the right. Things did not go well and there's been speculation that perhaps Cannon could be let go to save some cap dollars.
Even if that doesn't occur the Patriots will likely focus on tackles with some versatility, and the draft has a few quality options who may project to guard in the NFL. There are four tackles with first-round grades from NFLDraftScout.com, including many experts' consensus top pick Laremy Tunsil (6-5, 305) out of Ole Miss. Notre Dame's Ronnie Stanley (6-6, 315), Ohio State's Taylor Decker (6-7, 315) and Michigan State's Jack Conklin (6-6, 318) round out the first-round projections while Auburn's Shon Coleman (6-6, 313) is listed as a first/second rounder.
Although most expect him to go No. 1 to the Titans, Tunsil was quick to let everyone know that he was open to play anywhere.
"It's always been my goal since I was a little boy to get drafted No. 1, but I'd love to play for any team," he said.
Considering the Patriots are currently without a first-round pick due to the penalties stemming from the deflategate scandal, Belichick will be looking at a group of players rated a bit lower. That's unfortunate considering that many prognosticators believe the drop-off at the position is significant beyond the upper tier, but there will still be plenty of talent available should the Patriots go that direction.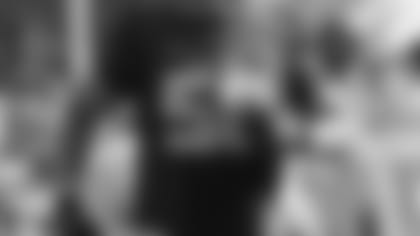 One interesting name to consider is Baylor tackle Spencer Drango (6-6, 320). NFLDraftScout.com has him projected as a guard who could go in the middle rounds, but versatility has always been a Belichick calling card and having a potential backup with the ability to play multiple spots would be valuable.
And then there's the fact that Drango has watched a lot of the Patriots over the years. When asked if he watched any NFL tackles closely Solder was the first name out of his mouth.
"I really like Nate Solder and Tyron Smith," Drango replied. They're very technique-oriented guys. They're both hard workers, the tenacity they both have is something I aspire to."
When asked if he'd ever met Solder, Drango said he hadn't but still admired his work.
"From what I hear he's a really hard worker," he explained of his connection to the Patriots left tackle. "He's kind of a technician guy and doesn't ever quit. You rarely see him get beat."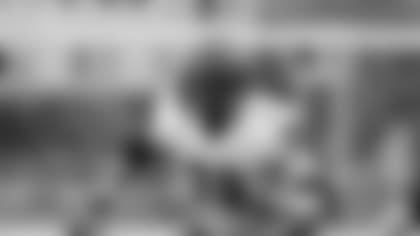 Another interesting mid-round option could be Harvard's Cole Toner (6-5, 305). The confident Toner said he felt comfortable performing at the Senior Bowl against top-flight competition and had an interesting answer when asked what he learned in Mobile.
"If there's one thing I took away from the Senior Bowl it's that anyone is blockable," he said flatly.
Toner grew up in Indiana rooting for the Colts and admitted he'd love to be selected by his home-town team. He also talked about his time in Cambridge being close to the Patriots.
Toner explained that he shared a flight with Scarnecchia on his way to the Combine and spoke to the legendary coach and added that he planned on meeting with New England later Wednesday night.
"That organization is one of the best if not the best," Toner said. "I've certainly watched them beat the Colts plenty lately."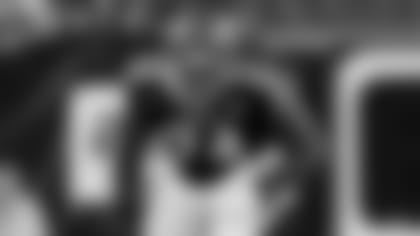 There's a group of prospects at tackle ranging from the second to the fourth round that includes Indiana's Jason Spriggs (6-6, 301), Texas A&M's Germain Ifedi (6-5, 215), Texas Tech's LeRaven Clark (6-6, 312), LSU's Jerald Hawkins(6-6, 305), Georgia's John Theus (6-7, 317), Stanford's Kyle Murphy (6-6, 300) and North Dakota State's Joe Haeg (6-6, 307).
Hawkins has an interesting story as an underclassman. The advisory board suggested that he remain in school, but he decided the time was right and declared anyway. NFLDraftScout.com projects him as a second/third-round possibility.
"I felt ready," he said. "I felt mature enough to leave school and get to the NFL. I spoke to [former LSU and current Cowboys tackle] Lael Collins about the process but ultimately it was my decision and I really wasn't a difficult decision.
Ifedi relayed a story from his high school days that mirrored that of Carolina tackle Michael Oher from the movie "The Blindside." Ifedi was flagged for blocking an opponent through the end zone.
"Definitely, my senior year in high school I had kind of a propensity for blocking through the whistle, as they say," he explained. "It's well worth it the 15 yards at that time to finish that block." Ifedi added that the nose guard wasn't much interested in playing thereafter.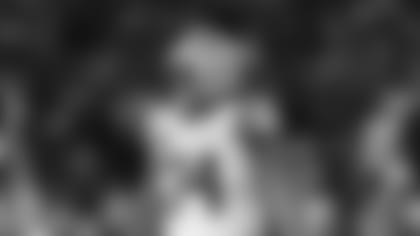 Like Drango, there are a couple of other tackles who are projected to move to guard. LSU's Vadal Alexander (6-5, 336) and Stanford's Josh Garnett (6-5, 317) could both go in the second round. Garnett said he hopes to be a trauma surgeon after his playing days are over and admitted to being fascinated with the TLC show "Untold Stories of the ER."
On the field, Garnett believes his experience at Stanford prepared him well for the NFL.
"That's one of the reasons I chose Stanford. It's a pro-style offense where I worked in zone schemes, gap schemes, inside, outside and I feel that's what a lot of NFL teams do," Garnett said.
Alabama's Ryan Kelly (6-4, 297) is the top-rated center and could go in the first round, but considering the depth the Patriots have at the position he's unlikely to be on the Patriots radar regardless of availability.
If the Patriots are to add to their struggling offensive line it would appear to be at tackle, and with so many prospects appearing to possess versatility it wouldn't be surprising to see Belichick grab one at some point in the middle of the draft.