INDIANAPOLIS - The wide receiver position in New England underwent a massive overhaul last season that saw three rookies -- second-round pick Aaron Dobson, fourth-round pick Josh Boyce and undrafted free agent Kenbrell Thompkins -- earn roles for Bill Belichick's team.
Though the players contributed to various levels while all three dealt with injuries at some point, both Dobson and Thompkins caught more than 30 passes, were in the range of 500 yards and hauled in four scores.
Given that injection of youth last spring, and the fact that Danny Amendola remains under contract while free agent Julian Edelman could also return, it wouldn't seem that the receiver position is the biggest area of need in New England heading into this offseason.
That said, the passing attack still lacked luster and playmaking ability down the stretch and into the postseason as Edelman was the only consistent contributor. And even with a relatively high pick like Dobson in the mix, there doesn't appear to be a true No. 1 receiver or outside playmaker on the roster at this point.
So while it may be unlikely, it might not be out of consideration for the Patriots to consider looking at an outside pass-catching playmaker at some point on draft weekend, maybe even early on if the right value presents itself to fill out Tom Brady's arsenal of weapons.
According to NFLDraftScout.com nearly four dozen wide receiver talents may get the call on draft weekend, or at the very least be priority free agents. Of that pool, as many as seven could be worthy of first-round consideration.
Forty-eight receivers were invited to the Combine this week at Lucas Oil Stadium, and as is so often the case the talented group includes playmakers in a variety of sizes, speeds and skill sets.
By most accounts, Clemson junior Sammy Watkins (6-1, 205) is the top prospect in the group. Watkins had 101 catches for 1,404 yards with a dozen touchdowns last season, averaging better than 14 yards per reception as an elite playmaker. Not only will Watkins be long gone by the time the Patriots pick, he'll likely go in the top 10.
Three other underclassmen who appear to be solid bets to go in the first round include Texas A&M's Mike Evans (6-5, 225), USC's Marqise Lee (6-0, 195) and Florida State's Kelvin Benjamin (6-5, 240).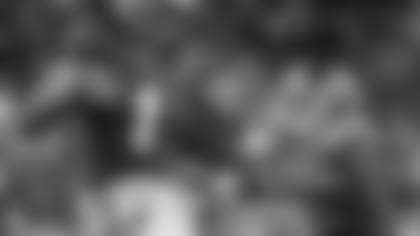 Benjamin, who helped the Seminoles to the national title including the game-winning score against Auburn in the BCS title game, caught 54 passes for 1,011 yards with 15 touchdowns and a crazy 18.7-yard average.
Combine his size and production with his desire/hope to run a 4.3 40 at the Combine and Benjamin could present the type of overall package that might induce a team like the Patriots to jump at adding his potential playmaking ability. Of course if he does run a 4.3 40 at the Combine, it might push his stock took high for New England to have a legitimate shot.
"I just want to be physical but I try to be smart, too," Benjamin said of what he might bring to an NFL team. "I'm a good team guy. They'll get a guy that's never going to give up. And if I need to work on something, my route running, my catching, that's what I'm going to do."
They'll also get a guy with maybe the best combination of size and speed in the draft.
The next tier of receivers, guys who might sneak into the first round or go in the second round, includes the likes of LSU'sOdell Beckham Jr. (5-11, 193), Penn State's Allen Robinson (6-3, 210), Oregon State's Brandon Cooks (5-9, 189), Vanderbilt's Jordan Matthews (6-3, 209), LSU's Jarvis Landry (6-0, 195) and Fresno State's Davante Adams (6-2, 216).
Cooks may not have the size that a guy like Benjamin brings to the field, but he's certainly not lacking for either production or confidence. Cooks had an incredible 128 catches for 1,730 yards (13.5 avg.) with 16 touchdowns last fall for the Beavers.
Cooks said he feels like he's the best wide receiver in what is a deep, strong class.
"I'm a playmaker," he said, oozing confidence that definitely borders on cocky. "I'm able to create plays from nothing. I can catch a 3-yard ball and take it the distance."
Despite his size, Cooks was an outside receiver for Oregon State. He compares himself to Steve Smith, the Panthers undersized but talented, confident playmaker, calling his role model a "cold blooded killer on the field."
Cooks hopes that teams look at his production numbers more than those of his diminutive height, saying "numbers never lie." And though he didn't really need to put it into words, Cooks said, "I'm confident. And that's that. What I say is what I'm going to do."
What he's planning on doing is impressing teams this week in Indy, getting drafted high in the draft and bringing his playmaking skills to the much grander stage of the NFL.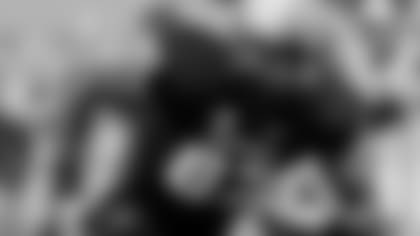 Matthews is bigger than Cooks and far less brash, coming off during his Combine meeting with the media very much the heady type you might expect out of Vandy, but also as a guy with plenty to prove at the next level. His 112 catches for 1,447 yards and seven scores measure up well statistically with others in the class, but he knows there are some questions about his speed and quickness.
"I've never been caught," he said downplaying those questions. "I've played four years of high school and four years of college and I've still never been caught."
But he also brings a will to the field that he believes will continue to serve him well at the next level.
"I think my competitiveness," Matthews said of his top attribute. "Being at Vanderbilt we had a lot of adversity, we had a lot of change. We had three head coaches, six different quarterbacks, three offensive coordinators, three wide receivers coaches. I think a lot of guys around the country played with a little more stability but I was able to adapt to change and I feel like I was able to come out and be one of the top in my fields. So I feel like that is something different about me. I feel like that is something that carried me the whole time was always my competitiveness, the way I came to practice every day and the way I had that chip on my shoulder all the way from high school. I think that has carried me and will help me out moving to the next level too."
Coming from a school like Vanderbilt, Matthews knows he'll probably have some options outside the world of football, but he has no plans on taking advantage of those any time soon.
"A lot of people said I should focus on playing basketball or do something else or go to Vanderbilt and get your Economics degree and go on Wall Street and work with stocks and bonds," Matthews said of his underdog status. "But God had a different plan for my life. It is just a blessing and I am just trying to make the most of it."
A couple notable mid-round prospects to keep an eye on might include Clemson's Martavis Bryant (6-4, 200), Wisconsin's Jared Abbrederis (6-1, 195) and South Carolina's Bruce Ellington (5-9, 196).
Despite playing in Watkins' shadow for the Tigers, Bryant is like Benjamin in that he's a bigger receiver hoping to run lightning fast 40 - "I expect to run a 4.3 or lower." - that could push his stock up immensely. Bryant names Cincinnati's A.J. Green as his favorite receiver, and knows how to use his size to his advantage, helping him average just under 20 yards a catch last season.
"It allows me to block out defenders on the high point of the ball," he said. "I got a little vertical in me too, so it helps me gain an advantage over the defender."
Abbrederis' advantage might be his work ethic and determination. He went from being a walk-on for the Badgers to a guy who caught 78 balls for 1,081 yards with seven touchdowns last fall.
"I obviously have the underdog mentality," he said. "I think the biggest thing for me, I'm a goal-setter. So when I set a goal I do everything in my power to achieve that. Growing up, I've always been like that, and that just kind of carried on through my career as a walk-on, once I earned a scholarship, and then trying to achieve my goals here in the NFL."
But also feels like he brings a lot more tangible qualities as well.
"I think the main one would be my route-running," Abbrederis said of his best attributes. "I take pride in that, getting in and out of breaks; that's where the DB can really gain the ground. At the top of a route, trying to be quick in and out of your cut. Also catching the football and just being smart, knowing where to be at the right time, understanding coverages, understanding the offense, concepts. When you understand a whole play, it helps you play a lot faster, so that's kind of what I pride myself on."
Rutgers players always seem to be on Belichick's radar in New England, so keeping an eye on Brandon Coleman (6-6, 225) as a later-round option might be valid. Coleman is one of the biggest receivers in the draft. He was limited by a knee injury last fall and caught just 34 passes, but did have 10 touchdowns a year earlier."
"My natural size," Coleman said simply of his top trait. "I use my body to my advantage against corners who aren't 6-6."
Another option later in the draft, though on the other end of the spectrum in terms of size, is Michigan's Jeremy Gallon (5-7, 185). His height is obviously a major concern, although it didn't keep him from putting up impressive numbers for the Wolverines last fall with 89 catches for 1,373 yards (15.4 avg.) with nine scores.
Gallon also compared himself to Carolina's Pro Bowler Smith. He's been getting a lot of questions from scouts about his speed, and has been hearing questions about his size all his life.
"It's an obstacle that I've been dealing with since I've been playing football, but I haven't considered it as an issue to me," Gallon said of his size. "It's something that other people look at, and I just have to deal with it and play ball with it. It gets tiring, but I can't change what people think or what they say about me."
Much like beauty is in the eye of the beholder, the views and opinions regarding the many talented, diverse receivers in this year's draft class depend on who you ask. Teams looking for bigger bodies and outside playmakers have plenty to choose from, including guys like Benjamin and Bryant. Others looking for smaller, speeding sensations might find a guy like the confident Cooks more appealing. Still others might be looking for scrappier, hardworking types like Abbrederis or untapped talents in the mold of the oversized Coleman.
But a couple things are certain. There are a lot of unique, productive college receiver talents available in this spring's draft class. And some of them will go on to be major NFL stars. Picking through the numbers to find those studs is the key.
Whether the Patriots will be a team looking to tap into this unique talent pool to pull a potential elite playmaker for Brady -- maybe a big outside target like Benjamin -- now that's anybody's guess at this point. But it can't be ruled out.