Coming off last Sunday's emotional win over the Jets, the Patriots once again take to the Gillette Stadium turf for a big game against a talented opponent in the form of the Dallas Cowboys. This meeting has a lot to create a buzz. Two big-time powerful owners in Robert Kraft and Jerry Jones. Two franchise quarterbacks in Tom Brady and Tony Romo. Two of the more popular international brands among football teams. Plenty of star power, both literally and figuratively. Put it all together and you have a marquee matchup between one the more consistent teams in football and one of the more frustrating. Both teams have the talented playmakers on both sides of the ball to win the game. As Bill Belichick likes to say, the team that makes more plays on Sunday will win the game. That's the kind of expert analysis you get here each week. So sit back and enjoy this week's everything-is-bigger-in-Texas edition of the Cowboys Friday Six-Pack!
1. Romo - Being the quarterback of the Dallas Cowboys is one of those special positions in sports. It comes with high expectations. It comes with both elevated praise and criticism. Tony Romo has seen some highs and some lows in the job. He's still battling rib issues that reportedly will require a pre-game pain shot and flak jacket. Romo is having a pretty good season in terms of numbers. He's completing 65 percent of his passes. Has a 92.9 passer rating. Save for a bad fumble and interception against the Jets and a couple bad picks against the Lions he'd be having a great year. But that's his story. A few really bad plays can wipe out an entire game, or season worth of work. That's the challenge the Patriots defense faces, making sure those bad plays occur. Obviously it would help if the Patriots could get some physical pressure on Romo. Sacks and hits would not only alter his passes, but could alter his health. But mental pressure may be equally effective. That means changing up coverages and blitz packages. That means keeping Romo from getting comfortable on the field and in the flow of his offense. He has the playmakers to work with, but if you take Romo off his game the rest will collapse. Of course sometimes it's easier said than done. Romo has the athletic ability to move around to extend plays and does a good job getting rid of the football. But pressuring Romo both mentally and physically will be a key for the Patriots in this one. He can giveth and taketh away, both for his own team and his opponent.
2. Be aware where Ware is
- Belichick said that comparisons of Cowboys outside linebacker DeMarcus Ware and Lawrence Taylor are worthy. That's about as high a praise as the coach can bestow on a player. Ware is arguably the most impactful, consistent defender of the last five years. He can ruin a game for an offense. What makes him really hard to deal with is the way the Cowboys can move him around their 3-4 front from snap to snap. It's not like you just line up and let your left tackle deal with him. Before the snap you have to find him and then set your protections accordingly. That puts a lot of pressure on Brady and even Dan Connolly prior to the snap. Then there is even more pressure on the individual linemen, tight ends and running backs that will be involved in keeping No. 94 from No. 12. Belichick said on Friday that Ware warrants the attention of everyone on the Patriots prior to each snap. So I find it hard to believe that New England will allow Ware to be overly productive, regardless where he lines up. But just the focus that he'll get from the New England coaches and players shows how impactful he is on a game without even making a single play. New England fell to fourth in the New York Life Protection Index this week after allowing four sacks against the Jets. A similar performance this week may not be good enough to win.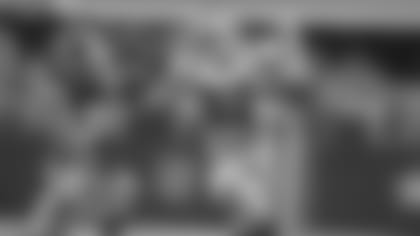 3. Big weapons, big problems - New England's defense has had more than its share of problems dealing with opposing offenses this season. It won't get any easier on Sunday. Romo is just the general in charge of an impressive group of athletes. Tight end Jason Witten if the most consistent of the group and Romo's favorite target. Witten is a Rob Gronkowski-like mismatch in the middle. The Patriots will likely have to use multiple bodies on the guy Belichick referred to as one of the "all-time greats." But it's hard to give too much attention to Witten with Dez Bryant, Miles Austin and Felix Jones also in the mix. Bryant is a very talented, big-bodied receiver. (That's a warning to Devin McCourty!) Bryant averages 17.1 per catch, has three touchdowns and is a danger any time he touches the ball. Austin averages 16.6 a catch. And Jones is a potential big play as both a runner and receiver. Coverage will be at a premium this week. But so, too, will tackling. Missing anyone of these guys can turn any play into a game changer. The Patriots defense has taken positive strides in recent weeks but that needs to continue against Dallas or things could return to the 500-plus yards, 30-plus point ways of the first few weeks.
4. KISS- Kill-In-Simple-Stats. Teams that win the obvious stats in football usually win the game. That's even more important for the 2011 Patriots on defense. New England must be competitive in third-down defense. Must do a good job stopping Dallas when Romo leads his Boys into the red zone. And the turnover battle has to remain at least even. There are no more important stats in football than third down, red zone and turnovers. Sometimes the Patriots can have hiccups in these areas and simply outscore the other team thanks to superior talent and coaching. That likely isn't the case this week. Dallas has solid coaching on both sides of the ball and playmakers to enact the schemes. New England won't steal one this week. If the Patriots are going to win they need to be solid in the three most telling statistics.
5. Another week, another Ryan - Rex Ryan came up short last week, after beating the Patriots twice last season. Now Dallas defensive coordinator Rob Ryan gets his chance, this after beating the Patriots with the Browns last fall. Rob has the Ryan blood that includes brash talking and sometimes brasher blitzing. He has some insight into Belichick's philosophies on offense, and Brady as a player, from his time with the Patriots as the team's linebackers coach from 2000-2003. He made things tough on New England in Cleveland last year and has better personnel to work with this time around. Belichick never fails to get the coaching edge in a matchup, but the Ryan family has produced two defensive minds who've at least earned a second-thought when considering the on-field chess match. Can Rob take it to his former boss yet again?
6. Bye and bye - The Cowboys had an extra week to get healthy and prepare for this big test against a team that's still seen as an NFL measuring stick. Ryan had an extra week to scheme against Brady and Co. The Patriots on the other hand are coming off the always physical and emotional game against the Jets. They look ahead to their own bye week. But will they in fact be looking ahead to the bye? Dallas is a talented enough team that any looking ahead by the Patriots could be a fatal mistake.
Prediction:
The Patriots have won 17 games in a row against NFC opponents at Gillette Stadium. I'm inclined to say they'll push the streak to 18 games. But that doesn't mean that the game isn't a scary one from the New England perspective. The letdown factor after beating New York is an issue. The extra time the Cowboys had to prepare is an issue. But the biggest issue is the talent that Dallas sports on both sides of the ball. They have the team to put some pressure on Brady. They have the weapons to put some big time pressure on the New England defense. All that said, I just can't pick Romo to play a mistake-free game on the road and make all the plays needed to beat the Patriots. I expect, as always, that both teams will put up points. But in the end I think Romo makes an error or two - forced by the Patriots or not - to send the visitors back to Big D with a big frown. I'll say that New England gets the 31-23 victory to head into the bye on a happy note. But, again, this matchup still scares me a bit and I got the vibe from Belichick and his players this week that it scares them a bit as well.