Q: **What is your reaction to signing with the Patriots? Can you share how you feel about being compared to Wes Welker for a decade now and about how those comparisons are going to continue?
DA:First off, obviously I'm really excited to sign and excited for the opportunity and I'm excited to get down to work. I'm ready to get this process rolling and ready to start playing football. About all those comparisons to Wes, you said I've been hearing it for a long time. We went to the same college and I've been watching him play for a long time. He's a great player, he's been to a lot of Pro Bowls and he's done a lot of great things to help the Patriots win. One of my main goals is to fulfill my role and try to do what I can to help the Patriots win as well.
Q:Can you walk us through the timeline as to how this deal developed over the last couple days and the lead up to today?
DA: **Sure, talks started with the opening of free agency on Tuesday. That's kind of when it all started going down. And then, for certain reasons, I couldn't get out here until yesterday to start signing and that's pretty much how it went down.
Q:Talk to us a little bit about the appeal for you signing with the Patriots and what attracted you to this team? Did your familiarity with [Offensive Coordinator] Josh McDaniels for one season make this move comfortable for you?
DA:Well, that was the main thing. Playing for Josh for one year gave me the opportunity to learn his offense and kind of figure out what I could do within the offense, what really excited me. I loved playing for him even though I went down the first game that year and I didn't get much after that first game. Just the familiarity I had already with the offense and what I feel like I can bring to the table, that's what excites me the most.
Q:How would you assess your strengths as a receiver and what are some areas that you feel at this stage in your career you are working to fine tune?
DA:Obviously you want to fine tune everything, just work on everything, whatever needs to be done. Strengths, I believe deep down that I am a football player, just have to do whatever it takes to win games, whatever it takes to fulfill my role on the offense and help my team win games. That's pretty much my only goal.
Q:When you were considering your options in free agency as a receiver, is there any quarterback you could imagine wanting to play with more than Tom Brady? Have you had any conversations with Tom since you signed or in your previous years in the league?
DA:Obviously Tom Brady is a great quarterback. I'm excited to work with him. We talked briefly yesterday just about getting ready to get down to work, get down to business. Hopefully get together soon so we can start throwing and stuff. That's pretty much all the contact we've had so far.
Q:How has your path travelled through the NFL from being undrafted to being cut a couple of times been reflective of the way you approach your job?
DA:I believe the NFL is a land of opportunity. As soon as you figure out you can find your little niche, you can find your role on an offense, in my position at receiver, I feel like you can develop an identity and go from there. I was thankful to get an opportunity to go play in St. Louis five years ago and they gave me a good shot. I tried to just develop my role then and now I'm equally as excited for this opportunity here in New England and I'm going to try to do the same. So like I said, just try to fulfill my role on offense and do my best to help the team win games.
Q:Was there a defining point for you where you felt like you had that breakthrough?
DA:No, that's the good thing. You never want to feel like you've ever arrived. That's the way I am. That's the way I've always been. Just learning that I was going to sign with the Patriots a couple days ago just made me that much more hungry to start working again and start getting back to business. I'm really excited about that.
Q:How would you agree or disagree with those who would say your best fit is in the slot?
DA:I don't know who has said that. I did a number of things last year from the outside. Whatever my role is on each play, that's just what I have to do. I have to do my job. That's pretty much it, regardless of whether it's inside or outside. Like I said, I want to be a football player. You never want to be labeled as just a slot or just an outside guy. You want to feel like you can move guys around and create mismatches and whatnot. You know, I'm just going to try to fulfill my role.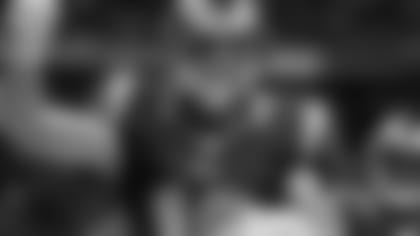 Q: **Could you talk a little bit more in detail on your relationship with Wes Welker and what you have been through both at Texas Tech and in the pros and being the guy following him along the line?
DA:Sure, I committed to Texas Tech when I was a sophomore in high school, so that would make him a sophomore in college so I knew I was going to be at Tech when he left. I played for [then Texas Tech offensive coordinator] Coach [Dana] Holgerson, the head coach at West Virginia, the guy who recruited both of us. The offense – being in Texas, being from Houston, watching Texas Tech play – the offense really intrigued me. The style of play they had under Mike Leach was something that I really enjoyed watching and something I wanted to be a part of. No different situation here. Obviously you've seen in the NFL the Patriots do a lot of great things in the past. It's a high-caliber football team and organization and it's a great opportunity to be a part of.
Q:How would you address some of the critics who would say you have struggled to stay healthy over the last couple years and how that has affected who you are as a football player?
DA:Being a football player, you have to understand that it's a football game. Injuries sometimes happen. The best way to go about things is to stay positive and work on other areas, so to speak, if you can't necessarily play because you're out. You want to get smarter in the film room or get stronger in the weight room or in other areas – just try to get better each day. I really don't have much to say about the critics who talk about injuries because it's just part of the game and stuff like that happens. Trying to stay healthy and trying to get on the field obviously, is the number one priority.
Q:Obviously the comparisons with Wes Welker are inevitable. One thing that happened was Wes coming to New England and becoming one of the best receivers in the game. Do you have those expectations coming here that your game and status will increase exponentially?
DA:I don't know. The first goal of mine right now is to just fulfill a role on the team really, just find my niche and meet the guys and start working. I'm really not worried about a lot of things down the line. I want to get stuff done now and I want to become the best player I can as early as I can for the New England Patriots and I'm sure all the accolades or whatever that come with it will come about in the future. It's something I can't really control. What I can control is showing up to work on time each day and preparing to win and working hard. That's really the only thing I'm going to be worried about.