FOXBOROUGH, Mass. – The New England Patriots announced today that assistant head coach/offensive line coach Dante Scarnecchia will retire after 32 seasons in the NFL, including 30 seasons with the team (1982-88, 1991-2013). The Patriots also announced the addition of Dave DeGuglielmo (pronounced – Day-ghoul-YELL-mo) to Bill Belichick's staff. He will serve as the new Patriots offensive line coach in 2014.
"Dante Scarnecchia has been the only coaching constant since I purchased the team in 1994," said Patriots Chairman and CEO Robert Kraft. "Not coincidentally, he retires as the only coach to have been a part of all seven Super Bowl teams in Patriots franchise history. I want to thank Dante for his leadership, professionalism and always putting the team first. For as long as I have known him, he was always the first to arrive in the morning and among the last to leave. He didn't demand respect from his players. He earned it. I loved watching Dante lead by example, especially when he would run stride for stride with his players during their conditioning runs. He was a coach who always stressed technique and fundamentals and helped players reach their full potential. At training camp, his colorful, constructive, coaching critiques made him a fan favorite. His presence on the Patriots sidelines will be missed by our coaches, players and fans alike."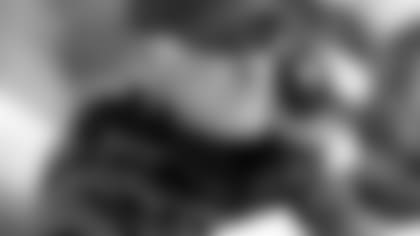 Scarnecchia was the longest tenured NFL coach this past season. The last NFL coach to garner at least 30 seasons with one team was Dick Hoak, who spent an NFL-record 35 seasons as an assistant with Pittsburgh. Since entering the NFL in 1982, Scarnecchia has spent all but two seasons (1989-90) with the Patriots. He was an offensive line coach for the Indianapolis Colts during those two seasons.
"Dante Scarnecchia is a Patriot and NFL legend who defied the phrase 'not for long,'" said Patriots head coach Bill Belichick. "In an industry of constant change, Dante remained a fixture here for the simple reason that he helped every player reach his highest potential, regardless of who he was, how he was acquired or how much raw talent he had. In whatever category a coach can be assessed - evaluator, teacher, motivator, problem solver, disciplinarian, team player, winner – Dante is as good as it gets. As many games as he helped us win and as much as we would like to work with Dante forever, we are blessed with the opportunity to have been with him as long as we were."
Scarnecchia has been on the Patriots coaching staff for 18 of the franchise's 21 playoff seasons and has coached in 39 of the 43 playoff games in team history, including each of the team's seven Super Bowls.
Scarnecchia coached the offensive line for the last 15 seasons for the Patriots, a position he coached for 28 of his 44 seasons in the coaching profession. He originally joined the Patriots and made his NFL coaching debut in 1982. He coached the Patriots tight ends and specials teams for seven seasons (1982-88) before moving to Indianapolis in 1989. After two seasons (1989-90) as the
Colts offensive line coach, he re-joined the Patriots in 1991. After two seasons as a tight ends and special teams coach on Dick MacPherson's staff, Scarnecchia was appointed special assistant on Bill Parcells' staff from 1993-94, which was re-defined as defensive assistant from 1995-96. He resumed special teams responsibilities on Pete Carroll's staff in 1997 before being named the offensive line coach in 1999. When Belichick was named the Patriots head coach in 2000, he made Scarnecchia his assistant head coach/offensive line coach, positions he held for each of the last 14 seasons, including each of the Patriots' three Super Bowl Championship teams.
He began his coaching career in 1970 as the offensive line coach at California Western University. His coaching career led him to Iowa State (1973-74), Southern Methodist (1975-76), Pacific (1977-78), Northern Arizona (1979) and back to Southern Methodist (1980-81) before entering the NFL ranks as a member of Ron Meyer's staff in 1982.
Dave DeGuglielmo is a 22-year coaching veteran, including nine seasons in the NFL as an assistant for the New York Jets (2012), Miami Dolphins (2009-11) and New York Giants (2004-08).
DeGuglielmo joined the Giants in 2004 as the assistant offensive line/quality control coach before being elevated to assistant offensive line coach in 2005. During his tenure, the Giants were one of only four NFL teams to have put together a 4.0-yard average per rush attempt or better in each of those four seasons. In 2008, the Giants led the league and established a franchise record with 2,518 rushing yards and 5.0 yards per carry. He joined the Miami Dolphins staff on Jan. 15, 2009 and served three seasons as the offensive line coach. Under DeGuglielmo's guidance, the Dolphins' offensive line blocked for a running game that gained 1,987 yards in 2011 and produced Reggie Bush's first career 1,000-yard season. Following three seasons in Miami, Deguglielmo spent the 2012 season as the offensive line coach for the New York Jets.
Before entering the NFL coaching ranks, DeGuglielmo spent five seasons (1999-2003) under Hall of Fame coach Lou Holtz at the University of South Carolina working with the offensive line and tight ends. He began his coaching career as a graduate assistant at Boston College (1991-92) before moving to his alma mater, Boston University (1993-96) and then the University of Connecticut (1997-98). A native of Lexington, Mass., DeGuglielmo was a four-year letter-winning offensive lineman at Boston University (1987-90), while playing both guard and center.