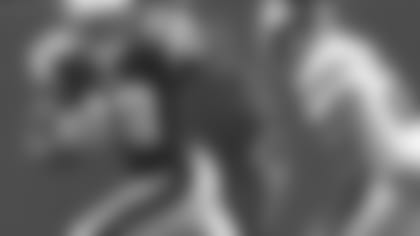 ]()Andre' Davis** had an up and down career as a receiver in Cleveland. He provided some big plays for the Browns but for one reason or another, didn't live up to the expectations the team had for him when they drafted him in the second round of the 2002 NFL Draft. Putting his time in Cleveland behind him, Davis is now focused on one thing: being a member of the New England Patriots.
Davis wouldn't comment on his former team but said he is excited to be in New England.
"I'm not going to speak bad about Cleveland," Davis said. "I'm here in New England now. Cleveland was just my first stop in hopefully a long career. Right now, I'm just happy to be a New England Patriot and happy to be back on the field."
The Patriots acquired Davis in a trade with the Browns on Aug. 22, so it was surprising to see Davis get released after the team spent a fifth round draft pick to get him. Davis battled a foot injury all training camp and he attributes not being healthy as the reason he wasn't on an NFL roster.
"I was banged up," Davis said. "For me, being injured I had a chance to reflect on everything I've been through and realized that I can't help anyone if I'm hurt. I wanted to make sure, before I came back and played for any team, that I was healthy so I could get on the field and contribute."
The 6-1, 195-pound receiver with blazing speed has been productive at the NFL level. In three years with the Browns, Davis started 19 games and recorded 93 receptions for 1,412 yards and an impressive 13 touchdowns. Davis actually led the Browns with five touchdown receptions in 2003. Hi most memorable touchdown was a 99-yard reception against the Cincinnati Bengals that will keep Davis' name in the Browns record books forever.
"I just took off and beat the corner off the ball and Jeff [Garcia] hit me in stride," he said. "Then I turned on the jets and outran everyone to the end zone."
Davis' speed and playmaking ability will add to an already fast group of receivers that includes burners Deion Branch, Bethel Johnson and Tim Dwight. It's possible the Patriots could use Davis' speed to return kicks as well but for now, Davis is preparing himself to get on the field and contribute in any way he can.
"I'm going to go and keep working and wherever they throw me in, that's where I'm going to try and make the biggest impact," Davis said. "I just have to make sure I know what I'm doing first and foremost. We're going to continue to go with the gameplan that's here and fit me in where I can help the most."
Davis couldn't say when he would be ready to step on the field but he is shooting for the Patriots next game against the Bills. "I'm going to continue to work hard during this bye week and prepare for the Buffalo Bills game as if I'm going to play. Whether I do or not, that's up to the coaches but I'll be ready."
It's not certain what role Davis will play for the Patriots but with Troy Brown injured, the team is fortunate a veteran receiver, who has produced at the NFL level, was still available at this point in the season. As for Davis, he is just happy to be back with the Patriots playing football.
"I knew that at any time a team could call me and I was happy it was the Patriots." Davis said. 'I stayed in the Boston area to continue my rehab so I could be ready to go when I got another opportunity and now I'm ready to make the most of it."
Poteat provides insurance
Defensive back Hank Poteat was signed on Wednesday to provide the Patriots with depth in a secondary that has seen its fair share of injuries this season. Poteat was signed by the team late last year and was thrown right into the fire, playing in three playoff games for the Patriots.
Being familiar with the Patriots system helped earn Poteat a second chance with the team. "Knowledge definitely helped him," Bill Belichick said. "Hank was with us last year. He was with us in training camp. He's been a productive player for us. Hank is a tough kid and he really puts a lot into the game. I have a lot of respect for him and he did a good job for us on short notice last year."
Belichick went on to say with the Patriots current injury situation in the defensive backfield, the team could use a little more depth at the cornerback position. That became even more evident today after Tyrone Poole was seen walking around the locker room on crutches.
NotesVoting for the Pro Bowl began this week. Fans can vote at NFL.com, using their Sprint wireless phones or at any stadium sponsored by Sprint. Voting will last until Dec. 13. Last season Peyton Manning topped all players in fan voting, followed by Donovan McNabb…The Patriots have sold out 119 consecutive games including preseason, regular season and postseason games…Tedy Bruschi lined up as the starting middle linebacker next to Mike Vrabel in his first practice back with the team…Rodney Harrison was in the Patriots locker room Thursday talking to reporters and joking around with teammates. Harrison said he felt good and he is trying to help the team get better in any way he can.