Speaking on a Minnesota radio station earlier this week, Randy Moss – former Patriots wide receiver and free-agent-to-be once the NFL's labor strife is resolved – had plenty of praise to heap upon the team he talked his way out of last fall.
"If you're asking me where my heart and where I'm happy is, you know, I love playing with Tom Brady. I love being coached by Bill Belichick," he began.
"I think that just the success as a wide receiver and everything that the New England Patriots stand for, you know, I'm a big fan of Bill Belichick's. I really am, and not just on the field. I'm a fan of his off the field because, you know, the little grouchy man that you see on-camera is not what you see off-camera.
"And people say 'Well, Moss, you got traded to Minnesota from New England!'" he added. "Well… this is a business, man. People have to understand the nature of the business. It's not just a sport. The sport comes along with the business. If you really don't think it's a business, then why are they sitting there [the NFL and the players union], fighting over $9 billion?"
It sure sounds like Randy Moss has come to realize how good he had it here in New England.
Which leads to a rather obvious Debate Friday question:
Should the Patriots bring back Randy Moss?
Read what the writers of Patriots Football Weekly have to say, then cast your vote below.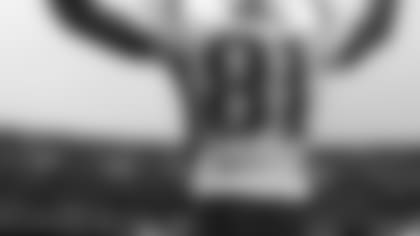 The question we all have to ask, is whether bringing Moss back would upgrade the Patriots talent at wide receiver. The simple answer, is yes.
Right now – not the guy from 2007 – Moss is better than Brandon Tate, Taylor Price and Julian Edelman. All those guys played for the Patriots at receiver last season and likely will do so again in 2011. Add Moss to that mix, even if as a fourth receiver, and it makes your team better.
We also all have to come to grips with something that I think Moss himself realized somewhere along the way in his tumultuous 2010 campaign – he's no longer the Freak. Moss isn't the guy at this point who's going to catch two-dozen touchdowns. He's not the centerpiece around which a passing game is built. Not the highlight reel he once was, and what he thought he was going to be when he did his introductory press conference in Minnesota after being traded out of New England.
But Moss is still a guy who can make plays on the ball down the field. He still carries a reputation that will make opposing defenses stand a bit more at attention. When he wants to he can still -- as Bill Belichick likes in his receivers -- get open and catch the football. It's different than the old Moss, but it can still be productive.
The key to bringing Moss back is obviously that Belichick and Tom Brady sign off on it. Belichick said he never had a problem with Moss in his time in New England. Brady seemingly always enjoyed his time with Moss. If they're willing to bring back a changed, matured, humbled Moss, then I think it would be a great move for the team.
The key is understanding what Moss is at this point in his fading career. He's a guy that knows the offense, likes and respects working with the Patriots led by Brady and Belichick and his heart clearly remains in New England. What better way to close out his career than a season or two more in the offense in which he was most successful, surrounded by those he has the most respect for in the game of football?
Offer Moss a one-year, low money deal. If he takes it, he does so understanding that he's no longer the focal point of the offense, is a role player who'll be asked to do what the coaches want and do so with his head down and his mouth shut. Let a humbled Moss return to his favorite NFL home to work as just another cog in the Patriots varied passing attack.
If he doesn't want to do that, or if he doesn't live up to his end of the bargain at any point, then simply cut him. The Patriots sent him packing last fall and everything worked out OK. Why not try again? It's a case of a low risk with the potential for high reward.
Mas Moss, por favor!
~ AH
Erik Scalavino says, "No…"
Come on, are you people really going to buy this? The argument that Moss still has tread on his tires and can take the top off defenses is as tired and worn out as those aforementioned tires.
Just look at Moss' demeanor last year. In New England. In Minnesota. In Tennessee. He vanished from the NFL scene, looked lethargic… nothing at all like the explosive "Moss of old" who broke all manner of records in 2007.
Look, I'm all about redemption and second chances. But the Patriots have already given Moss his second chance. He had something to prove when he left Minnesota the first time, went to Oakland, and appeared finished. To his credit, he proved everyone wrong for a while, but since 2008, we've seen Moss slip slowly back into his old habits.
He seemed to "play when he wanted to play," to borrow from his own famous words, and dropped more and more passes than we've come accustomed to seeing from him.
Moss, who'll no doubt end up in Canton one day, didn't play like a Hall of Famer last season. And there's a very good, natural explanation, even if you believe he was trying and giving it his all: he's aging. He's not as good as he once was. He's certainly not as good as he was in 2007. Plain and simple.
And I haven't even mentioned the most obvious reason to pass on Moss – the Patriots offense actually got better without him in the second half of last season.
Would New England's receiver corps be more talented with Moss? Of course. Even in his deteriorating state, his skills remain far above most players in the NFL. But remember, it's not all physical with Moss. Never has been. Much of it has been mental. That's how it will always be with him, for better or worse.
I believe Moss regrets how he forced his way out of Foxborough last year. I don't believe, however, that if given yet another chance, he would be any different. Sooner or later, the real Randy Moss would manifest himself on the football field.
The Patriots clearly need an upgrade at wide receiver. They need younger talent with no baggage, though, and Moss does not offer either.
I didn't study Spanish, like my colleague, Andy Hart (French and Italian were my foreign languages of choice), but I know enough to realize that "No mas" sounds a lot like "No Moss," which can both be loosely translated, "Enough is enough."
The Patriots proved they can win games without Moss. They've moved on from him. The team's fans should, too.
~ ES
http://polldaddy.com/poll/4741978/