Most Patriots followers weren't too surprised when the team selected a running back in the 2011 NFL Draft. After all, several prognosticators expected New England to take Heisman winner Mark Ingram in the first round.
What made us do a double-take, however, was when the Patriots took a second ball carrier with their very next pick.
With Shane Vereen being taken in the second round and Stevan Ridley in the third, it's fairly safe to say that both will be part of New England's roster come opening day. The question, in this week's Debate Friday, is:
Which rookie running back will be more productive, both rushing and receiving, in 2011?
Read the arguments of the Patriots Football Weekly writers, then cast your vote in our poll.
Erik Scalavino says, "Shane Vereen ..."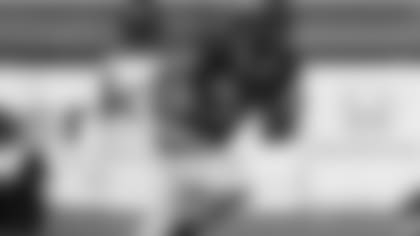 In the latest issue of PFW, Paul and I argued whether Kevin Faulk would be back in a Patriots uniform. I said no.
Staying consistent, therefore, I believe Vereen is better positioned, initially, at least, to put up higher numbers on the ground and through the air. He was a similar player to Faulk in college, with a quicker burst and more speed in space. He ran a lot of the same kinds of plays, too, at Cal that he'll see in the Patriots offense.
Now, there's the Danny Woodhead factor to consider. When Faulk went down early last season, Woodhead stepped in and performed Faulk's role with alacrity and aplomb. With him on the roster, it's not like Vereen will have a ton of opportunities.
But the same goes for Ridley, a more traditional straight-ahead runner who'll have to share time, at the most, with 1,000-yarder BenJarvus Green-Ellis. He's the proven incumbent and will be difficult to unseat right away.
That the team selected these two rookies so high and so close to one another tells me they're in the Patriots' immediate plans. I don't expect veterans Fred Taylor and Sammy Morris to return, either, nor do I think the team will pursue any significant free agents at running back. My guess is we'll see Green-Ellis, Woodhead, and the two rookies, with perhaps a veteran role player (someone like a Thomas Clayton, for example) in the mix during training camp.
Given Vereen's versatility, though, I would expect him to have more chances to be on the field in early and later downs than his rookie teammate (barring an unforeseen injury to the aforementioned veterans, of course). As a result, I think he'll put up greater numbers collectively than Ridley.
~ ES
Paul Perillo says, "Stevan Ridley ..."
Trying to predict which rookies will make a significant impact is a difficult chore, especially with the lockout preventing us from even catching a glimpse of any of them on a Patriots practice field. I'm going with Ridley for a couple of reasons – style and opportunity.
First, based on what I've seen of the two rookies in college Ridley is the more traditional threat to carry the ball consistently between the tackles. He's a hard-nosed runner who has the ability to also make big plays in the open field. He has the versatility to work in traditional two-back sets or out of spread formations as a single setback. So, he should get his chances to carry the football.
I view Shane Vereen as more of a third-down back who does his best work catching passes out of the backfield, and although I believe he can be quite effective in that role, he'll have at least one established player in Danny Woodhead, and perhaps two if Kevin Faulk returns, already performing similar duties. If Ridley pans out he will be behind BenJarvus Green-Ellis as the main ball carrier, but his opportunities will be greater as a secondary option in that role than Vereen's as a secondary pass catcher.
When things are going well the Patriots like to run the ball 25-30 times per game. So even if Green-Ellis gets the bulk of those carries there will still be chances for Ridley to get his hands on the ball. Tom Brady loves to spread it around in the passing game but few of those passes are thrown to running backs other than Woodhead. So if Vereen is to rack up the yardage he's going to have to maximize his opportunities. Ridley figures to get more chances to do damage.
Unless there is an injury, I just don't see Vereen getting the chance to out-produce his fellow rookie.
~ PP
Your turn! Cast your vote in this week's Debate Friday poll.