Vince Wilfork doesn't sound quite like the happy camper he once was here in New England.
This week, during a phone interview on sports talk radio in Boston, Wilfork discussed the status of his contract negotiations with the Patriots. The Pro Bowl nose tackle, who's scheduled to become a free agent on March 5, made it clear he would not be happy if the Patriots used their franchise tag designation on him.
Such a move would pay him a one-year guaranteed salary equal to the average of the top five salaries at his position (approximately $7 million for defensive tackles this year). But as he sees it, the franchise tag is reserved for, as he put it, "an OK player," and would limit his potentially more lucrative options in free agency.
"It's basically a slap in my face and an insult to me," Wilfork said of the possibility of being franchise tagged. "If it happens, there's nothing I can do. We'll handle it the best way we know how to handle it and we'll try to move forward with it in a positive way.
"I signed up for a six-year deal, and I honored it," he added. "I didn't like the six-year deal, but I did honor a six-year deal and now that deal is up. It's time for me to move forward with the Patriots or not with the Patriots. I want a long-term deal [in New England] or I want to be free – point blank. That's how I'm looking at it and that's how my family is looking at it."
As he indicated, instead of holding out last summer during the final year of his original six-year rookie contract, Wilfork reported to training camp on time. Based on the tone of his comments this week, however, this year could play out differently.
Which leads us to this week's Debate Friday topic:
Will Vince Wilfork be in the Patriots lineup in Week 1?
Read the arguments from PFW's Andy Hart and Paul Perillo, then cast your vote in our Debate Friday poll.
]()Andy Hart says, "Yes …"**
I understand that Wilfork seems to be digging in his heels in an effort to get the long-term contract that he so covets, but in the end I think big No. 75 will be lining up over the opposing center on opening day 2010.
To me, there is a perfect storm of events playing against Wilfork doing anything other than signing and playing under the franchise tag that we all think he'll get slapped with next month. He can talk the tough talk all this offseason just as much as he talked the team-first talk last summer, but in the end the landscape may force him to swallow his financial pride and play things out in 2010.
My best guess is that he'll stay away from the team, not signing the franchise tender, all offseason. Then, once he'd start costing himself lucrative game checks come September, he'll come to his senses and show up. Hypothetically if he were to hold out he'd cost himself as many as 10 paychecks, that coming a year before all players could be missing their incomes thanks to a potential 2011 NFL lockout. Is it really in the best interests of his family, one he says he's putting first here, to miss 10 paychecks in 2009 and then a possible season's worth the following fall? That's a lot of money to leave on the table.
Plus, even if he held out the 10 weeks and showed up, what team is going to give him a long-term deal on the eve of a possible lockout? None!
Wilfork made his current bed by doing something rare for an elite player – he lived up to his six-year rookie deal last season. The time to force the Patriots hand and make a stink was last summer. The leverage ship has sailed. Now New England has to be more focused on the labor negations and potentially signing Tom Brady to a contract extension. That means Wilfork will get the franchise tag, have to live with it and, in my opinion, play out this season at the "OK" salary of the top-five paid players at his position.
It's not the scenario Wilfork wants to see play out. But I think it's how it's going to happen. It's good business for the Patriots and an unfortunate set of circumstances for Wilfork.
~ AH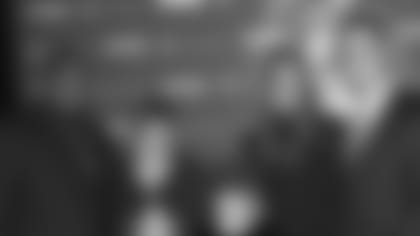 ]()Paul Perillo says, "No …"**
The only way I could see Wilfork on the field to open the season would be for the Patriots to sign him to a long-term contract, and I don't think that's going to happen. What I do believe will happen is the team will place the franchise tag on the Pro Bowl nose tackle and he's already indicated that he won't be too pleased with that. Therefore, I think there will be trouble on the horizon.
Wilfork said and did all the right things last year as he played out the sixth and final year of his rookie contract, a deal that is so difficult on players that the CBA no longer allows them for those selected in Wilfork's draft slot. As the season unfolded he watched the team deal Richard Seymour, another pending free agent, yet he still didn't get his new deal. By the end of the playoff game with Baltimore, Wilfork appeared to be more aggravated about the situation and his recent comments backed up that feeling.
This time I believe Wilfork will fight back. He was unwilling to skip any mandatory activities last year but now he can sit out training camp without the risk of losing money. As long he doesn't sign the franchise tender, he would not technically be under contract and therefore not subject to any fines. I think he'll sit out camp and even take it to opening day to prove he's serious – much like Deion Branch did back in 2006. Branch got his wish and was traded. I'm not sure the same will happen to Wilfork, but I don't expect him to be on the field on opening day.
~ PP
What's your take on the debate?
You've read the debate, now it's the fans chance to cast their vote for whether Patriots nose tackle Vince Wilfork be in the Patriots lineup in Week 1.
http://polldaddy.com/poll/2615038/