Plenty has changed for Jake Delhomme since the last time he faced the Patriots. Two years ago when Delhomme's Carolina Panthers were set to take on the Patriots in Super Bowl XXXVIII in Houston, the quarterback was still largely considered an overachieving free agent who was enjoying a once-in-a-lifetime run of success.
But after a stunning performance in that 32-29 Super Bowl loss to the Patriots, coupled with last year's solid season in the face of numerous crippling injuries, Delhomme is now viewed as one of the game's biggest playmakers.
"He's certainly given them a lot of stability at that position," Patriots coach Bill Belichick said. "No. 1, he's a good decision-maker. He gets the ball downfield well in their vertical passing game. Their receivers have a very high average per reception. Plus he manages the team and the game very well. He's an excellent play-action passer, which goes very well with their strong running game. He's a very competitive and tough guy that gives the team some attitude and a competitive edge."
No one on the Patriots, least of all Belichick, would ever admit they have more respect for Delhomme now than maybe they did heading into the Super Bowl. Doing so would obviously be an admission that the team didn't have the proper respect for him back in 2003 even though he was set to lead his team into the biggest game of the NFL season.
But it's clear from listening to the words coming from the Patriots camp that Delhomme got their attention on that February evening at Reliant Stadium. The former undrafted free agent completed 16-of-33 passes for an eye-opening 323 yards with three touchdowns and nary an interception. Those numbers translate to a 113.6 passer rating, which was far and away the best effort put forth by any opponent against a very stingy Patriots pass defense that season.
Critics argue that injuries to safeties Rodney Harrison and Eugene Wilson opened the door for Delhomme to put up such numbers, but the fact of the matter is that much of that damage was done when New England was at full strength. In fact, Wilson injured his groin about 70 yards downfield on a Delhomme-to-Muhsin Muhammad 85-yard touchdown play that gave Carolina its only lead of the night midway through the final quarter. By that time, the Panthers already had 22 points on the board, and Harrison didn't leave the game until the fourth quarter as well.
"I respect guys that play the game the way he does," Harrison said. "I really haven't seen that much of him because they play in a different conference, but he is definitely a passionate guy and has a lot of respect for the game. That means a lot to me because not everybody plays that way and respects the game the way he does. He's a very competitive guy and I can really appreciate that style."
As impressive as Delhomme was in the Super Bowl, when the Panthers trademark ground attack featuring the contrasting styles of Stephen Davis and DeShaun Foster was largely held in check, his efforts last year may have been better. The Panthers lost a bevy of key starters on both sides of the ball. Davis and Foster both were lost for the season early. Wideout Steve Smith broke his leg in a Week 1 Monday night loss to Green Bay. And the defense, which is considered the strength of the team, lost All-Pro Kris Jenkins among others.
The result was a rather predictable 1-7 start to the season. But Delhomme wasn't quite ready to pack it in, and he rallied the club to a 6-2 finish and somehow managed to worm back into postseason contention. The Panthers lost two of their last three – both by a field goal – and narrowly missed a playoff berth despite the disastrous start.
Delhomme was largely responsible for that improvement. He set career highs in attempts (533), completions (310), yards (3,886), touchdowns (29) and passer rating (87.3) while also lowering his interception total by one to 15 from 2003. Only a superhuman touchdown run by Atlanta's Michael Vick on the final play of regulation that forced overtime in a Week 15 loss to the NFC South-champion Falcons prevented the Panthers from getting a chance to defend their NFC crown.
"They were the best team in football during the second half of the season, in the NFC they were as good as anybody," Belichick said. "They had a lot of guys hurt. They had four different running backs and Steve Smith was out. They had some injuries on defense and still won [six] of their last eight games.
"A lot of people are picking them to win the Super Bowl and I can see why. They have a really good football team and it starts at the top with [Head Coach John] Fox and the quarterback. We had all we could handle two years ago. It came down to the last play of the game. You can't get any closer than that."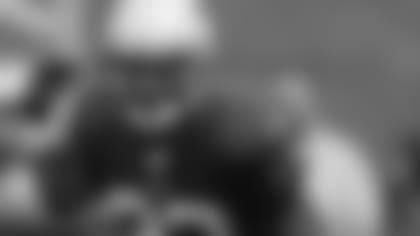 ]()Starks eager to perform**
Veteran cornerback Duane Starks returned to the practice fields behind Gillette Stadium Wednesday afternoon. Acquired in a trade with Arizona Cardinals this spring, Starks missed most of the preseason after suffering a thigh injury against the Bengals in the preseason opener.
Now healthy, the former first-round pick is eager to show Patriots fans what type of talent the team traded a third-round pick for last March. That desire to perform and prove himself in his new home made watching Thursday's opening night win over the Raiders rather difficult.
"It was hard to watch the game, period, not playing in it," Starks said. "I'm a competitive guy. I like to go out and play and I like to be a part of a victory.
"It's always hard. What makes it even a little harder here is that I've been traded here. A lot of people have high expectations of me and I'd like to get out there and prove that I can live up to certain expectations and just do what I can do and be the player I can be. And at the same time, that being the opening game, that would have been the first of my career, to get the opportunity to play in that spotlight and it just didn't happen."
Starks says he's "very anxious, maybe a little too anxious" to get back on the field, is comfortable with the New England defensive playbook and thinks he will be ready this Sunday in Carolina, but knows that doesn't necessarily mean he'll be on the field.
But injuries against the Raiders to veteran corners Tyrone Poole and Chad Scott could make Starks Patriots debut this week more of a necessity than it was in the opener.
"I think it's more of a preventative…not needing me," Starks said of the decision for him to sit out the Oakland game. "We have great corners. I'll be out there today doing some things and we'll see how it turns out."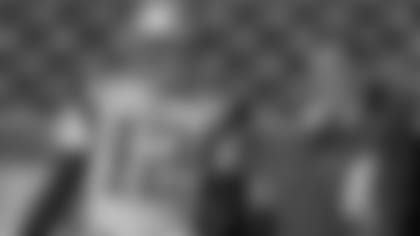 ]()NotesUniversity of Michigan alumTom Bradypaid off his bet with former offensive coordinator and current Notre Dame head coachCharlie Weison Wednesday by wearing an Fighting Irish hat over his usual Patriots lid during his meeting with the media in the New England locker room. Weis' new team beat Brady's Wolverines 17-10 over the weekend forcing Weis's former prized pupil to pay up. "This one's for Charlie," Brady said to open his comments. "It doesn't happen often [a Notre Dame win over Michigan]. I've got my true colors underneath…my Patriots colors. They got lucky." … Rookie free agent safetyRaymond Ventroneis back on the New England practice squad. The 5-10, 200-pound Villanova grad started the year on the Patriots practice squad, but was cut prior to last week's game against Oakland and replaced by linebackerAndre Torrey. This time Torrey was released from the practice squad to make room for Ventrone. … Rookie tackleNick Kaczur,** a native of Brantford, Ontario, is happy the NHL is back in business but won't be rooting for the Bruins any time soon. The Toronto Maple Leafs fan says he looks forward getting to a few Boston games later this fall, but won't cheering for the home club. "I always wanted them to lose so that Toronto could do better," Kaczur said of his views on the Bruins before coming to New England. "Any time they lost it was great. It's always something interesting when you watch the original six play. I've always liked that. But like I said, if [the Bruins] lose it's good for Toronto." … The Patriots will release the Week 2 injury report today at 4 p.m. Check back to Patriots.com for that information later this afternoon.