](#Fox) HEAD COACH JOHN FOX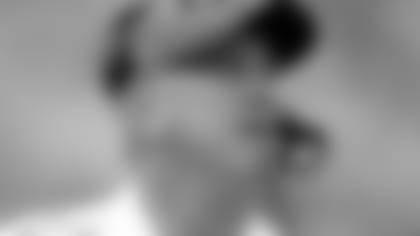 "Really, on the injury report, everybody practiced full. We had nobody that was limited or did not participate. That's the only change from yesterday."
On the offense staying mostly healthy
"Again, you just hold your breath in this league. When you start the season, really even going through training camp, you sometimes have some sort of injury, some kind of significant injury. But it just comes with the territory. It's part of the game and everybody deals with it."
On how the Patriots' passing game has worked without the tight ends
"It's a little bit different. They've got [WR Julian] Edelman, [WR Danny] Amendola and [RB Shane] Vereen that are kind of their top-three pass catchers. They do a terrific job of moving them around, making you adjust to where they are. They've pretty much had the same passing attack for some time now and they're very, very good at it. Of course, when you've got a guy like [Patriots QB Tom Brady] pulling the trigger, he makes it pretty special."
On what he has admired about Patriots Head Coach Bill Belichick
"Just the consistency of that organization. It starts at the top with [Patriots Owner] Robert Kraft and on down. Continuity in this game has historically been pretty productive. Bill has had a great run there. He's been through a number of different assistants but he's maintained a consistency there on the football end of it and done a better job than anybody in the modern era of football."
On whether he ever thinks back to facing Belichick in Super Bowl XXXVIII
"Yeah. I think we've done battle. I've been in this for a little bit, too—not all as a head coach. But he's a tremendous coach and I have tremendous respect for him."
On Defensive Coordinator Jack Del Rio
"I think this year, fairly unique. Aside from doing a terrific job and to stay here as the defensive coordinator, he stepped in to be the interim head coach for four games in the third quarter of our season. I think it says a lot about him, how he approached that, how he dealt with it, how the players responded to him—the rest of the assistants responded. I think all those things put together, I'd say he's pretty high up on the meter."
On whether this is an important week for CB Tony Carter to step up
"I think it's an important week for all of us to step up. I think it's kind of a big spot and you need players to step up—and coaches to step up. Everybody that is going to be involved in the game."
On his confidence in Carter
"I have confidence in Tony because he's one of our 53 men that we're going to go to battle with. So, yes."
On why Carter was inactive last game
"Because we went a different direction. It's not an indictment on anybody. There have been a lot of guys inactive throughout this season. It's just what you do for that one particular game."
On what he has seen from CB Marquice Cole
"A good athlete, good guy, words hard at his craft—both on and off the field. So I've got two days of looking at him."
"Shaun has been tremendous. I think he has—not just on the field—I think he has been a strong presence in that locker room. We've had some guys have to step up and understand the ropes of pro football. I think he has given really good insight to that room, how to prepare and how to be a pro. Aside from his stats on the field, which I think have been very good, he has brought leadership to our football team as well."
On how much he has drawn on the last meeting between the Broncos and Patriots
"Again, just like I'm sure they're doing, you look at things, you look at matchups, you look at schemes. But that game will have little-to-nothing to do with this game. Typically, they're always different."
"He has stepped in and played good football for us since his rookie year. We plugged him in. There are always growing pains, but he grew pretty fast. I've seen great growth. I think our offensive line—it all starts there, to have the production that we've had up until this point offensively. That starts there. So he is an important cog in that group and has been for two years now. Three years."
On the youth of the Patriots defense
"Bill [Belichick] and their personnel staff obviously have done a good job of scouting. They've got tremendous athleticism. I think youth—it's a young man's game. And it stays that way. They've gotten better. They've gotten game reps that ultimately those are experiences. They've gotten better. They've improved a lot over the season that I've seen. They've got a lot of currency as far as draft picks and those types of things in those players. And they're developing every week."
On the work that went into making sure that the Broncos didn't miss a beat during his midseason absence
"It's just we've got a good staff. These aren't one-man shows, no matter how people project it. There are a lot of good people in that building. That usually has to take place for you to have success on the field. They stepped up and did a good job—players, coaches, everybody in the building."
On QB Peyton Manning's command over the home crowd
"Our fans are unbelievable. A lot was made of some communication that was heard (cadence/line calls). We get pretty much forced to put microphones on our players. It's not something that we're excited about. But you can hear those things and it requires us to change them and dummy them up some. You hear that because our crowd is so quiet when we're on offense. That is the good thing—is they understand when to be noisy and when to be quiet. They've done a terrific job all season and really since I've been here."
On how long he thinks Manning can play at this level
"I just won't look too much past this week. Anything further than this game, I can't honestly answer that. He's playing, I'd say, at a pretty high level at this point (laughing)."
On why him and Manning get along so well
"It's hard to say. I think maybe just it's a small fraternity of people. You get to know—I've been banging around this thing for almost a quarter of a century—so you get to know people, whether it's the Pro Bowl, whether it's some of the NFL functions that we get to attend. You just get to know people and you become friends. I mean, I look at him as a friend as well as a player that plays for us. I don't know. It builds relationships."
On whether it's like a game of chess when he talks football with Manning
"Yeah, it's one of the great things about doing what we do. You spend a lot of time with these guys in meetings all day. I mean, you're spending 8-10 hours a day with them. And the relationships you build during that time—I don't know, in my mind, it's second to none."
DEFENSIVE COORDINATOR JACK DEL RIO
On all the talk about the Patriots running game but them being able to throw the ball as well
"Oh of course yeah they can still throw it—[they are] good at it. Play [action] pass shots and some of the quick game they do out of opened up formations. [QB] Tom [Brady] is one of the top quarterbacks in the league so when you have a guy directing it like that obviously you're going to be very good at it, but the thing they really are doing is physically they are getting after people, they're winning the heading battle in the trenches and running the ball right at people with [RB LeGarrette] Blount doing a large portion of the running, but all of their backs are capable. Good group and we're getting geared up for it."
On playing against Brady and what is unique about how he attacks a defense
"I just think he's a good player, prepares hard. They do a nice job with their scheme and he's an accurate passer with the football. [He's a] smart guy, competitive guy and obviously a good player. For us we're preparing ourselves to go out and play good football and that's all that we can control. It's our team against their team and we want to find a way to do enough defensively to give the ball back for our offense and make sure that we put ourselves in a position to win the football game and so right now we understand how big as challenge it is with a really good running game, with a really good quarterback [and] a lot of different weapons that can do things. We're doing all we can to get ourselves prepared to go out and play our best and that's really all that you do."
On if he is doing anything different preparing as the defensive coordinator compared to being interim head coach
"Yeah a little less on my plate, but not really changing a whole lot in terms of how we approach things and so pretty consistent that way."
On CB Tony Carter and what he needs out of him this week
"We need everybody that's going to be up, corners, safeties that are involved and that get a uniform. Need him to help us win, help us play well. I wouldn't isolate on any one guy. I think we've got a number of guys that will be up and used in different combinations and the guys that play need to play well."
On what he's seen from CB Marquice Cole in practice
"I know our scouting department worked him out and signed him and I can't specifically speak to him a lot. I don't have a lot to share on him. I've been focusing primarily on the overall scheme of things but I know that he has been working. We're trying to bring him up to speed and he's a member of our football team. We're getting him caught up not only with defense [but] with special teams roles as well and we'll see where that goes."
On how difficult it's been to keep CB Champ Bailey involved with an injury plagued season and finding his role
"I guess I wouldn't characterize it that way. I think he's a consummate pro. He's been strong from start to finish in terms of the way he approaches things. There was a tough stretch where he wasn't available. The doctors didn't give him the green light. He's got the green light now, he's playing and he's a good football player so we're certainly glad we have him."
On where he was when he heard about Head Coach John Fox's health scare and what helped him get through as interim coach
"We were on our bye [week] and obviously I started getting a lot of texts and things like that. Checked on him and it's kind of been talked about a lot, but bottom line is we just tried to stay the course and make sure that when he returned that we'd be in position to try to pursue our dreams which ultimately is to play in the big game and we're one step away from that. Right now, all of my thoughts and all of our work and all of our attention is going towards the New England Patriots and what we have to do to play well."
On some of the problems Patriots RB LeGarrette Blount presents
"[He's a] big physical, player [and a]) downhill runner. That's the big thing he's a powerful back and they're doing a great job opening holes and he's doing a great job hitting them."
On anticipating the Patriots running the ball
"They've run for 200-plus yards in the last three games so that's definitely some of the tape that's fresh in our minds. They have made a concerted effort to be the more physical team and have done so and so we understand that we can't allow that to happen."
OFFENSIVE COORDINATOR ADAM GASE
On what this game means to QB Peyton Manning from a legacy standpoint
"That would be hard for me to speak on. I just know for this year, this is our most important game. I can't speak on his past anything like that. I've only been around him for two years. I know his history but I can't speak on that."
On if Manning talks about the history of the game
"Not really. It never really comes up in conversation."
On who is more intense, himself of Manning
"I would say he would be. You see it. He's a little more outwardly with his emotion compared to me. I'm probably not as much as he is."
On anticipating something different from New England Head Coach Bill Belichick this time around
"This game will be different. Some of it will look the same but that's a well-coached group obviously with Coach Belichick. Matt Patricia does a great job as the defensive coordinator. They're going to have something different for us. Some of the stuff that they did last time they'll just do it better. That'll probably their big emphasis, 'Hey we have to play better in certain areas and we have to fix our technique.' It's going to be the same thing for the things that we didn't do as well, we have to do better."
On if he can help the defense with his knowledge of Patriots Offensive Coordinator Josh McDaniels' scheme
"No, not really. It's a different deal since he's left. They already kind of had—they changed a little bit. It sounds like they've changed a little more since they started running the ball more. So I'm probably really no help to them."
On Executive Vice President of Football Operations John Elway admiring his decision to delay head-coaching interviews
"For me, I just felt like I was all in for what we were doing here. I just didn't want to stand in front of players and say one thing and do something else. So I felt like it was the most important thing for what we needed to do for this team."
On the work that Head Coach John Fox's absence required
"It was the whole group. Players, coaches, support staff—everybody just did their job. They did not do anything over the top. I thought [Defensive Coordinator] Coach [Jack] Del Rio did a fantastic job of doing both roles. I know that couldn't have been easy. Everybody just made sure that we were on our task that we had to do."
On what he learned from McDaniels
"Probably the most important thing I learned from him was our emphasis on what the defense was doing. That was something a little different for me as far as the depth of what the coverages were—the fronts' pressures. That was probably my first real experience of having to understand what the other side of the ball was doing."
On what the Patriots defense is doing differently
"They'll have some different pressures each week. You're going to get something that you haven't prepared for, which is normal around the league. But when they've made mistakes, they'll make sure they don't make them a second time. You have to anticipate that and that's why you have to be on your execution and make sure that you're not making the mistakes. That's just—being as well coached as they are, this time, they'll have less errors."
On what John Fox brings that he missed during his time away
"His energy has always been unbelievable. You could tell how excited he was when he did get back and I think a lot of our guys fed off of that just knowing how much he missed being around this atmosphere. His energy is always just unbelievable. I wish I had a little more pep to my deal sometimes but he really, his energy level is outstanding."
On if he's excited at the opportunities this game presents
"Yeah. Whatever my role is I'm going to do 100 percent and do my best to get this football team a win. We've had unfortunate injuries throughout the season on this team. Whatever my role is, I'll do my best and try to help my team win."
On if it's tough going from not being able to play to possibly being right in the mix of things against QB Tom Brady
"That's why you are a professional football player. You always have to be ready to play and do your job at the best of your ability."
On motivation from the last game against New England
"We've moved past that. That doesn't really matter now. Both teams are where they want to be. So this is a big game for us and we've moved past what happened weeks ago."
On if it's tough to not think about how close the team is to the Super Bowl and to stay focused on just the one game
"You definitely think about it. It's human nature. But at the end of the day it's a 60-minute football game and the winner will go to the big one. So we know how important it is and we're just taking it day-by-day to make sure we're ready."
On how much it means to him that teammates like CB Chris Harris Jr. are publicly saying they know he can do a great job
"Well, he's my teammate. He's supposed to say that. I hope he would have my back. But we all believe in each other, so it's a good thing."
On if he can take anything away from watching Tom Brady and the Patriots' offense from his time in New England
"He's one of the best quarterbacks to play this game so you've just got to be prepared 100 percent. He doesn't make many mistakes. As a defense, we're going to have to come out and execute and just be on top of our game because he doesn't make many mistakes."
On how different the Patriots are from the first time the teams played
"They're good at everything. They can run, pass. Obviously, they lost 'Gronk' [TE Rob Gronkowski] so it changed a little bit as far as his role but they're a great offense regardless of running or passing."
On where his confidence level is
"My confidence is always high, no matter if I'm playing or not playing. We'll be ready to play. It's a big game so there's no time for thinking about what did and didn't happen."
On if cornerbacks have to be some of the most confident players on the field
"Yeah. That's what we signed up for. I know why I'm here and whatever my role is I'll be ready."
On how excited he is for the opportunity
"Definitely excited. It's a big game. The winner goes to the Super Bowl. It's something you always think about as a child. It's in front of us, so I'm definitely excited."
On Defensive Coordinator Jack Del Rio
"He's one of the best D-Coordinators in the in this league. He's proven. So we trust and believe in whatever he asks us to do and we're going to do our best to execute."
DEFENSIVE END MALIK JACKSON
"It's going to be real difficult. They've got a great coaching staff over there, great players and it's going to be a real tough game for us. We're going to be prepared, though."
On why it's so difficult to get pressure on Patriots QB Tom Brady
"That O-Line, man. They know what they've got to do to protect Brady. They know where he likes to step up at and they make sure to protect him. They've got a great O-Line and some great schemes."
On whether he feels like the defense has to start the same way they did the last time against the Patriots
"Oh, yeah. We've always got to start fast against any team. So yeah."
On whether there has been a greater emphasis on stopping the run
"I mean, yeah. That's any team. They're not only one-dimensional. They've got a great running back in [RB] LeGarrette Blount, an offensive line that can road-grade you or sit back and pass block you. We're in for a nice, hard game."
On whether the Patriots have to beat the Broncos through the air or whether stopping the run is a priority
"I think, yeah, that's always a priority. But you can't let them beat you over the top because you can't take one over the other. So it's going to be out there just trying to stop them on everything, so that's what we're going to go out there and try to do."
On whether he was surprised to see the Patriots score 43 points without Brady throwing a touchdown
"Yeah. But like I said, they've got a great scheme, great linemen. So if they feel like they can run the ball on you, that's what they're going to do."
On whether the nerves creep in for an AFC Championship Game
"Oh, yeah. Of course. We're only human, but we understand that  at the end of the day we've got to go out there and do our best. You can't let nerves get in the way of that. I'm sure once we get that first hit out of the way, we'll be fine."
On the burden that it puts on defenders that the Patriots implement a power run game, yet also spread the offense out
"You've just got to go out there and play football. Coach is going to give us a call fast if they're going fast and whatever. We're just going to go out there just put our hand in the dirt, just know that's why we go out here and mess up Wednesday through Friday. It should be fun."
On whether a 250 pound running back is any different than one that is 30 pounds lighter
"We just can't them get on the second level back there with the free safeties because that's when he looks good. We've just got to make sure that the D-Linemen and the linebackers keep him contained."
On the defense having to overcome injuries
"We've got [LB] Nate [Irving]; we've got [DT] Sylvester [Williams]. We've got guys that have stepped up and are ready to play and get their name out there. So that's what it's all about—guys stepping up and just doing what they can."
QUARTERBACK PEYTON MANNING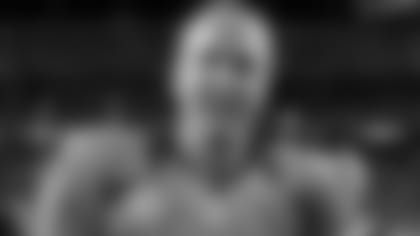 On having two press conferences in one week**
"That's kind of part of the deal when you get to this game, so it's not a problem."
On if he still enjoys the preparation process
"I do. I feel like that's got to be part of it. I think if you're just dreading what you're doing all week, you probably ought to find something else to do. I think that's probably the challenge as you get older. I think everybody enjoys the football games but I've heard players in their late years say that they enjoyed the games but they didn't enjoy the preparation and kind of the offseason workouts and the meetings and all that. I still do enjoy that part of it. I think being in a new offense, being with a new offensive coordinator and having some new teammates, it keeps you stimulated and it keeps you on your toes. I'm constantly learning, each week, something new. That certainly helps but I think that's important to enjoy, like you said, the process, not just the outcome and the games."
On what he remembers about his first matchup with Patriots QB Tom Brady
"I don't know. I'm not sure. It was a long time ago and I'm not sure how much relevance it has to this game."
"We like playing at home because our fans have been outstanding all season. I think anybody prefers to play at home and like I said, with their home fans. But this has been an excellent team—at home and on the road—that we're playing. We need to do our job on the football field from an executing standpoint and count on that. At the same time we know our fans will be loud and excited. We're certainly glad to be playing here."
On improving offensive execution
"We certainly felt like we left some points out there last week. That is something we have emphasized the entire season—finishing drives with touchdowns, not having to settle for field goals. [K] Matt [Prater] has been brilliant all season but we don't want to have to count on him to make 45-yarders and 52-yarders. We want to do our best to get into the end zone. That's an emphasis every single week and I think it's definitely a major point of emphasis this week as well."
On being friends with Brady off the field
"I think it's a pretty unique fraternity that all quarterbacks are in and Tom's been playing the longest along with me during our career. We've played against each other a lot and we've both played a lot of football. I enjoy really trying to get to know a number of quarterbacks. Any chance to get to spend some time with them, maybe in the offseason at a banquet or at a golf tournament—talking a little ball—I've always enjoyed that part of it. And I've certainly enjoyed doing that with Tom during the times we've had a chance to do that."
"I've only known Knowshon for two years but he has been through a lot just in the two seasons we have played together. Last year when I signed here, he was rehabbing a significant injury and wasn't exactly sure how the roster was going to play out. And then during the season he was doing scout team which is definitely a humbling moment for any football player that has been a starter, been a first-round pick. This year, this past offseason once again, probably unsure on a roster position and now has just had an outstanding season. He has been extremely dependable in the pass-blocking and the run game, catching passes out of the backfield. I sure have appreciated all he's done. There was a great [Sports Illustrated] article last week, talking about his life's journey and just in the two seasons we've been together he's been through an incredible journey as well. His attitude has been great and like I said, I sure do like having him back there next to me in the shotgun. It makes me feel real comfortable."
On the Patriots linebackers
"They're extremely athletic. They're active guys, big, physical, strong guys. [LB Jamie] Collins is rangey. You saw him make a couple of impressive coverage plays on a good tight end that they faced last week. [LB Don't'a] Hightower is around the ball, explosive guy. Not many linebackers have that kind of size and strength. Two impressive athletes that have stepped right up and answered the bell like you said when they lost some other key starters."
On how it's been working with Executive Vice President of Football Operations John Elway
"It's hard to give a simple answer to that, but John has been first and foremost, he's been leading this team and this organization and he's been a great one to follow from that standpoint. But I think being an ex-quarterback, he has been a great resource. He doesn't come to our quarterback meetings and he is not is on the phones with me during the game. I think he wants to make that clear that it is his job to hire good people to communicate with me on those ends. At the same time, I think you would be crazy not to ask a quarterback with his experience questions. It was kind of the same way growing up. My dad was never my coach by any means but when you enjoy playing quarterback and you want to learn about the position you try to use resources around you. And so I have asked John a number of questions and he's provided me with any type of knowledge or tidbit from experiences that he's had.  He's been very helpful that way and like all players, he's been supportive of the players that he's picked for this team and you certainly appreciate that."
On what game day is like for him
"I think everybody kind of settles into some kind of routine. Me and [WR Eric] Decker and [TE Jacob] Tamme carpool together—drive from the hotel to the stadium. We've done that for the past two years. We have a few other guys do it last year with us that are no longer here. But yeah, we feel fortunate to be playing still doing this time and you realize you're driving down on Sunday on two games being played so you feel fortunate. That's kind of part of our routine."
On blocking out thoughts of the future
"I really don't think it's hard to block that out. As a matter of fact, I think it's probably even easier just to hone on in on what's taking place right now. I really felt that that has been my approach since the beginning of last season. Just when you go through a significant injury and a major career change, you truly do go one year at a time and you don't look past what's going on now because you are not sure what's going to happen. Tomorrow is not promised. I think it's a healthy approach for an older player to go all in for 2013 regular season, 2014 postseason. For a young player, sure, it can be easy to look ahead to maybe that new contract that they want to get or some career goal that they're trying to achieve. But at this point in my career, it's easy just to focus in on what's going on right now. It's been a healthy approach and attitude for me and it keeps you honed in on the moment."
RUNNING BACK KNOWSHON MORENO
"We need to hear certain things. So when the crowd gets silent for us [on offense] and we kind of hear things, it definitely helps us out."
On whether he expects a similar running output against New England on Sunday
"No, it's another game. It's a new game. They might have something different for us, and we've got to go out there and make plays at the end of the day."
On playing the game at home
"It's definitely a plus. But we've still got to play the game no matter where it is. It's definitely a plus to be able to stay home and play here and have the altitude a little bit and see how they handle that, but at the same time it's still the game."
On not getting too excited
"It's definitely tough, but you're going to have enough time—especially on game day and the night before—to kind of get amped up and ready for the game. It's a little bit of a ways, but once those days come, you get back to work and get amped up for it."
On how his role has evolved this season
"Just basically learning each week and trying to get better each week. You never play a perfect game—definitely not me—and I just try to correct those mistakes and move forward each week and get better."
On whether he has gotten better each week
"I think so. I think I still make a couple mistakes, but I try my best."
On the biggest impact QB Peyton Manning has made on him
"Basically just how to be a pro. He demands so much. He demands perfection. That kind of rubs off on a lot of guys—offensively and defensively and as a team. So I just try to go out there and do my best and make sure I'm in the right places."
On whether it was hard at first
"Not at all. You need that kind of leadership. He's definitely a leader. He rubs off on a lot of guys."
On whether he learned from Manning by watching or in the meeting rooms
"I think it's everything put together—definitely on the field when you're playing and in the meeting rooms, also."
On when just he and Manning are in the backfield
"It's funny. We're always talking back there, making sure me and him are on the same page. He's always making calls and we just talk and make sure if we're on the same page and then go from there."
On whether it ever gets confusing
"Yeah, but he makes sure you know what you're doing (laughing)."
On  Super Bowl aspirations
"In the beginning of the season, everyone has that hope. You get there, get to the playoffs and you go from there. So in the beginning of the season, everyone had that dream ahead of us, but we had to work our way here. We're here now. But at the same time, we still have to get this win and then see what happens after that. It's going to be a tough one."
On the Super Bowl being played near his hometown
"That would be a plus. It's not something that I'm like, 'Oh, I really want to do it.' It doesn't matter where the Super Bowl would be held, if we were able to get there, you're there and you want to compete and try to win the thing. If we're fortunate enough to get there, that would be kind of like a plus."
On Patriots Offensive Coordinator Josh McDaniels
"I think he was a great coach. He drafted me. He believed in me. I just came out here and tried to do what I can to make this team and to do what I can to help this team win. I thought he was a great coach and he's still doing a great job."
On how Running Backs Coach Eric Studesville's has impacted him
"A lot. Every running backs coach is different. He came in and taught me little things and I had the opportunity to be here with older running backs at the same time and I learned from them. He's like a father-figure to me. He definitely means a lot, for sure."
DEFENSIVE END SHAUN PHILLIPS
On New England Patriots QB Tom Brady not getting flustered
"He's been playing long enough that he's past all that. But he does a good job of reading defenses and understanding his offense and understanding where guys are supposed to be. That's what makes him one of the best quarterbacks in the league."
On his options in free agency last offseason
"It was a no-brainer for me. I don't think San Diego wanted me back. They weren't serious enough. It was just a good fit. When I walked in the door, those guys showed me so much love as soon as I walked in and made me feel like they wanted me on the team and wanted me to be a part of the team. That's why it was a no-brainer for me."
On how much QB Peyton Manning had to do with him signing with Denver
"It was people beyond Peyton mostly. It was the guys, the coaches and stuff. It was honestly [Head] Coach [John Fox], [Executive Vice President of Football Operations John] Elway, the Linebackers Coach (Richard Smith) and those guys. When I came in, they went over the defense with me right away and they were like, 'We want to use you here, we want to use you here,' and they stuck behind their word and used me everywhere they wanted to use me."
On whether San Diego not wanting him back was a chip on his shoulder
"Of course you do that. As a competitor, when you don't feel wanted, it's a fight-or-flight-type thing. And I'm a fighter. So therefore, I'm definitely going to compete a little bit more. I don't think I did anything different this year than I did any other year. Maybe I had a little extra chip going against San Diego to make sure I dominate those guys a little bit more, but for me, I always play with a chip on my shoulder. It's the only way to play defense and it's the only way you can keep an edge in this league."
On whether it was difficult to be a leader with a new team
"That's not what I was trying to do. I just came to be myself. We have a bunch of leaders on this team. This team was already good without me. I just wanted to come here and do my part. But, I also shared some of the knowledge that I've acquired through my years of playing football and I just speak to those guys. It is kind of a little bit in my nature to have a little bit of a leadership role. But, me being a little older and that I've played in this league for a while now—guys look up to me. I understand that, so I make sure I'm saying the right things and out there not only leading by talking but leading by example as well."
On whether he considers this week's matchup 'just another game'
"That's how you have to look at it. Because if we start thinking about the Super Bowl, we lost already. Our focus needs to be concentrating on the New England Patriots and how to stop these guys and how to put up points and make sure all our T's are crossed and our I's are dotted. That's how you have to approach the game."
On the importance of winning in the trenches
"Playoff football is won in the trenches—that's offense and defense. It is always going to be that way. It's which team plays more physical, which team executes their game plan and which team dominates the run and which team runs the ball the best. That is just playoff football."
"We go into every game confident. That is the way you have to be. You have to go and expect to win and dominate. Those guys are good and obviously they have been running the ball effectively. But, it leaves a big challenge for us. They also have a challenge stopping us as well."
"Honestly, the altitude does play a difference. But, after you have played a couple quarters and blown your lungs out a little bit, you're usually good after that. You have to get through that first initial surge. So, hopefully we can have a lead on a couple of teams before that surge comes."
"Before I came here, there were two stadiums that I would say—or towns—that had the best fans I've been around. One would be Denver and the other was Green Bay. I just always enjoyed—I think sportsmanship is about rooting for your team and supporting your team, but you don't have to be mean to another opposing team's fans and things like that. I think our fans are the best in the world at doing that. They embrace everybody in and accept the sportsmanship role, but they support the Broncos 100 percent."
On Patriots T Nate Solder
"He's a good football player. That is the bottom line. He is a big guy and he is obviously effective. He is playing for one of the best offenses in the league. Again, I can't worry about what he does or who I am going against. I worry about executing my game plan and doing what I have to do to the best of my ability."
On getting pressure on Brady
"I think getting to Tom as many times as you can hit him and try to force and make turnovers—I think that rattles most quarterbacks. That's obviously our game plan. We want to hit him as much as possible and see if we can get to him. A guy like that doesn't get rattled too much, but if we can keep the ball out of his hand and keep pressure on him, I think it's in our benefit."
On if the team has to start out the same way they did in Week 12 at New England
"I wouldn't say have to, but you want to start every game like that. But, the key isn't starting; the key is finishing as well. We are going to play 60 minutes. That game we didn't play 60 minutes. But, if we could start that way, I'd take starting that way over starting 0-0. That wouldn't be too bad."
On playing with CB Champ Bailey
"I've been a big fan of Champ forever. Champ is a great guy, a great leader and a great competitor. But, the one thing about Champ is that he knows his X's and O's. I know he's been playing for a while, but he doesn't take a day for granted. He competes every day. Even when he was hurt, he was on practice squad out there competing. We used to joke around—we had Champ and [CB Quentin] Jammer as our scout team cornerbacks. We're like, 'Our scout team cornerbacks are better than a lot of starting cornerbacks in the league.' He went out and gave those guys a good look and just did his job. You couldn't ask for a guy to be more professional."
On what factored into his free agency decision
"I think a little bit of everything came into play. Obviously you want to be rewarded for what you do, but also you want a chance to win a Super Bowl. Luckily for me, I've been blessed and I've played through a couple of contracts, so financially, I'm OK for myself. But, you still have to factor that in a little bit. Also, coming to a winning team and to play with a guy like Peyton Manning. And, honestly, I watched this defense the last few years before I even got here and I saw those guys getting better and better and out there competing and having fun and flying around. You want to be a part of something like that. That sold me as well."
On his gameday tradition of riding to the stadium with QB Peyton Manning and WR Eric Decker
"It's fun. Those are two of my good friends on the team. It's pretty cool. We ride together every game and get a chance to talk a little bit and get ready for what we're about to embark on. It's a pretty special thing."
On the seating arrangement
"Decker's been getting in the back; he's been letting me have the front for some reason. It's like a seniority thing or something."
On if he gets to pick the music
"Usually just roll with whatever he's been listening to."
"Peyton. Yeah, he drives."
On whether it's in a Buick
"Yeah, we call Archie 'Papa Bear' and stuff on the way to the game. Orange cone, reroute (laughing)."
On what he values about his gameday car rides with Manning and Decker
"That's what it's about—it's about the little stuff and the camaraderie of being around these guys. That's what is hard when a season ends, is you know that same group is never going to be around again. We've been blessed to get to where we're at now, and we've got to find a way to win this game on Sunday and keep it going."
On the experiences and lessons he can give teammates who haven't played in a conference championship game like he has
"It's really about the week of preparation. We're doing a good job right now. We've had some good practices. I think guys are tuned in and focused. We've been working all year to get to a point like this to give ourselves a chance to go out on Sunday and win a big game like this—the one where that big goal is on the horizon. As for Sunday, the only thing I've shared with guys is that it's about this week of preparation and going out on Sunday and letting loose."
On what the lesson was from that first game against New England
"We need to play a little bit better than we did. We racked up some points quick and early, but a lot of that was contributed to our defense playing really well. We just need to be a little more consistent in that game, overall."
On how well the younger players listen and respect the veterans
"I think we've got a group of young guys who are tuned in, are together and are focused on the task at hand. That's all you can ask for. Let's focus on this week, give it our best shot, prepare as well as we can and go out on Sunday and find a way to win it."
WIDE RECEIVER DEMARYIUS THOMAS
On approaching this week as just another game
"It's just another game but like I said before, it's either win or go home. Our main focus is trying to go out, put up some good football so we can beat these guys. Because when we went to New England, they beat us. That's our main focus right now, trying to figure out a way to beat them."
On never having beaten the Patriots and whether it would be rewarding to do so
"I think so. Beating them and also making it to the Super Bowl, because I think they've beaten us four times since I've been here. I haven't won once. That's one thing I do want to do is beat the Patriots."
On whether he thought the Broncos had the momentum going into overtime in New England
"We thought so. But something happened and they got the ball back and scored a field goal. It was a great game, but we thought we had it."
On whether that loss is a motivator
"Maybe a little. It's the next team in our way to get to the Super Bowl. It motivates us to try to just go out and win, because we want to make the Super Bowl and we want to win it. Whoever's in front of us, our main thing is trying to beat that team."
On the Patriots defense this time versus Week 12
"I think it's about the same. They do some of the same things; they throw a lot of different things at you. They try to do different things with different players, it just depends. I think it's about the same."
On whether it was distracting toward the end of Patriots Offensive Coordinator Josh McDaniels' tenure in Denver
"I don't think so. I guess when he was here with me, we had a losing season. I didn't really play much. I don't know how to say it, but he's not here anymore."
On the Broncos' defense overcoming injuries
"I'm impressed with them because the last couple weeks—maybe more weeks—they've been able to stop the opposing offense and get the ball back in our hands so we can put points on the board to help us out to get wins. I think every time we have somebody injured, there's always somebody stepping up. I think that's the main thing with our group of guys—everybody's capable of getting in and making plays."
On whether he feels a difference when TE Julius Thomas or WR Wes Welker are on the same side of the field as him
"I think so. Two big guys on one side and then sometimes I'm with Wes. I don't know the difference, but you see they sometimes kind of get confused because you've got me and Julius on one side. I really don't know, but it's a little different."
On whether the safety follows him or Julius Thomas
"I think most of the time teams do check him with the safety because he's capable of going downfield making plays. He's good at running routes, too. So I think most of the time he gets the safety."
On whether people confuse him with Julius Thomas
"Sometimes I hear it over the intercom talking about D.T. but it's really Julius. If you kind of look closer he's a little taller. Then I had some people thinking we're cousins or brothers (laughing). It's funny. Yeah, sometimes."
On whether he understands how hard it is to get to the playoffs and win
"I do. My first season we had an interim coach—wait, it was [Head Coach John] Fox, right? With [QB Tim] Tebow? I forgot. That was a long time ago (laughing). But yeah, we made it in, we lost. Then we had last year with a bye and we lost also. So I feel like now it's not easy. You've got to go in every day. I think the work that we put in out here on the field, it helps us also. We've been going hard. We know what we've got to do to try to get over this edge and try to get the 'W' to get to the Super Bowl."
On whether players can understand how hard it is to win in the playoffs from hearing from veterans
"I think you learn for yourself because once you hit the field, you're out there by yourself doing your job. But you hear stuff from [QB] Peyton [Manning], Wes, [CB] Champ [Bailey]—all those guys that made it to this game for the first time. They'll tell you it's going to be a 60-minute game. It's going to be one play somewhere in the game, and somebody's got to make a play to change the game. That's the main thing they've been telling us."
On the AFC Championship Game potentially being more stressful than the actual Super Bowl
"It [does make sense]. I was kind of nervous at the beginning of this week. This is my first time being nervous at the beginning of the week. Because we want to make it to the Super Bowl and we also want to win. We don't just want to make it. But like I said, our main goal is to make it and win the game. I think it is a little pressure on us, on myself for sure because I was nervous at the beginning of the week when we started work."
On whether he's a nervous person
"I get nervous sometimes. After the first play, I'm good (laughing)."
On gameday traditions like Manning, WR Eric Decker and TE Jacob Tamme carpooling to the stadium
"I don't know. I think they're at the hotel most of the time, that's why they ride together. But I go home, change clothes and then I go to the game. I go home, sit down, look over some more plays and film and that's about it."