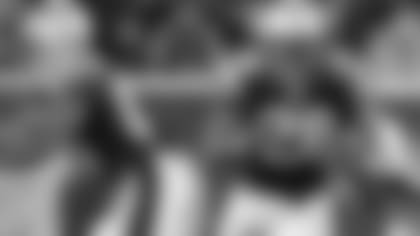 ]()After rushing for 1,635 yards and 12 touchdowns a year ago, big things were expected out of Corey Dillon this season. However, because of a young offensive line taking time to gel and Dillon battling an injured ankle, the big numbers haven't been there for the nine-year veteran after the first seven games of 2005.
Entering Monday night's battle with the Colts, Dillon has rushed for only 401 yards and currently has a 3.5 yards per carry average. On the bright side, Dillon has scored seven touchdowns but the Patriots haven't been consistent running the football yet this year.
Dillon said on Thursday he isn't surprised about the criticism he's received by some fans and members of the media.
"In the nine years I've played, it's always been something," he said. "That's the business I'm in. What can I tell you? I'm doing the best I can."
Dillon has been criticized for a variety of different reasons over his career but one thing nobody can question is his toughness. Bill Belichick said the team wasn't planning on using Dillon against Buffalo unless they had to. When Patrick Pass went down in the first quarter with a hamstring injury, Dillon was called upon and he answered the bell.
Clearly not 100 percent healthy, Dillon gutted out 72 yards on 18 carries and scored two pivotal touchdowns. Most of his yards came in the fourth quarter when he was hurting and the Patriots really needed to move the football.
Dillon talked about playing through the pain to help his team win.
"I have been doing this since I was six-years-old," Dillon said. "This is nothing. It's what get I get paid to do. I was hurting, especially in the fourth quarter, but you just have to tough it out and block out the pain."
Dillon has been irritated with some in the media who have said insinuated his struggles this season are due to his age. Dillon joked that his performance against Buffalo was pretty good for a 31-year-old running back.
"Guys my age aren't supposed to be hoping around on one ankle, going in there playing games like that. I guess for an old guy, that's pretty good."
When asked if he has been playing up the "old" angle this year, Dillon responded with a challenge for members of the media.
"The only thing old is people brining it up," Dillon said. "If you think I'm old when you guys write it, if you really, seriously think I'm old and can't play, I have one solution. Go in there and get some equipment and come on out. I'll show you how this 31-year-old guy will bring the pain to you. I will make you pay. Go get some equipment and I promise I'll make you pay."
While his challenge may have been good-natured, it's obvious Dillon has been frustrated this season. He is playing behind an offense line that is starting two rookies on the left side and he doesn't have time to fully recover from his ankle injury because of the Patriots lack of depth at the running back position.
"It's been a dogfight out there every week," Dillon said "The yards I've gotten this season, I've earned. It hasn't been easy."
Tom Brady was excited to see Dillon back on the field against Buffalo, getting the hard yards the team needed late in the game.
"It was great to see him out there," Brady said. "The guy is very determined. He loves playing football. It's good to have him back providing a spark for our offense."
If the Patriots want to get back to the Super Bowl this season, they are going to have to once again ride the back of Dillon. The weather is starting to turn cold in New England and it's awfully hard to throw the football 30-40 times a game in November and December. Dillon may have started the year off slowly but he will have to bring the pain on the field over the next two months for the Patriots to be successful.
Patriots sign fullback Heath EvansThe Patriots signed free agent fullback Heath Evans on Tuesday and released running back Amos Zereoue. Evans is in his fifth NFL season. He has played in 67 career games with the three starts for the Seattle Seahawks and Miami Dolphins.
The 6-0, 250-pound Evans played in six games for Miami this season, making two starts before being released on Oct. 25. In his career, Evans has rushed for 108 yards on 34 carries but he is known mainly as a blocking fullback. Evans, a third-round draft pick of the Seahawks in 2001, says he is excited to be in New England.
"This is the NFL and this is the team that's won three of the last four Super Bowls, so where would you rather be than here? I went from tied for last in the division to first in the division. So for me it was an upgrade."
Zereoue played in three games for the Patriots but only rushed for 14 yards on seven carries and never really became a big part of the Patriots offense. It's not clear what role Evans will have with the team but with Dillon and Pass hurting; there certainly was a need for depth at the running back position.
Notes
Dillon didn't just challenge the media to take him on; he also had something to say to the Colts defense on Wednesday. When a reporter joked that Corey Simon called him old, Dillon fired back, "If Simon thinks I'm old, bring it. I can still play this game."…The Patriots have an all-time record of 27-9 in Foxborough against the Colts…The Patriots and Colts haven't played on Monday Night Football since 1972…Belichick said at his Wednesday press conference that he has talked to Richard Seymour and the defensive end is feeling better. It's still not known if Seymour will play this week against the Colts…This will be the Patriots first Monday Night Football game at home since the inaugural game at Gillette Stadium. The Patriots won that game, defeating the Pittsburgh Steelers 30-14.