Patriots running back Laurence Maroney.


Only he didn't say shoot.
That was Logan Mankins'reaction in July when Patriots Head Coach Bill Belichickannounced, in somewhat unprecedented fashion, that New England would open training camp 2009 with seven straight days of double session workouts.
After opening camp with a pair of full-pads workouts on Thursday, the Patriots were back at it in full attire once again Friday morning in hazy, hot conditions on the practice fields behind Gillette Stadium.
"My reaction was [shoot!] But it will make us better," Mankins said with smile on day two of seven. "It's more practices. It's more reps. The more reps you get the better you should be at something. So it's only going to help us. Hopefully it will work out for us."
Running back Laurence Maroney'sreaction to the news of camp being front-loaded with two-a-day wasn't quite as emotional.
"I'm just a player. Whatever he says, I'm just going to do," Maroney said. "At the end of the day it ain't doing nothing but making us better. So I can't complain."
One thing Mankins wasn't complaining about was the early warning players, fans and media alike received for tough schedule the opening week of camp.
"I'm kind of glad he announced it early. You get the mindset when you show up that you are going to be in full pads. It's not put on you the first day and you're like, 'Arghh' and then you are hating it even more. At least we knew when we got here it was going to be tough and we got to come in ready for it."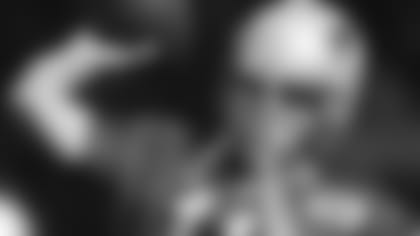 ]()Quarterback Tom Brady, not surprisingly, is taking a big picture view of the double sessions. In recent years Belichick's Patriots have opted to alternate practice days between double and single sessions.
"We have a lot of two-a-days," Brady said. "He's going to make it a challenging camp for us and we need it. We need the work and the time we're going to use every day. We have a lot of new players and new things come up every day that we need to learn from so we can take those into the game so we can hopefully be prepared when those come around."
Mankins views the consistent work in full pads early in camp in a similar light.
"We'd rather not be hitting but that's what linemen do, we hit. So the only way we are going to get better is to have the pads on," Mankins said. "If we were out here in shells every day, sure we'd have good fits but we wouldn't be used to the contact when it started up. So we need to be in pads even if we don't' want to."
In fact the physical strain the players are experiencing and expect to continue to experience has Brady looking forward to game action that's still nearly two weeks away.
"The games are fun, especially for the players. The camp is challenging because it's just non-stop," Brady said. "Coach said yesterday, 'Don't look for any light at the end of the tunnel because it's dark.' And we can tell it is. When the games come we'll know we put in a lot of great practices and hopefully we'll be prepared for those games when they come. But in the meantime we have a lot of work to do."
And Belichick is giving them plenty of practice time to get that work done.
Springs practices, attendance
Fourteen players were absent from Friday morning's workout, while there was one notable returnee. Cornerback Shawn Springs, who opened camp on the active/non-football injury list due to a reported sickness, was on the field and took part fully in the third public workout of camp.
Those not seen on the field for the morning included NFI wide receiver Brandon Tate; PUP listers Rich Ohrnberger, Mark LeVoir, Darryl Richard, Ty Warrenand Shawn Crable; injured unsigned rookie Tyrone McKenzie; as well as Al Johnson, Stephen Neal, Ryan O'Callaghan, Matt Light, Randy Moss, Myron Pryor and Richard Seymour. Johnson, Neal, O'Callaghanand Seymour had all missed Thursday's evening practice.
More Vick talk
While the topic was addressed a bit to open camp, free agent Michael Vick was brought up a number of times Friday both in questions to players as well as Belichick.
After first sidestepping the topic a bit, Mankins seemed to have an open mind on the topic, his feelings based solely on what any available player could to do help the team.
"Yeah, that's out of my hands," Mankins said. "But if he could help the team, come on. If you can't help the team, then I'm sure they wouldn't bring him here. I have no say over it, nor do I want to have a say over it."
A day after being vaguely queried on his team's potential interest in Vick, Belichick was asked more directly about the former Falcon Pro Bowl passer – has he or the organization ruled out signing Vick?
"Have we ruled it out? I don't know that it's ruled in or ruled out. I'm not not answering your question. I'm saying I don't think it's ever been put that way, so I can't really answer that," Belichick said.
A follow-up question asked if Belichick had interest in signing Vick.
"You know I think we would consider ... we're coaching the players that we have on the field right now, so that's who is here," Belichick said. "So, anybody who isn't here is there potential that they could be here? Yeah, there probably is. But right now they're not.
"We're coaching the 80 players that are here, so until we get somebody else we're coaching them. When we get somebody else in here, which I'm sure at some point we will, then we'll coach them and the players that are here. Who that's going to be? Right now, it's the 80 players who are here. That's all I can tell you."
Another reporter then followed that answer up by saying that it sounded like Belichick wasn't ruling out the possibility of signing Vick.
"I'm coaching the players that are here that are on this team," Belichick concluded. "That's what we do. I'm not coaching anybody else. I'm sure at some point somebody else will be here. I don't know who that is going to be. If I knew, they'd already be here."
Maroney not "Fragile"
Maroney said he had never heard the "Fragile Fred" nickname that new teammate Fred Taylor earned through injury-plagued seasons early on in the 12-year veteran's career in Jacksonville. But when the moniker was referenced in a question to the fourth-year former first-round pick he swiftly knew where the line of questioning was going Friday morning.
"That what you are trying to say, that I'm fragile," Maroney said in a playful manner that was anything but defensive or confrontational in nature. "I wouldn't care if you said it. Because I'm still going to play my game at the end of the day. This is football. Injuries are going to happen. It's not like I go out here every day, saying 'Ooh I want to get hurt today; I want to miss this season.' It's just things happen. You have to play through them. You have to live with it."
But Maroney is clearly well aware of the time he's missed and seemingly frequent physical issues that have limited him in three NFL seasons.
"I ain't never had an injury until I got into the league. So if you call me fragile, hey it happens," Maroney said. "But it's one of those things that you just have to work harder."
Far from getting down on himself, Maroney is taking a glass-half-full approach in terms of his injury future and the fact that sooner or later he must be in line for a healthy season.
"I'm about due, man. Hopefully it's this year. But like I said, I'm just taking it one day at a time."
Who's Hot: Julian Edelman, wide receiver. Edelman has shown nice quickness, speed and hands in three training camp workouts. He's gotten a ton of reps at receiver, some alongside far more established veterans. He's had a couple drops here and there, but not more than would be expected from a converted quarterback or even any low-round pick.
Who's Not: Julian Edelman, punt returner. The former quarterback looked like he'd never fielded a punt before when he was back deep during a special team's segment Friday morning. The first attempt bounced off his chest and straight to the turf. The second fell through his hands. He was able to haul in the third, drawing a mock cheer from the crowd. And oh by the way, the other returners in the drill – Kevin Faulk, Wes Welker and Joey Galloway – were catching punts while already holding another ball in their hands. He may be a great athlete but Edelman didn't look like a natural punt returner.
Play of the Day: Terrence Nunn ran a mid-range out on the right side in team work, finding space between two defenders to make the catch on a Brian Hoyer throw. Despite getting hit by both defenders as he caught the ball and landing on his back, Nunn came away with the very nice reception.
Notes
With Light and Neal out of action, rookie second-round pick Sebastian "Sea Bass" Vollmer took reps at left tackle with first-year player Ryan Wendellat right guard in a group that included Mankins,Dan Koppenand Nick Kaczur. … Second-round cornerback Darius Butlercontinues to get rotational reps in a secondary that includes James Sanders, Brandon Meriweather and Leigh Bodden. … Terrence Wheatley, Matthew Slater, Nunn and Mike Richardson did some gunner work against double teams in pre-practice special teams work. … The battle at long snapper job looks like it could be a tight one as neither player has been overly consistent in the first three workouts. … Brady continued to wear his left knee brace but got his first "contact" of camp when second-year defensive lineman Steve Williams ran into the former MVP while he was throwing during team work. Williams subsequently ran lap around the practice field after the play. … Another large crowd watched the morning workout, giving huge cheers at various times to Welker and Tedy Bruschi. … During punt workSam Aiken, Ray Ventrone and Bruschi all took work as the personal protector in front of Chris Hanson and Tom Malone. …Adalius Thomas had his third straight impressive workout. The veteran has displayed a ton of energy to open camp, including running from the back side of a play and down the length of the field in pursuit of Greg Lewis on a screen play during team work. … Herana-Daze Jones undercut Edelman for a nice full-contact tackle during a spirited open field tackling drill. A late addition to the roster, Jones also got some reps in the slot in some sub defensive packages. … Bless his heart, Lewis must have been the sickest man on the practice field when he dropped a perfectly placed bomb deep down the middle in one drill. … Belichick caught passes from his son, who displayed a strong arm, after the workout. The younger Belichick, a regular at camp in recent years, has also helped out at times in camp throwing in various defensive back drills. … Stephen Gostkowski closed practice by hitting on seven of eight attempts on field goals ranging from 30 to 45 yards. … The Patriots will return to the field for the second session of the day on Friday afternoon at 3:45 P.M. As always, especially considering the rain that fell in Foxborough after the morning session ended, be sure to check Patriots.com for any last minute practice schedule changes.