Jacksonville, Fla. -- Philadelphia head coach Andy Reid addressed the media Friday morning at his final press conference of the week before his team appears in Sunday's Super Bowl. Naturally, the biggest news coming out of the press conference Prime F. Osborn Convention Center - which likely set some type of unofficial Super Bowl media record by lasting only nine minutes - was the latest update on Terrell Owens.
Owens has been the headline story of Super Bowl week in his attempt to recover from a severely sprained right ankle and broken fibula in time to play in his first Super Bowl. Reid spoke optimistically about Owens' progress, but stopped short of saying he would play.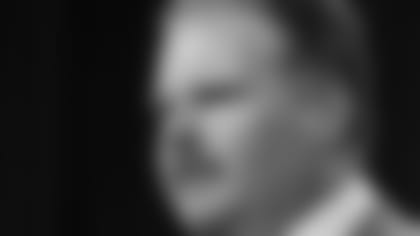 ]()"I can't tell you how he is this morning," said Reid. "He practiced harder yesterday than he did the day before. He felt great yesterday, and we'll see hoe does again today. But I think I'm going to be saying that all the way up to kickoff. We've got to put him through some exercises and see how he does. But up to this point, he's done well. He's increased his workload every day."
Owens returned to practice with on Monday, and went through practice sessions on Wednesday and Thursday that Reid characterized as the toughest of the week for the Eagles. The pool report from Thursday's practice session stated that Owens caught several long passes and saw substantial playing time for the second straight day.
While Owens is intent on playing, Reid has intentionally not given a difinitive statement that Owens will play. Reid and the Eagles training staff appear prepared to leave it as a game-time decision after observing Owens in his pre-game warm ups. He was asked Friday if what he has witnessed from Owens during practice this week has altered how he intended to use him in the game.
"Well, not necessarily altered," Reid said. "I'm not saying T.O. is going to play every play, that's not the way we're going into it. If he's going to play, then we'll see exactly how he's feeling during the game and kind of monitor that. Whether he starts or not, that's irrelevant, I think right now. We've got it broken down by different plays."
If Owens doesn't start, Reid said Freddie Mitchell would stay in the lineup at wide receiver. Mitchell has started the last four games in place of Owens, including both playoff contests, and recorded five receptions for 65 yards and a playoff-best two touchdowns in the Divisional Playoff win over Minnesota.
Win One For Philly
One of the most difficult questions for Eagles players to answer during a week full of interview repetition is exactly how much a Super Bowl victory would mean to the city of Philadelphia. There's no doubt the recent post-season history has been filled with success - followed immediately by disappointment - as the Eagles lost three consecutive NFC Championship Games (2002-04) and their only previous Super Bowl appearance 24 years ago was a 27-10 loss to the Oakland Raiders in 1981.
"We are Philadelphia's team," said Corey Simon. "That's not to take away anything from the Flyers or the Sixers or the Phillies. This city, it lives and breathes with our wins and loses. So, I see that every eyar. To finally get one and bring it home, that city would be crazy. I can't even imagine what it would look like, what it would be like. All I know is it has been a logn time since they have had one, and we want to bring it home for them."
"The city of Philadelphia has been let down, especially these last couple of years getting so close and not getting over the hump," Michael Lewis said. "Just to have an opportunity to play in this game and have an opportunity to win for the city of Philadelphia would just be great for us."
A Ride For Reid
Leave it to Eagles center Hank Fraley to provide some quality content. Fraley was posed with the logistical question this week, on how the Eagles would celebrate after a possible Super Bowl win, and if said celebration would including carrying Reid - a former offensive lineman at BYU - off of the field.
"I think we have enough guys to do it, there are 53 of us," Fraley said. "We could definitely do it. He'll get the Gatorade bath for sure, but carrying him off, we'll have to line up a few guys."
Friday Practice Update
The Eagles held their final regular practice of the week Friday, a 54-minute session that began at 11:48 a.m. at the team's practice location at North Florida University, according to NFC pool reporter Chris Colston of USA TODAY Sports Weekly. The Eagles, who worked out in helmets but no pads, held out defensive end Jevon Kearse because of flu. Kearse is expected to play Sunday. Linebacker Mark Simoneau, who missed both of the team's playoff contests with a foot injury, was able to practice.
Injury Report
The Eagles injury report remained unchanged Friday. Owens (ankle) is listed as questionable; Simoneau (ankle), tackle Jon Runyan (knee) and tight endL.J. Smith (back) are probable. All of the above players participated in Friday's practice.
Quick HitsThe NFL announced Friday that Atlanta running back **Warrick Dunn** was named Walter Payton NFL Man of the Year. The award, named after the legendary Chicago Bears running back who died in 1999, is the only league award that recognizes a player's off-the-field community service as well as his playing excellence. Through his "Warrick Dunn Foundation," Dunn has had the opportunity to positively affect thousands of people in his community. ... Reid touched on the differences between his previous Super Bowl experience as an assistant coach with the Green Bay Packers and what he has faced this time around: "Nothing much has caught me off guard. I've been well coached about the media from Derek (Boyko) and the different responsibilities I have there. And that would be the biggest difference from being an assistant coach, being the head coach is the responsibilities with the media. As assistant you can kind of hide, but as head coach you have to stand up and deal with you guys." ... Reid also didn't take issue with the overwhelming consensus that the Eagles are underdogs to the Patriots. "I think that's probably where they should be. You're playing the world champions, and they deserve to be favorites. It's important that we come out and prove ourselves that we're worthy of playing, and until you do that, that's the position you're going to be in."