In the mid-1990s, a rookie quarterback from the University of Colorado exploded onto the NFL scene as a three-way threat: quarterback, running back, wide receiver.
That rarely seen versatility in the modern NFL era earned Kordell Stewart the sobriquet "Slash," as in QB-slash-running back-slash-wide receiver.
Nowadays, that moniker belongs to a New England Patriot, and Julian Edelman may be more deserving of it. He's a triple-threat as well, but not just on offense. He's a wide receiver who's become a defensive back in addition to his kick/punt return and special teams coverage duties.
This, let's recall, from a player who was a college quarterback and had no experience at any of those other positions.
A more apt comparison, perhaps, would be between Edelman and former Patriot Troy Brown, a receiver and punt returner who also played defensive back in a pinch.
The difference, though, is that Brown was an established veteran at wide receiver and wasn't being thrust into a defensive role with the idea that he might convert there full-time. In Edelman's case, his coaches aren't sure yet what his future holds.
Might Edelman show enough promise as a DB that he might make a permanent switch?
"It's possible. It's possible, yeah," head coach Bill Belichick told reporters. "I don't know. That's a good question. He's certainly been competitive, I'll say that.
"I think the question with young players," Belichick explained, "always is, 'When does it start to level out?' Any player, at any position. And once it starts to level out, you have to say to yourself, 'Okay, is that good enough?' If it is, then great, you can leave him there. If it isn't, then … you kind of have to [have] enough time, enough experience, enough reps to make a decision as to whether you think that it's leveled or it's going to continue to improve. I think we're too early in the running to know that [with Edelman] so we keep going until we can figure it out."
Preparing for one position alone can be enough to fill up a player's plate each week. So, having to study for all three phases of the game must be an even more arduous task.
If anyone on the current Patriots roster can relate to what Edelman is going through these days, it's co-captain Matthew Slater. When he was drafted by New England in 2008, the team knew he had special teams acumen, but the coaching staff wasn't sure whether he was more suited to play defensive back or wide receiver. For the first couple of years, he rotated between the two sides of the ball, changing from a white offensive practice jersey to a blue defensive one, often in the same week and on occasion in the same practice.
"It can become overwhelming if you let it," Slater acknowledged, "but I think the biggest thing is just focus on whatever they're asking you to do. One play at a time … as opposed to looking at, 'Wow, I have all this to do.' You have to keep a narrow mindset and focus on what you have to do that particular play, that particular day, that particular period in practice, and then try to take that into the game with you."
"Julian has consistently been one of our hardest working players – film, practice, conditioning, treatment," added Belichick.
"When I see him, he's working. He works on the field, takes a lot of reps, stays late, stays after, does things, does extra things with [special teams coach] Scott O'Brien. He comes in early, meets with Scott in the kicking game, goes through all the offensive stuff, now he's going through defensive stuff. He's always been a hardworking kid."
Seems Edelman will continue to be a busy man for the time being.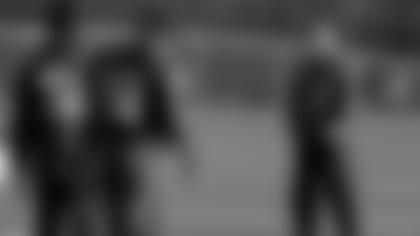 Belichick got quite agitated with reporters today who tried to make more of a big deal about Indianapolis' winless record than he would have liked.
One media member tried to make the point that it's better to gauge your team's performance by comparing them against teams with better records. That line set Belichick off.
"I don't agree with that, so you can go ahead on your soliloquy, but I just don't agree with that," he protested. "You don't think you can gauge a team based on how a player blocks Dwight Freeney and Robert Mathis? Who else would you gauge it against? Are you kidding me? Covering Reggie Wayne and [Austin] Collie and [Pierre] Garçon – you don't think you can gauge your coverage based on those players?
"I don't care what their record is. You think there are better receivers around than them? Better pass rushers than Freeney and Mathis? I'm not sure what games you're watching here."
Slater was a bit more diplomatic with reporters when the topic came up in the locker room.
"This is the National Football League. Any team is capable of beating any other team on any given Sunday," he asserted. "So, the biggest thing for us this week is to prepare for our opponent just as if they were 11-0 – go out and try to have a good game plan and good week of preparation and execute on Sunday. By no means do we think we're just going to show up and win this game because they have too many good players.
"We have to bring the same focus and intensity we do every week … because we realize down the stretch here, every game is important."
Indy announced it was making a change at quarterback this week, with Dan Orlovsky assuming control from Curtis Painter.
While the person throwing the ball will be different, the Colts still have very potent threats on the other end of those passes.
"Very fast. He's a catch-and-run type of guy," safety James Ihedigbo remarked about Garçon. "He's dangerous with the ball in his hands. They do a good job of getting the ball to him in space, so he can do his thing. He's definitely an explosive threat."
He had a similar reaction to Wayne.
"The only thing is he has a different guy throwing the ball to him. He's definitely one of the best players at his position. It goes without saying … Reggie Wayne is Reggie Wayne."