For the first time since camp opened, the Patriots saw their first in-practice skirmish.
It happened on the final play of the afternoon, when running back Stevan Ridley took a handoff and squirted through a hole in the offensive line. There to meet him on the other side was cornerback Kyle Arrington, who delivered a nice pop.
Ridley seemed to take offense either at what he perceived as Arrington's overzealous effort or what may have been said afterward. In frustration, Ridley tossed the football at Arrington, which sparked a shoving match between the two. Teammates jumped in an quickly broke up the dustup, which only lasted a few seconds. It was a relatively tame bout compared to the multiple sideline-clearing brawls witnessed last summer in Patriots training camp.
Afterward, Arrington tried to laugh off the incident.
"I mean, it's all love, you know. Whatever happens on the field stays on the field. Emotions sometimes... it's an emotional game, emotional people. It's all love, though, at the end of the day.
"For the most part, it's over with," he chuckled. "At this point of camp, you're tired of going up against the same guys every day. Tempers flare, but like I said, it stays on the field."
Head coach Bill Belichick called an end to practice at that point (it was about time to wrap up anyway), and as he walked off the field, Ridley was involved in a rather heated exchange with cornerback Aqib Talib, which appeared to be a spillover from the Arrington confrontation.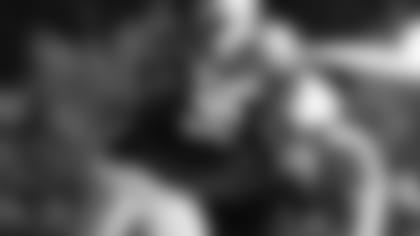 "It's camp, man. That's camp. That's all I'm going to say about it," Ridley offered reporters as an explanation for the unfortunate end to practice. "We're competitive out here, working hard every day. The days get long, that's part of it.
"We're with the same coaches, the same players... the first preseason game can't come soon enough. We're out here beating up on each other and working hard. But Philly's coming up soon. We just have to keep bettering ourselves to compete with those guys."
Normally, when on-field arguments escalate to a physical nature, it occurs on a day when the tension has been noticeably building. Ironically, today's Ridley-Arrington match happened in what had been an otherwise uneventful practice. After five straight days of practice outside in the hot summer sun, though, tomorrow's scheduled day off may be coming at just the right time for New England.
As Ridley made allusion, the Patriots will travel to Philadelphia next week to practice jointly with the Eagles for a couple of days before the two teams square off in the preseason opener on Aug. 9.
Defensive end Chandler Jones has made no secret of his bulked up physique. The second-year man added about 10 pounds of what he called "good weight" this offseason and said Tuesday that he feels "great" moving around on the football field.
"I've been trying to eat a little bit better and just focus on my upper body strength and certain weaknesses of my game. We have a team nutritionist [Ted Harper] who does a great job of telling us what to eat or not to eat, whether we want to gain weight or lose weight. So, a lot of credit goes to Ted.
"I feel a lot more comfortable, to be honest with you, as far as experience," Jones added. "I'm not saying I've arrived yet. I have a lot of work to do. I'm excited to get that work done."
When told he was among several rookies mentioned in a major media publication as being potential "break-out" stars this season, Jones replied, "That's the first I'm hearing of it... I try not to read things like that. Just be level-headed. You're never doing as good as you think you are, and you're never doing as bad as you think you are."
The Patriots have been in full pads the past few days after starting camp in shells (lightweight shoulder pads) and helmets the first two practices. Belichick indicated that once the full pads were on, the team would begin focusing more on the running game, both offensively and defensively, when players can move and make contact at full speed.
"It's been good. We've made progress every day. Things are going upward," running back LeGarrette Blount observed. "We've got a lot of things to work on. Just gotta keep on building on what we already have."
Blount is now in his fourth NFL season, while Ridley and Shane Vereen are entering their third. The team also has second-year back Brandon Bolden, rookie George Winn, first-year fullback James Develin, and rookie fullback Ben Bartholomew, leaving Leon Washington, in his eighth NFL campaign, as the elder statesman of the running back committee.
"This running back group is very young. A lot of different styles in the room," Ridley noted. "But I think that we have pretty much every running back we need: we have receivers out of the backfield, power runners, we have slashers, we have just all-around great fullbacks. We're going to work as one unit and get it done.
"Yeah, we've got a few guys [competing], but the offense calls for all of us to do a lot of things," Vereen maintained. "We have a long way to go as a group. Everybody has their things they need to work on, including myself. That's where we are."
Buy: Kenbrell Thompkins – With fellow rookie receiver Aaron Dobson on the shelf with an apparent injury, Thompkins got significant looks with the first group on offense and performed much better than he did the night before during the in-stadium practice.
Sell: Logan Ryan – Tough day for the rookie corner, who was beaten several times in 1-on-1 drills and in 7-on-7 and team work periods. Overall, the third-round draft choice has had a slow start to camp thus far.
Play of the Day: During down-and-distance situation work at the end of practice, head coach Bill Belichick called for a 3rd-and-goal from the 1-yard line. QB Tom Brady executed a play-action fake, then looked to the right corner of the end zone, where rookie tight end Zach Sudfeld was streaking for the corner. Brady lofted a pass over the head of safety Adrian Wilson, and Sudfeld made a great diving effort to cradle the ball to his body with one hand for the score.
...The Patriots, as mentioned, are off Wednesday and will return to practice Thursday afternoon around 2 p.m.