It all started at a free country music concert in July 2014. Justin Zolot, Matt Cote and Nick Tibert, three recent Nashville transplants, met and bonded over their Massachusetts roots and love of Boston sports. After months of staying in contact, they decided to meet at Sam's Sports Bar and Grill to catch the Patriots season opener against the Dolphins. That day, they befriended Hunter Duzik and the trio became a quartet of New England football fans. From there "Sam's Sundays" was a part of their weekly routines.
By the playoff game against the Ravens in January, four had become 30. After speaking with other club presidents, the friends decided to form an official club of their own, and Justin put the wheels in motion.
A native of North Andover, Mass., Justin marketed the Nashville Patriots Fan Club on Facebook and later branched out to other social media platforms, like Twitter and Meetup.com, to recruit more members. Justin also relies on word of mouth, making sure to mention the fan club any time someone compliments the Boston sports gear he and his friends usually wear around town.
Now with 560 members and counting, Justin and his officers have helped create a home away from home for the transplants that mostly make up the club's membership.
"Folks [in the fan club] help them find new apartments or they make restaurant recommendations," Justin said. "It's really a great support system for people who are new to Nashville."
Still in their first full year as an official fan club, the Nashville Patriots continue to develop their own game day traditions. For now, all they want to do is have fun and make it the best experience for any Patriots fan that shows up on Sundays at Whiskey Rhythm Saloon, their home base.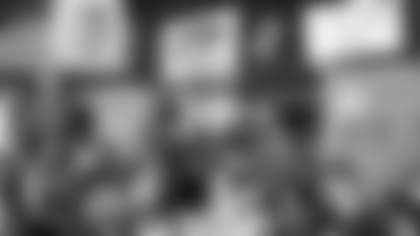 One of the ways they've done that is through music, which is a staple of life in Nashville. The fan club partnered with New England to Nashville, a group of roughly 270 New England-born songwriters who travel to or live in the Music City. The partnership seemed like a natural fit since many of the club's members are also in the songwriters group, including Alec MacGillivray and Kate Cameron, who've been a part of Keith Urban and Miranda Lambert's shows, respectively.
"We do a lot of post-game and pre-game entertainment and, you know, have our members share their musical talents, so it's really neat," said Justin. "We wanted to create an atmosphere that people can relate to, reminding them of home."
They also use music during the game to try to make people feel like they're in Foxborough, Justin explained. The bar plays New England favorites like the Dropkick Murphy's "Shipping Up to Boston" and songs from AC/DC during breaks in the action.
Music and a passion for the Patriots brought this one-year-old fan club together, but as time's gone on, they've become much more than just a fan club.
"There are just so many new people that I would not have otherwise met," explained Justin, who moved to Tennessee about four years ago. "It's created a family for me, both in Nashville and with the other southeast regional clubs. It's just been an incredible social activity."