American football fan and coach Wojciech Andrzejczak started **Patriots Polska** as a Facebook group in 2012 and since then, it has grown to more than 250 members. Although the group is spread out across Poland, they use digital and social media to stay connected to each other and the New England Patriots, and hope to organize fan gatherings in the future. Here, club president Wojciech tells us all about his group and the Patriots fan base in Poland.
How did you first start following the Patriots?
American Football started in Poland about 10 years ago and it has rapidly grown in popularity since then. I am a player and coach, and from the beginning, we used the Internet to recruit new players and to search for information about the games and teams we follow. I came across the Patriots in February 2005 on TV and they were talking about the Super Bowl XXXIX victory. I started following the team because it is my philosophy to learn from the best. The Belichick Breakdowns helped me to understand the game better.
What motivated you to establish your fan club?
A breakthrough moment for me as a fan was the 2012 Patriots-Rams game in London, when I met some of the team's executives and former players. When I came back home I started the **Patriots Polska group on Facebook** and soon other people joined. I knew that there were other Patriots fans living in Poland and thought that we should try to organize ourselves. And when you get a personal thank you note from Mr. Kraft with the comment that he has Polish roots, do you really need more motivation?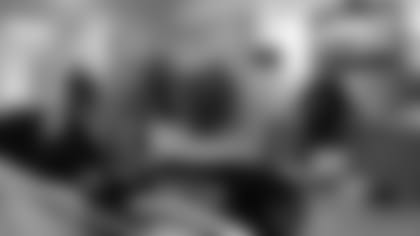 Why are the Patriots popular among NFL fans in Poland?
Rob Gronkowski and Stephen Gostkowski [who have Polish heritage] are a huge factor. Also Julian Edelman mentioned that his grandma was Polish. We feel that these are our guys and cheer for them every weekend.
How do you and your club members manage to follow the team with the time difference?
The early Sunday games start around 7 p.m. here, so we watch them live and can share the passion for Patriots football. As for the night games, I sometimes wake up in the middle of the night to watch the game or check the score. There is nothing better on Monday morning than waking up and watching highlights of a Patriots win.
What are your goals for the fan club this season and beyond?
We'd love to organize an official Patriots Polska fan gathering to watch live Patriots playoff games and hopefully Super Bowl 50. It's my dream to invite Rob Gronkowski and Stephen Gostkowski to Poland during the offseason. They are arguably the best players at their positions in the league, but more importantly a lot of Polish players here feel "Polish pride" with them.
What else should people know about the Patriots fan base in Poland?
One of the biggest Patriots fans is former U.S. ambassador to Poland, Stephen Mull. Despite his packed schedule we often exchanged Tweets about Patriots roster moves and scores. Another well-known figure rooting for the Patriots is Maciej Zielinski, who is currently a member of parliament as well as a Providence College alum and Polish basketball legend.