The **Pikes Peak Pats** fan club boasts close to 300 members in the Colorado Springs area. Through community service events and numerous game day celebrations, the club continues to nurture its growing multi-generational group. Here, current club president Anne Stone shares the humble beginnings of the club and how they've served their community over the years.
When and why was the club founded?
2006. It was three guys sitting in a bar that was mostly Steeler fans and they were like, "Oh we so need our own bar." They wrote everything down on a little bit of a napkin and came up with Pikes Peak Pats.
How many members did the club begin with and how did it grow?
There were four. One of the guy's wives and the three guys. I joined in 2007 and thought, "OK, well, why don't we do some prizes at half time and why don't we this and why don't we that." As more people heard about it, we outgrew Will's [Sports Pub] very quickly and started looking for another bar. In 2008 we moved our gatherings to Fox and Hound, where we are now.
We got business cards with our symbol on it and we started giving them out to everybody. So you'd be at a supermarket and you'd see someone with a Patriots bumper sticker or something and you'd stick the card in the windshield. Or you'd see someone wearing a Patriots hat or a jersey and you'd go up and say "Hey, did you know we have a fan club here in town?"
What are some of your game day traditions?
We have a silly thing, I don't even know how it started but we do it all the time. Whenever they score, we sing. We have music on during the commercials, so the sound goes down and we're blaring music and every time we score a touchdown, we sing the song "Sweet Caroline." It's silly. People say, "You know that's not the song they play at Foxborough." We know, but we can't jinx it.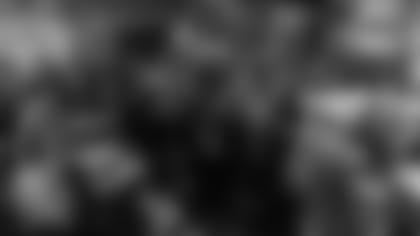 What do you have planned for the upcoming game against the Broncos?
We have a Saturday party planned at Katie Mullins in downtown Denver for information, see [**Pikes Peak Pats on Facebook**]. There's a whole pile of us. We've got a group of rooms at the Embassy Suites and we're all staying over.
Our last tailgate, we had 600 people there. I think we'll have another huge crowd. We always do a raffle and raise money for charity whenever the Pats come out.
How do you guys bond outside of game day?
You know, I think a lot of clubs just get together for the social part of it, but we do a lot of community service. We work with an organization called Home Front Cares, which is a local military organization that we have here in town. As a matter of fact, on Nov. 6 at 3 a.m., we're going to greet one of the brigades coming back to Fort Carson from the Middle East.
For the month of October, we collected cans for Care and Share, which is our local food pantry. We also raffled off a Tedy Bruschi jersey… and gave the entire proceeds from the raffle of the jersey to Care and Share.
What does being a Patriots fan mean to you?
It's backing your team through thick and thin, like all the Tom baloney. We had his back. When you are in "enemy territory," it's tough.