Serving communities both near and far is very much a part of the culture of the Patriots organization, so it's no surprise that the fans who cheer the team on have adopted that into their own fan clubs.  For some fan clubs that find themselves deep in rival territories, giving back to their community is their way of creating positive ties with a location that may otherwise give them questioning looks.
At the beginning of the 2016 season the New England Patriots Fans of Dallas fan club launched their first charitable endeavor. During the game against the Cleveland Browns, the fan club began raffling off Patriots gear and other novelty items, with the plans to donate the money to the New England Patriots Charitable Foundation. By the end of the season they raised more than a thousand dollars after focusing on building the amount of raffle sales each week.
Not only has the fan club raised money for the team's charitable fund, they've also collected toys for US Marine Corps Toys for Tots program around the holidays. The idea to do so just made sense for the club since the owner of the bar where they gather is a former marine.
"With the 2017 season, our plan is to again raffle items for the New England Patriots Charitable Foundation, participate again in Toys for Tots, but also to add a program known as 'Bears on Patrol,'" said club president , Guy Carusone.
The program encourages volunteers to collect stuffed animals from the Dallas-Fort Worth area and donate them to local law enforcement agencies. The officers will then give them to children involved in investigations in an effort to provide comfort in a traumatic time.
"Now that we are seeing attendance to support the work, and I have a stronger leadership team in place, you will see the New England Patriots Fans of Dallas a lot more often over the coming years," Guy said.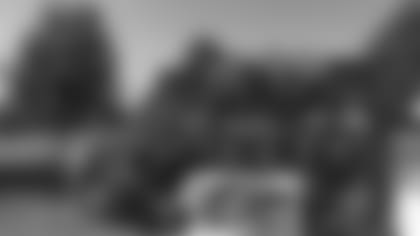 For the Nashville Patriots Fan Club (NPFC), giving back to the community they live in is an important part of their culture. They've made it their mission to support charities that the both the NFL and Patriots promote throughout the season. By running several raffles, food drives, as well as online fundraisers, they've helped to serve the greater Nashville area.
Since becoming an official Patriots fan club in 2015, they've raised thousands of dollars for several charities including, Best Buddies, the American Cancer Society and the Andruzzi Foundation. At the beginning of 2016 season, the club raised $2,625 for the Best Buddies Friendship Walk. By November, they sent 125 postcards through Operation Gratitude to deployed military personnel, as well as veterans, the wounded and new recruits to share their gratitude for their service.
"This past season, we built a very successful relationship with the Nashville Best Buddies community and look forward to working with them more in the future," NPFC member, Jen Castriotta said.
They even hosted an event this offseason with Shaq Mason. The event was a meet and greet with the Patriot that included raffles, and it raised more than a thousand dollars for Columbia Central High School football program, Shaq's alma mater.
It's no secret that Baltimore is Ravens territory, but the Patriots fans in the city who make up the local fan club, Baltimore New England Patriots Fans, want to make sure they leave a positive impression on the city. During their first season, they gave approximately $1,500 to the House of Ruth Maryland, a nonprofit that provides resources to victims of intimate partner violence. 
The following year, they ran a campaign they called "TB1200," where they raised $1,200 and donated it to Best Buddies Maryland. This year, they raised another $1,200 for The Ulman Cancer Fund for Young Adults, which gives support, education and resources, to benefit young adults affected by cancer.
Many of the club's members have expressed interest doing more work for their community and they plan on getting together to build homes in the area.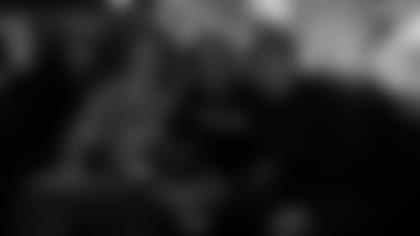 For Swiss Patriots fans, giving back like the team they cheer on is slowly becoming a part of their club's culture. They've begun to volunteer with local projects and fundraising for The Swiss Child Cancer Organization. They've worked with a company that has helped them raise 300 Swiss Francs. 
"It's not a lot of money but it's money, and we hope we can find more and more money until October 2017," founder of the Swiss Patriots fan club, Marco Hoesli, said.
Like many of the fan clubs that make up Patriots Nation, the Atlanta Patriots Fan Club has plans to expand their charity work next season.
"Hopefully, we'll find a volunteer to heads up our charitable efforts for more regular activities & contributions," club president, John Gray said in an email.
In the meantime, the club collects toys for the Christmas Angels, a nonprofit that supports children whose mothers are in jail through The Woman at the Well. They also try to support the charities that are connected to the team throughout the season.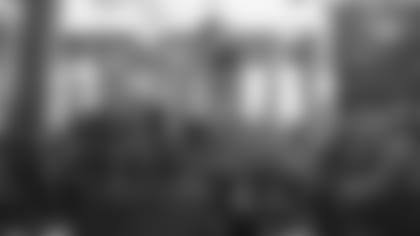 For another fan club in the Lone Star state, combining their charity work with fan appreciation is a huge tradition. Around Thanksgiving, the club encourages fans to bring in non-perishable food items to their fan appreciation dinner in order to get raffle tickets. Club founder and president Steve Basile then raffles off Patriots gear. This year, the club collected more than 150 pounds of food for the Central Texas Food Bank.
"So it's a little giving back to our community and for me it's a little giving back to our fans," Steve said.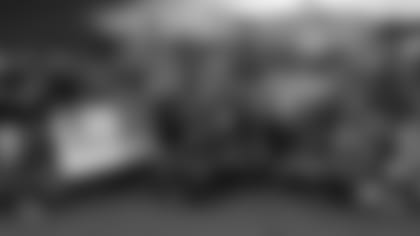 Giving back to the community has been a major part of the NC Pats Fans culture for the 14 years they've been up and running.
"We always have tried to make helping out in the communities and really take the Patriots Celebrate Volunteerism' mantra seriously," club president, Todd King said.
Over the course of the season, the fan club worked with "1 in 9 - Raleigh" a local initiative that provides support to families who have a loved one that has been diagnosed with breast cancer. This includes hosting events in October where they run raffles, provide drink specials, as well as pink club memorabilia. All of the proceeds from event are donated to the organization.
The group also unites with other clubs in November for a food drive. The group normally collects more than two tons of food in three hours, and with Hurricane Matthew wreaking havoc on the region, they were able to collect another two loads of clothing and personal items for those affected.
Those are just a couple of ways that the fan club gives back to their community. Is your Official New England Patriots Fan Club celebrating volunteerism in your community or need ideas how to begin volunteering as a fan club? Email us at FanClub@Patriots.com.