Twenty-three years ago Joseph Mastrangelo sought a way to honor his father.
Actually, succeeded isn't strong enough.
While building an addition to Cambridge Hospital in 1986, Joseph Mastrangelo, Sr. began to feel nauseous. Figuring it was an early case of the flu, he told the other workers he was heading home for the day and got in his truck.
Joseph, Sr. suffered a massive heart attack on the Massachusetts Turnpike, dying shortly after.
"He was only 60 years old," said the younger Mastrangelo, who had just moved to New York. "I was living in New York...and 10 months into the job my father passed away, so I decided to relocate back [to Massachusetts]. When I got here, the grief of losing my father was very, very deep. He was a friend of mine."
Joseph Sr. was a Patriots lifer. A fan from the days of revolving home stadiums, his dedication and passion for the team never wavered.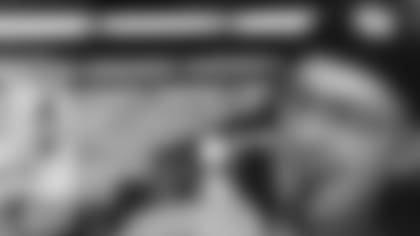 Even in death, Pat Patriot is with him. The emblem is chiseled on his tombstone.
So when searching for an appropriate way to honor his father, Mastrangelo asked a favor of a stranger: then team owner, Billy Sullivan.
"I asked Billy Sullivan for two things," he said. "First was that given who my father was, and him being a fan from the beginning, could we have a moment of silence on his behalf. The second thing I asked him is if we could start an award called, 'The New England Patriots Most Valuable Fan Award.'"
Amazingly, he received a reply.
"To my astonishment I got a letter back from Billy Sullivan," Mastrangelo said, still surprised. "He said yes."
On opening day in 1986, Mastrangelo got his wish.
"I can remember being at the opening game when they hoisted up the AFC Championship banner. My mother and I were asked to sit in specific seats," he recalled. "We stood up and there was everybody in Sullivan Stadium standing. My father's picture was on the Diamond Vision board. They took off their hats, and had a moment of silence. I remember there were tears coming down my mother's eyes, and I looked at her and said, 'You know Ma, he deserved it.'"
Turns out that the recognition, like his father, was one of a kind.
"There hadn't been a moment of silence for a Patriot player, or coach in the history of the Patriots up until that point," Mastrangelo said.
The award itself is just as unique: a bronze statue with a black walnut base, weighing roughly 20 pounds, immortalizing six fans huddled in the stands. One is standing.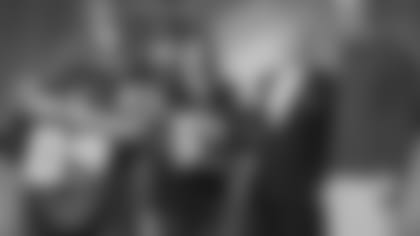 "That one standing up is actually my dad," Mastrangelo said solemnly. "That's a true representation of my father."
The Patriots began presenting the award to a fan every year, the only one of its kind – recognizing individuals for utilization of their team spirit in their local community.
"There's no other team in the four major sports, that I'm aware of, that annually recognizes a fan [for their community service and incorporating of the team into their daily lives]" Mastrangelo proudly states. "And understand, the fans had to write on behalf of someone else to earn the award."
When current owner, Robert Kraft, first purchased the organization, Mastrangelo and his family presented him with a Fan of the Year trophy.
Shortly after, Bank of America began sponsoring the award.
"The Patriots have been extremely dedicated and committed, and treat this award very, very personally. And the bank, as big of a corporation as they are, has treated this award very, very personally," Mastrangelo said. "Not in a corporate way. They understand first that it's a memorial award. They also understand that it's the only award of its kind in all the four major sports."
The annual award is given based on nominations of huge Patriots fans who are also selfless in the community.
"Community is very important. We're family," Mastrangelo emphasizes. "There is so much of this game that is off the field. And that's the basis of what we look for. How do these fans take their Patriots game experience off the field? It's not a matter of how much clothing and souvenirs that you have. It's not the number of games you go to. How does the Patriots experience work for you?"
It is the embodiment of dedication, affection, passion, and heartbreak molded together in a bronze and black walnut offering.
"Richard Peck got married in the Press Box," Mastrangelo says, rattling off previous winners like his favorite athletes. "Diane Casserino is a schoolteacher in Connecticut. She would use the Patriots' statistics to teach math. Christine Brennan is a single parent. She works two jobs, and she volunteers for Cystic Fibrosis. That in and of itself is pretty cool, but the real key is that she lost two brothers to Cystic Fibrosis. While they were at Mass General Hospital as children, Patriots players would come and visit them, give them autographs, t-shirts, hats. As a little girl, she remembers that the Patriot players were there for her brothers. And that's what made her a fan. And now she's a volunteer for Cystic Fibrosis. Because of her brothers, and she uses the Patriots experience as well."
The award recognizes individuals doing extraordinary things every day who also happen to root for the Patriots.
"First of all my father is just an 'every fan.' He's not 'The Fan,'" Mastrangelo says. "He's just a regular guy that can represent the fan, and we are very fortunate as a family that this award is in his name. We are very respectful of that."