Matthew Slater's 2014 Pro Bowl jersey is unlike any other he's worn throughout his football career. The gray jersey with neon green details is nowhere near the blue, red and silver color scheme he has known throughout his time in the NFL.
When that Pro Bowl was over, the one smack-dab in the middle of his seven-years-straight run, that jersey was auctioned off to benefit the NFL Foundation. Matthew never thought he'd see it again.
On Oct 30, that No. 18 Pro Bowl jersey made it back to the Patriots locker room -- thanks to a Matthew Slater fan with an impressive jersey collection.
Wes Hogan didn't intend on becoming a Patriots fan. Even after moving to Boston in 2004 from Atlanta and receiving a Corey Dillon jersey for his birthday, he wasn't sold. It took years, but eventually Wes caved after seeing how the team handled itself in adversity, and when he dove in, he dove in deep.
That No. 28 Corey Dillon jersey became the cornerstone of a numerical collection, and 15 years after getting his first Patriots jersey, Wes completed his goal of collecting Patriots jerseys No. 1 through No. 99.
"Aside from collecting jerseys and other memorabilia, I love numbers," Wes said. "I just over time realized I had so many Patriots jerseys, I'm going to try and do it."
Sure, there are the classic jerseys that could be in any Patriots fan's closet at any given time -- think Tom Brady, Ty Law, Tedy Bruschi, Kevin Faulk. To get 99 jerseys, though, Wes dug deep into the Patriots history books.
He has a Dont'a Hightower No. 45 from when he wore the number in preseason his rookie year. He has both No. 23 and No. 25 for both of Patrick Chung's stints with the team. The most difficult, he said, was tracking down a No. 9. Eventually, he got the jersey of Scott Sisson, a kicker who was with the Patriots for the 1993 season.
Going into this season, the last jersey he needed was No. 58, and with the return of Jamie Collins, Wes got the final piece to the puzzle.
After posting the collection on Instagram, Wes was invited to the Patriots game against the Browns on Oct. 27, where he recounted how exactly he pulled it off.
"A couple of them were custom-made, but no counterfeits," Wes said. "I tried to avoid full price for as many as I could. It's a lot of eBay. It took a really long time, and now I'm here so that's pretty cool. It paid off, I suppose."
Now that the collection is complete, Wes said he's been giving away jerseys to fellow Patriots fans who might have unique favorite players or who Wes doesn't "sense greed from" as a way of paying it forward.
Of course, the collection included No. 18 for Matthew Slater, Wes's favorite player. When it came to picking a No. 18, Wes certainly had options. He owns both a blue and a white Slater Patriots jersey, his UCLA jersey and the 2014 Pro Bowl jersey, which he wore to the game Sunday afternoon.
It didn't last long under the layers of a poncho and a raincoat, though.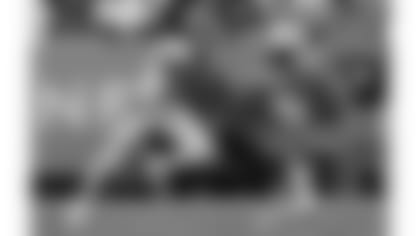 On the Gillette Stadium sideline, Wes handed over the jersey, adamant that it belonged in the hands of Matthew himself.
"I know if I made it to the Pro Bowl, it would be fun to have one my seven jerseys," Wes said. "[The Patriots] really saw something in him. I love how selfless he is as a player. He's never cared about getting personal recognition. It's also very unique that a guy, in his role, is really the emotional leader of the team. He breaks them down after every win. Anybody that Tom Brady defers to for leadership, I think that says a lot about him."
A few days later, that gray and green jersey would be back in Matthew's possession, a tangible piece of his legacy he never thought he'd see again. "Wow. How about this? How about this," Matthew said, holding up the jersey and examining it.
"I'm always surprised when I see anyone with my jersey on," he said. "It's a little bit surreal, so I certainly appreciate Wes doing this, especially with this jersey. It really means a lot to me. I'm really thankful for anyone who is willing to support, not only me, but this team and our efforts. It just makes you feel like you're doing something right."
As for the jersey itself, it will have a special place in the Slater household. As it turns out, Wes isn't the only one here who is into collecting sports memorabilia. Matthew has a room dedicated to it, too. Important jerseys hang in his basement, including those of his father, Jackie Slater, and his new teammate and fellow Pro Bowl special teamer, Justin Bethel.
So if someone understands what it would mean to give up a significant piece of a sports collection, it just might be Matthew.
"I think it says a lot about his character," Matthew said. "He could have easily held onto this, but the fact that he wanted me to have it says a lot about who he is, without me even being able to meet him. I'm really appreciative of it. It means a lot. This is a special jersey."