We don't need to tell you that our collective experience right now is unprecedented. While it is necessary to stay informed and to not look away from what is happening around the world, sometimes we all need some feel-good stories to remind us that there is good and love in the world.
So that's what we're doing. We've compiled our favorite feel-good Patriots stories from the past few years to, hopefully, bring a smile to you or brighten your day -- even for just a few moments.
Please enjoy and let us know your favorite Patriots feel-good stories and moments.
When Jonathan Jones snagged a fourth quarter interception against the Bears on Oct. 21, 2018, Patriots fans were, of course, excited, but there was no one happier than Jones's daughter. As a replay flashed on the screen, someone caught her pure and adorable reaction on camera.
Joseph's project was thoroughly researched, and according to his dad, presenting to his class was a nerve-gracking experience, but he crushed it. And he caught the attention of the McCourtys.
Dejah Rondeau is the quarterback of her football team and wears No. 11 in honor of her favorite player, Julian Edelman. When Edelman heard that Dejah was being bullied for playing football, he surprised her with a day at Gillette Stadium, a game of catch, and tickets to Super Bowl LIII, where she got to see her team win for the sixth time.
Dejah also got a tour of the stadium, an up-close look at the Lombardi trophies, and a meeting with Robert Kraft.
When Dont'a Hightower re-signed with the Patriots in 2017, Patriots Nation wasn't alone in their excitement. Hightower posted a video to Instagram of his mother, L'Tanya, dancing around her kitchen at the news.
Ahead of that Super Bowl, the McCourty family was in a new and welcome situation. Both Devin and Jason were competing in the Super Bowl on the same team for the first time, and that moment wasn't lost on anyone -- especially Michelle and Melissa McCourty.
It was a special year. The twins played on the same team for the first time since college, and it made for a year full of love and new memories for both their families. Hearing Michelle and Melissa talk about their relationship with each other and seeing their husbands grow and play together is moving.
While we're talking McCourtys, this moment when Jason realizes he isn't going to the Super Bowl because of Devin is gold.
Those weren't the only family moment to come out of Super Bowl LIII. When Coach Ivan Fears found out his daughter, Kim, tweets about his hilarious dad moments at home, he was a good sport.
Watching him read Kim's tweets out loud is guaranteed to make you laugh.
By now, the story of the dent in the Patriots sixth Lombardi trophy is well known, but it is still one of the most hilarious pieces of team history. Yes, Rob Gronkowski bunted a baseball thrown by Julian Edelman with the trophy. Yes, it left a baseball-sized dent on the back of the football, and no, it never gets old.
Every year, a new group of draft picks is welcomed to New England, and the reactions when they realize they have been drafted by the Patriots, that their NFL dreams are coming true, never gets old.
Last year's rookie class was no exception. Watching N'Keal Harry Jake Bailey, Chase Winovich, Joejuan Williams, and Hjalte Froholdt become Patriots will surely give you chills.
When the Patriots kicked off the 2019 season, there was a new employee at Gillette Stadium that got a lot of attention, and rightfully so. Boyd, a border collie-husky mix, joined the Patriots field crew when his human, Ryan Bjorn, was hired as the new field superintendent. Every day, Boyd does his job of clearing the field of geese, and we can confirm.
He is, in fact, a good boy.
Matthew Slater's reputation on the field as a special teams pro is only outshined by his reputation off the field as a great guy. During training camp in 2018, a young Patriots fan's dream was to meet her idol, Slater.
With a sign and t-shirt to match, Samantha Duva Ronci's dream became reality, and it was an unforgettable moment for both her family and for Slater.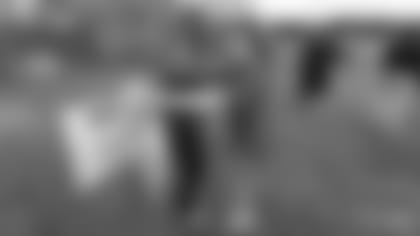 Wes Hogan is a Patriots super fan, and he set out to collect Patriots jerseys, one through 99. He completed his collection in the fall. Once he was done, he decided he would give them away, and he wanted to start with Slater.
In an NFL auction, Hogan bought Slater's 2014 Pro Bowl jersey, and last fall, Slater saw that Pro Bowl jersey for the first time in five years.
With back-to-back Slater stories, we couldn't resist a chance to bring back on of our favorite Slater moments to cap this off.
As the kid of a Pro Football Hall of Famer, Slater was interviewed and asked what his favorite part about attending football games was, and well, you can hear his adorable answer for yourself.