Doug Flutie** announced his retirement on Monday after 21 years of playing professional football. Flutie was orginally drafted by the New Jersey Generals of the USFL in 1985 before entering the NFL as a Chicago Bear in 1986. He was traded to the Patriots in 1987 and spent three years with the team before he left for the CFL, where he became a football legend. Last year Flutie rejoined the Patriots for what would end up being his final season in the NFL. Now, with his 44th birthday fast approaching, the Boston sports icon decided to call it a career.
"I want to thank the Krafts for bringing me back to New England for one final season," Flutie said. "That was very important to me. Looking back, it's been 21 years and I've gotten so much fun out of the game. I just love to play. Football has changed a lot over the years but it's still a game to me."
Patriots owner Robert Kraft donated $22,000 to the Doug Flutie Jr. Foundation for Autism. The foundation is named after Flutie's son who is affected by the disorder. Before presenting Flutie with the check, Mr. Kraft had some kind words to say about his former quarterback.
"I can't think of a time when he was on the field when Doug didn't make us proud as New England sports fans," Kraft said. "We're happy that he's retiring as a Patriot."
Head coach Bill Belichick talked about a highlight film he showed the Patriots current crop of rookies just yesterday.
"We showed our rookies a highlight film with a lot of different plays on it," Belichick said. "One of the plays was the 'Hail Mary' pass against Miami. Most of those players where in diapers when Doug made that pass, that shows how long he's been able to play. Doug is a special athlete and the way he's taken over this region has been remarkable."
Flutie has accounted for 64,938 yards of offense in his professional career, compiling 58, 179 passing yards and 6,759 rushing yards while playing in the NFL, USFL and CFL.
In his first tour of duty with the Patriots, Flutie played in 17 games, starting 13 of them. Flutie's most successful stint in the NFL, however, was with the Buffalo Bills. He was the primary starter for the Bills in 1998 and 1999, leading the team to the playoffs both years. Flutie was named to his only Pro Bowl selection after the 1998 season. He was also named the NFL's Comeback Player of the year that season after throwing for 20 touchdown passes in only 10 starts.
Flutie came to Buffalo after playing eight seasons in the CFL where he was named the league's most outstanding player a record six times. Flutie led his teams to three Grey Cup championships and was named Grey Cup MVP in all three of those titles games.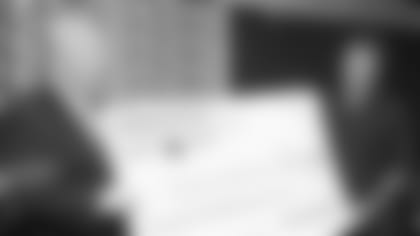 Flutie has fond memories of his time in Canada.
"I had so much fun playing football in Canada," he said. "It helped me re-instill confidence in myself at the quarterback position. Canada put the fun back in football for me, there's no doubt about it. There was a lot of desire to play one last year in Canada, so I had to have about 20 people talk me out of it."
In 2001 Flutie started all 16 games for the only time in his NFL career with the San Diego Chargers. From 2003-2004, Flutie served as a mentor to Drew Breesbefore signing with the Patriots to backup Tom Brady before last season. Flutie owns a 12-2 record in games he's started in Foxborough (including college), so it was fitting that his illustrious career came to an end in New England.
In his final play as a professional football player, Flutie made history by executing the NFL's first drop kick since 1941 when he converted an extra point against the Miami Dolphins in the 2005 season finale.
"I think the drop kick was an important play early in this century," Belichick said. "There has never been a play in my career where I, the team and everyone had more fun with than that kick."
Flutie shared his coach's feelings about the historic kick.
"To see the reaction of the players and see all the smiles on everyone's face after the kick made this last season worth it for me," he said. "I finally felt like I was part of the team again."
No matter what he accomplished in his pro career, nothing will ever match the "Hail Mary" pass he completed to Gerard Phelan to beat the Miami Hurricanes 47-45 on the final play of the game. The victory was a landmark win for the Boston College program and it elevated the Doug Flutie legend to monumental status in the Boston area that lasts until this day.
Flutie appreciates the fans support and says their cheers actually helped him make plays on the field.
"Since Day 1, I felt like I gained strength through the fans," Flutie said. "The fans were the ones who never doubted my abilities on the field and I would always gain strength from them. I hope they had as much fun as I did.
Flutie said he's close to a deal with ABC and ESPN to become a college football analyst for the two networks. He would be in the studio a majority of the time but he may have the opportunity to call some games on occasion as well.
In the movie A Bronx Tale, the character played by Robert De Niro tells his son there is nothing worse in life than wasted talented. The term "wasted talent" certainly doesn't apply to Doug Flutie. Despite being 5-9 7/8 and 178 pounds (official measurements confirmed by Flutie at the press conference), Flutie got all he could out of his God given abilities and most importantly; he had fun playing a game he loves. He will live forever in the hearts of New England fans as one of the biggest sport icons to ever play in this area and that's something the small quarterback with a big heart can never retire from.
"It's not a right to play in the NFL, it's a privilege," Flutie said. "Every time I stepped on the field I gave it everything I had and that's what I'm most proud of."
And that's also why so many people all over the world who saw him play the game of football love him the way they do.